Looking for ways to get the most sparkle out of your diamond center stone? You'll find all our helpful tips and tricks on maximizing the appearance of your diamond and getting it to shine.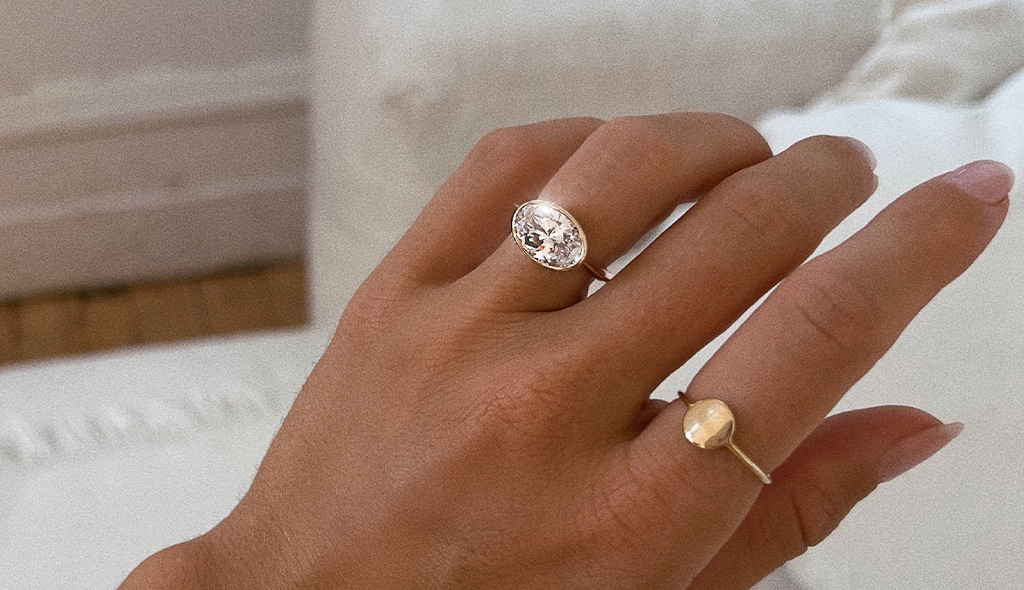 It's no surprise that diamonds have remained the most popular choice for engagement ring center stones as they always bring their fire and brilliance. Diamond sparkle is something unique that you may not find in every gem, and that's why they're so sought after.
But not all diamonds sparkle equally. Don't make the mistake of thinking that bigger diamonds are the only ones that can bring the shine. It's important to get the correct information on what makes a diamond sparkle well. Tricks of the trade can help you find the size and shape that works for your budget and make your ring finger glitter.
If you want to know how to maximize your diamond sparkle, take a walk with us as we break down six basic rules to get more sparkle out of your engagement ring.
Rule No. 1: Cut Is Key
People often mistake carat weight as the most important factor when picking a diamond. We're here to tell you that cut influences all the major 4 C's; cut, carat, color, and clarity, and should be your first consideration always.
How the diamond is cut, whether too shallow or too deep, affects the overall sparkle of the diamond. Let's breakdown how light is reflected off the diamond creating that shine we love:
The light first enters the diamond and is then reflected off its interior surfaces before exiting the stone. If the diamond is cut well, the light will reflect and refract enough to show off its fire and brilliance.
A well-cut diamond will also appear larger than a poorly cut one of the same carat weight, with better overall color and clarity.
Rule No. 2: Consider A Lab-Grown Diamond
Not only are lab-created diamonds physically, chemically, and optically identical to earth-created ones, but they also come with a cheaper price tag.
At James Allen, our premier collection of True Hearts™ diamonds are Ideal Diamonds, perfectly proportioned to refract light, producing only the best diamond sparkle.
Rule No 3: Try On A Fancy Shaped Diamond
While bigger doesn't necessarily mean better, there are specific diamond cuts that can give you more diamond glow and extra finger coverage.
Popular elongated fancy shaped diamonds like oval, pear, marquise, and emerald cuts are perfect if your goal is to enhance the size of your center stone. Many of these diamond shapes are a popular alternative to the classic round brilliant and can make light dance and add a unique feature to your engagement ring. 
If you're looking for something with a little edge and a bolder outline, consider going for square-shaped diamonds like princess cut, cushion cut, or Asscher cut. These diamonds are known for their clarity and ability to make light dance.
Rule No. 4: Set Your Diamond With A Pavé Band
Looking for more sparkle on your band as a shining complement to your center stone? We've got just the setting for that!
Pavé bands are becoming a more popular choice as modern-day engagement rings settings because they add that extra sparkle. If your diamond sparkle is not the problem as you simply want your entire ring to have that sparkle factor, pavé is the way to go.
No matter which way you twist and turn, you better believe your ring will shimmer at every angle.
Rule No. 5: Say Halo To Your Diamond's Best Friend
Like the pavé setting, a pavé halo encircling your diamond can elevate its sparkle while also making it appear large. A halo is a perfect accessory to a smaller center diamond that needs just a splash of glitter to bring out its ultimate glow.
This smart optical illusion is a popular go-to for couples on a budget. Not only does it add to the overall sparkle of the engagement ring, but a halo works with just about any fancy shaped diamond.
Rule No. 6: Keep Your Diamond Clean
Diamond upkeep is essential to maintain that glow for many years to come, as dirty diamonds don't sparkle. We're all about DIY diamond cleaning, so we'll let you in on how to treat your gem with care from the comfort of your own home.
All you'll need is:
A toothbrush
Mild dish soap or ammonia
Polishing cloth/ microfiber cloth
Two bowls
Steps to clean your diamond:
Add lukewarm water to the two bowls and a few drops of dish soap/ammonia to one of them.
Using the toothbrush, gently use the soapy solution to clean your diamond (circular brush strokes are always better.)
Once you're satisfied, rinse any excess oil or soap from your ring and dry it using the cloth.
To Sum It Up
There are so many fun and calculated ways to maximize the appearance and sparkle of your ring. Share your favorite tip with your partner, or use our fun feature to drop them a hint if you've already designed your dream engagement ring.
Contact us at JamesAllen.com for our interactive Real-time Diamond Inspection service, where our experts will walk you through the attributes of your favorite diamonds in Super Zoom magnification.
Further Reading That'll Put a Twinkle in your Eye:
Subscribe to our email list for access to secret sales, practical ring-buying tips, and $100 off your first order!