Does your significant other love their birthday as much as their wedding day? Is their Zodiac sign a part of who they are? Or are you simply looking for a colorful twist to your engagement ring?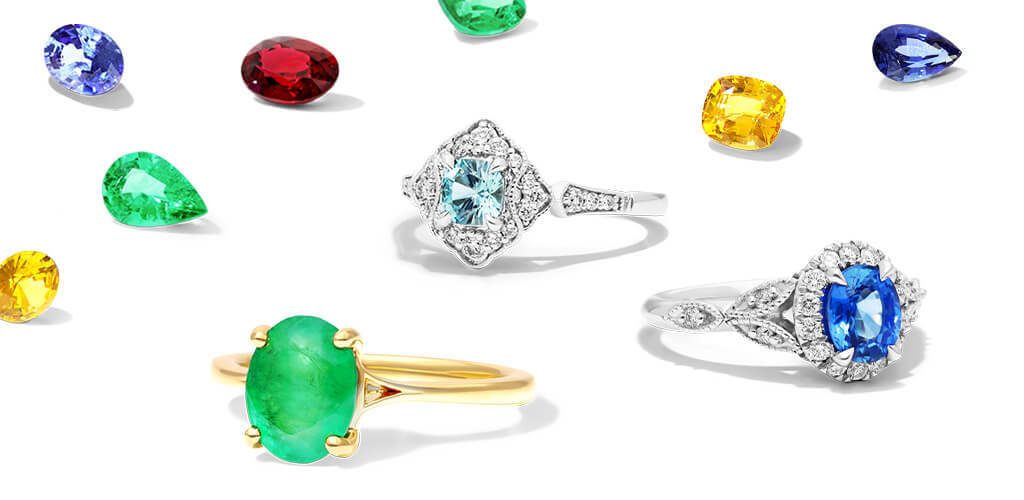 Then consider birthstone engagement rings! The perfect way to add a personal touch, unique meaning, and a pop of color. Love the red of January's garnet but were born in March? Go for it! We won't tell!
What Is a Birthstone?
First of all, what IS a birthstone? We'll explain. A birthstone is a gemstone that represents the month a person was born. Each month has its own unique gemstone. From religious foundations in the Book of Exodus, to celestial forces, astrology, and beyond, different cultures associate different meanings to the various birthstones including good luck and good health.
Why Choose A Birthstone Engagement Ring?
Technically, everyone who wears a diamond engagement ring is wearing a birthstone engagement ring as diamonds are the birthstone for April. While choosing the birthstone of your partner is a great way to add personalization to the engagement ring, you can also choose a birthstone based on its meaning.
You can even choose a birthstone based on its color! Whatever your reason, choosing a birthstone engagement ring is a wonderful way to start forever with a pop of color.
Birthstone Engagement Rings: Month to Month
Birthstone engagement rings offer incredible variety! From the reds and purples of January's garnet, February's amethyst, July's ruby, to the blues of September's sapphire, December's topaz, and March's aquamarine, birthstone engagement rings allow your partner to express their personal style.
Channel that lucky feeling in the greens of May's emerald and August's peridot, or feel the warmth of fall every day with November's citrine. Prefer a classic? Can't go wrong with April's diamond, June's pearl, or October's opal.
Wherever your partner was born, whichever symbolism fits them best, James Allen has the right gemstone engagement ring to get that yes.
January Birthstone: Garnet
Symbolizing love and passion, January's birthstone garnet is a great choice for a birthstone engagement ring. Popularly known for their fiery red color, garnets in fact come in multiple colors. Make garnet shine by setting it in white gold or platinum, or go for a regal look by setting your gemstone in yellow gold
Go for side stones or a pavé style for some diamond decoration and get a perfect glamorous look.
February Birthstone: Amethyst
February's birthstone, the amethyst, is found in the month of love, where we find Valentine's Day. This violet quartz is fabulous for a number of reasons. Rating 7 on the Moh hardness scale, it is pretty resistant to scratches and perfect for the love with an active lifestyle.
Ancient Greeks believed this amazing gemstone could protect you from drunkenness, in which case, bring on the champagne! No matter how many cocktails you indulge in, amethyst's purple looks stunning in white gold but positively reigns when set in yellow or rose gold.
This affordable option will make any bride-to-be happy no matter when they were born!
March Birthstone: Aquamarine
Literally meaning "water of the sea," March's birthstone gives you that peaceful feeling you get every time you look at a clear blue ocean. It is fitting that this stone which symbolizes serenity is the birthstone for the first month of spring.
While it symbolizes tranquility, aquamarine exudes strength, ranking a 7.5-8 on the Mohs scale, making it a perfect choice for a ring that is worn every day. Bring out its icy shine in white gold or platinum or go for a bold, colorful look and set your stone in yellow or rose gold.
No matter if your betrothed-to-be was born in March or not, they are sure to love this peaceful piece of perfection.
April Birthstone: Diamond
Diamonds are everyone's best friend, but if you were born in April, they are also your birthstone. This traditional engagement ring is fabulous for many reasons: looks good in every metal, is fabulous alone or with side stones, and of course, is a beloved classic.

Whether you prefer a modern tension set or find yourself wanting a classic solitaire engagement ring, diamonds give an endless, timeless dazzle. Want an engagement ring that will leave them shook? Check out this Halo pavé combo:
May Birthstone: Emerald
Feel like you're in Emerald City whenever you rock a gorgeous emerald engagement ring. Symbolizing romance and rebirth and giving the feeling that spring has sprung, this gemstone has long been the favorite of royalty.
Looking fabulous in both yellow and white gold, as well as platinum, this rare gemstone is a good choice for those interested in a large size. Emeralds have a less dense composition than their traditional diamond counterpart, making them larger in size.
With another bit of luck, imperfections can actually improve the value of an emerald! It is no wonder May's birthstone has everyone feeling green.
June Birthstone: Pearl
The world's oldest gem is also one of the most beautiful. This classic gemstone, yes the pearl is a gemstone, is incredibly versatile! From the classic pearl necklace to a gorgeous pair of earrings, the pearl seamlessly fits into classic and modern styles.
Wearing pearls on your wedding day is rumored to bring good luck for your upcoming marriage, making June's birthstone a perfect choice for a unique engagement ring. After all, why not get that good marriage mojo from the moment you say Yes!
July Birthstone: Ruby
There's a reason Dorothy rocked this gemstone on her infamous shoes. Symbolizing passion, wisdom, and power, this ravishing red gemstone comes in varying shades of darkness, but whatever its shade, it looks stunning in both yellow and white gold settings.
Whether or not your love was born in July, they are sure to love an engagement ring featuring July's birthstone, the ruby, that leaves them feeling like royalty.
August Birthstone: Peridot
The saying "it ain't easy being green" sure doesn't apply to August's birthstone! Featuring a more yellowish tint compared to its emerald counterpart, peridot shines as bright as a summer day.
Peridot is a particularly perfect choice for those who prefer a vintage vibe. Pair it with yellow or white gold and add some extra diamonds for the ultimate dazzle. Symbolizing strength, what better symbol to use when choosing the ring that will change your life?
September Birthstone: Sapphire
From royalty like Princess Diana to the Titanic's Heart of the Ocean, sapphires are a long beloved gemstone. Their deep blue hues are highlighted best in white gold and platinum, surround your sapphire with diamonds for that extra dazzle.
Symbolizing wisdom and faithfulness, September's birthstone is also renowned for its durability. Love the gemstone but wish it came in another color? Wish no more! Sapphires come in pink and yellow as well!
Need another reason? This regal, elegant gemstone will have your beloved feeling like royalty every day.
October Birthstone: Opal
Opal, also sometimes known as the stone of clarity, is beloved for many reasons. Thought to symbolize truth, this gemstone offers a kaleidoscope of colors as seen in the different splashes of this milky-looking masterpiece.
When wearing October's birthstone, take special care. Opals contain more water than other gemstones, making them more sensitive and thus, prone to damage. Wear your opal engagement ring with pride, but also with care.
November Birthstone: Citrine
Citrine, which gets its name from the French word for lemon, is a beautiful yellow-toned gemstone. While yellow gold best highlights the similar hues of this gemstone, citrine also looks breathtakingly beautiful when set in rose gold, white gold, or platinum.
Symbolizing success, November's birthstone is as trendy as it is affordable. Choose your colorful citrine engagement ring and shine bright like the sun even on the coolest fall day.
December Birthstone: Blue Topaz
December's birthstone is said to increase the strength and intellect of anyone who wears it, making this gemstone an ideal choice for an engagement ring. This exquisite stone embodies the iciness of the season while somehow still reminding you of a blue ocean on a clear summer's day.
Pair your blue topaz with a white gold or platinum setting, to enhance the gemstone's cool tones, or pair your gemstone with yellow gold to enhance its bold color.
FAQs
Can a birthstone be an engagement ring?
Of course! An engagement ring can be anything you want it to be and a birthstone engagement ring is a wonderful way to add color, a personal touch, and fashionable flair to one of your most important pieces of jewelry.
Can I wear my birthstone everyday?
Yes, and yes! Engagement rings, including birthstone engagement rings, are meant to be worn every day. So go for that glitz daily, and feel free to rock that matching birthstone jewelry every day to have a seamless, colorful look!
What is a good gemstone for an engagement ring?
Any gemstone you want! Whether you prefer your birthstone, the birthstone of your love, or a birthstone from an unaffiliated month simply because you love the color, the best gemstone is the one you love.
How much should a birthstone engagement ring cost?
There is no one rule for how much any engagement ring should cost, let alone a birthstone engagement ring. Gemstones do generally cost less than traditional colorless diamonds, making them a wallet-friendly way to go. So how much you should spend depends on your income, budget, and preferences.
What month is best to buy an engagement ring?
The best time to shop for an engagement ring is about three months before you plan on popping the question.
September and October are considered the best months to buy an engagement ring as the jewelry industry experiences a period of quiet, and many vendors offer sales to encourage shopping before the holiday season starts.
However, at James Allen, we offer competitive sales and prices all year round, making the best time to buy an engagement ring whenever you are ready!
What is the most common engagement ring stone?
Diamonds, April's birthstone, is the classic and most common engagement ring stone, specifically white, colorless diamonds. Sapphire, topaz, and emerald closely follow in popularity.
Why are birthstone engagement rings popular?
Birthstone engagement rings are popular because they add a personal touch and a pop of color and allow the wearer to express personal style. They can also be paired with diamonds to combine uniquely with the traditional.
Final Thoughts
Your perfect person deserves the perfect ring. Birthstone engagement rings are great alternatives to traditional diamond engagement rings. They add color, symbolism, and personalization in a unique, modern way.
If your significant other was born in April and their birthstone is a diamond, you can choose another month whose birthstone meaning best fits and accentuate it with diamonds. Birthstone engagement rings have endless possibilities, combinations, and customizations. Head to JamesAllen.com and get started!