Shopping for an engagement ring is a big decision, and it's one of the most meaningful purchases you can make as a couple. But before you jump into the process, there are some things to consider and discuss first.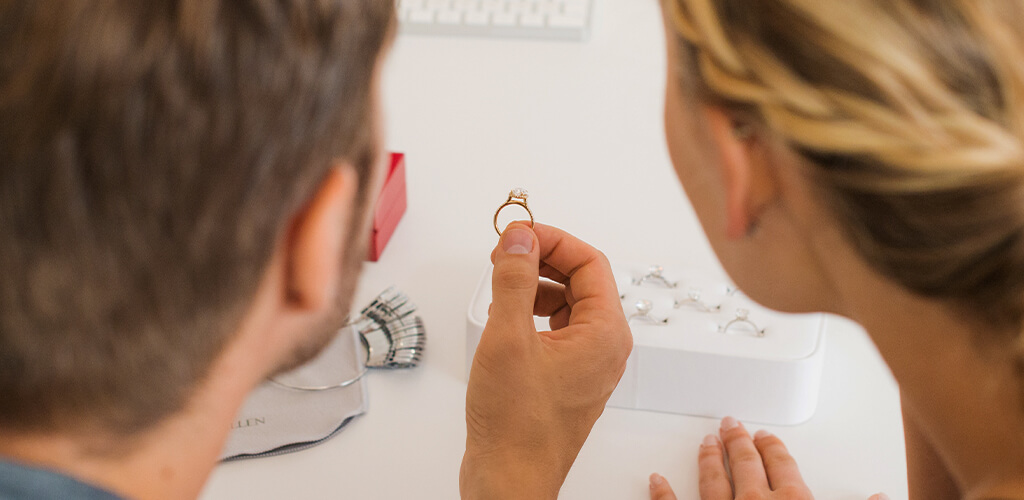 What Are The Pros Of Ring Shopping Together?
The pros of shopping together for an engagement ring include enjoying the process together, determining what sort of ring fits your personality and tastes, getting information from a trusted jeweler about diamonds and other stones, and budgeting.
You'll also be assured that you're choosing the perfect symbol of your commitment to each other. So, if you're looking for something special to commemorate this important chapter in your lives, why not go ring shopping together? It could be one of your most memorable and romantic moments. Plus, it's so much more fun than doing it alone! So what are you waiting for? Start shopping today!
How Should You Go About Shopping?
One option to consider is shopping together for your rings—it's becoming a more popular choice for couples wanting to share the experience of ring shopping together. A few advantages to shopping together include getting more insight into what your partner likes and needs in an engagement ring. Plus, you can help each other decide on the right design and budget for both of you.
How Can It Be A Romantic Experience And Not Too Transactional?
Shopping for an engagement ring together can be a romantic experience if you approach it with the right mindset. Think of it as an adventure, and make sure to enjoy the process! This is also a great opportunity to bond with each other, talk about your dreams, and get excited about what's in store for your future.
Remember that at the end of the day, this moment is all about celebrating your love – so don't forget to take some time to savor it!
Questions To Ask Yourselves
What ring design do you want?
Do you prefer something classic and timeless or modern and unique?
What stone shape do you like best?
Should you buy an engagement ring or a bridal set?
What's your budget?
Can you pay for the engagement ring in installments if needed?
Do you need your ring insured as well?
Once you have answered these questions, it's time to head out to start shopping! Before making any purchase, make sure to ask your jeweler some essential questions about the stone and setting.
Questions To Ask Your Jeweler
When visiting a jeweler, there are also a few other things to consider:
Do they offer different types of metals for rings (e.g., yellow gold, rose gold, white gold)?
What are the 4Cs used to measure the quality of diamonds (cut, color, clarity, and carat)?
Does the center stone have a grading report?
Can the ring be modified or customized in any way?
Can you inspect the stone before buying it to assess its quality and beauty for yourself?
Related Post: How To Buy An Engagement Ring Using The 4Cs
Happy Ring Shopping
Answering these questions will help make sure that your engagement is everything you dreamed it would be. Shopping for an engagement ring is a deeply personal experience and should be treated as such. By shopping together, listening to each other's opinions, and asking lots of questions at the store, you'll be able to find the perfect ring for your special day.
Still need some guidance? Contact us at JamesAllen.com, and one of our experts will be happy to talk you through the ring-shopping process.
Subscribe to our email list for access to secret sales, practical ring-buying tips, and $100 off your first purchase!
The author generated this text in part with GPT-3. The author reviewed, edited, and revised the language and takes ultimate responsibility for the content.