Before you get down on one knee, check out our pro tips on how to propose like a boss.
Our previous article in this series, Buying an Engagement Ring 101, took you back to the basics of ring shopping. With your yes-worthy sparkler in the bag, you're ready to move on to the proposal. But how does one pop that most nerve-wracking of questions? We've put together this foolproof guide to help you nail the proposal.
How to Propose
: Know Your Audience
The proposal is your chance to show your SO just how well you know them. Are they the type to go for grand gestures that leave smoke trails in the sky? If so, consider hiring a skywriter, putting on a fireworks display, or having a drone deliver the ring for maximum impact.
If, on the other hand, your SO is the shy type, they'll probably appreciate a proposal that doesn't draw the attention of everyone within a five-mile radius. Pick a low-key activity you both enjoy and try to weave in your magic moment. There are plenty of fun ways to propose that don't involve having your face plastered all over Times Square!
How to Propose
: Call in the Big Guns
If you're unsure when, where, or how to propose, why not enlist the help of your SO's sister, mom, or best friend?
By teaming up with their inner circle, you can get valuable intel, create convincing decoys, and plan a more elaborate proposal. Sure, you may not like the idea of sneaking around, but it's all for a good cause: your SO's ultimate happiness.
How to Propose
: Give a Helping Hand
It's a given that the moment you slip that ring on her finger, she'll be in full-on selfie mode. But no amount of sparkle can disguise chipped nails or dry, chapped skin. Be sure she gets the ultimate ring selfie with a well-timed trip to the manicurist.
This will ensure her hands are at their fleekest and you'll come away looking like a hero. If you're subtle about it, she won't suspect your fiendish ulterior motive…
How to Propose
: Schedule Your Jewel
Whatever you're planning, it's preferable to have the ring in hand before you finalize any reservations that require upfront payment. Design-your-own engagement rings can take a few weeks to arrive as they are custom made.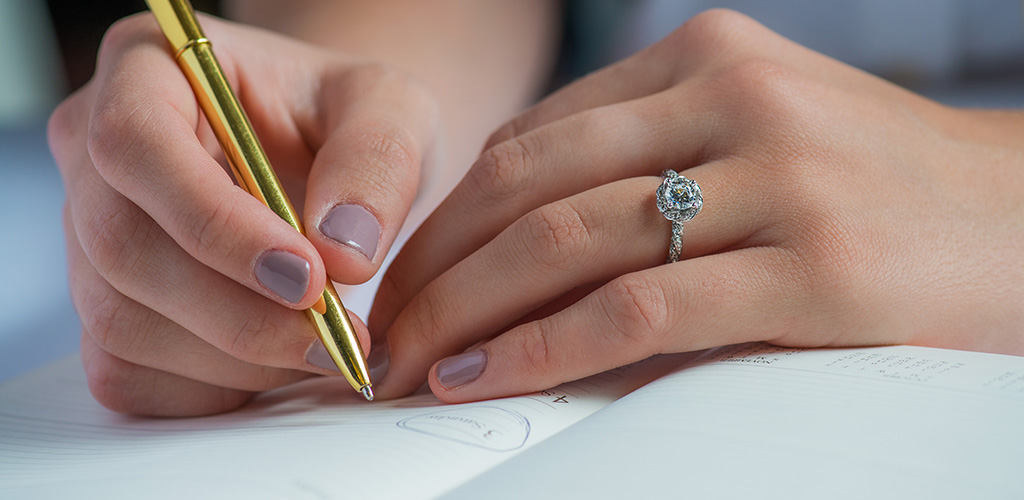 It's recommended that you place your order ahead of time, just to be on the safe side. This is especially important if you're planning a romantic getaway and extra time is needed for your order to reach you.
Apropos of the Proposal…
We've got more tips and tricks coming your way! Stay tuned to this proposal series for expert advice about proposing on a budget, proposing on vacation, collaborating on the ring, and more.

For now, check out the 10 Essential Proposal Tips we mined from our customers' experiences.
All set to pop the question? Let us know how you intend to do it on Instagram, Facebook, Twitter, or in the comments below.
Pin this image to save your proposal inspo:
Subscribe to our email list for access to secret sales, practical ring-buying tips, and $100 off your first order!
Jonny is passionate about puns, adores alliteration, and finds diamonds positively facet-nating! Since joining James Allen, he has written the word 'sparkle' 9,732 times and counting.