Are you planning to pop the question to your significant other in 2023 but struggling to come up with a unique and memorable wedding proposal idea? Don't worry, James Allen has got you covered! In this blog, we'll share 8 creative and unforgettable wedding proposal ideas that will wow your partner.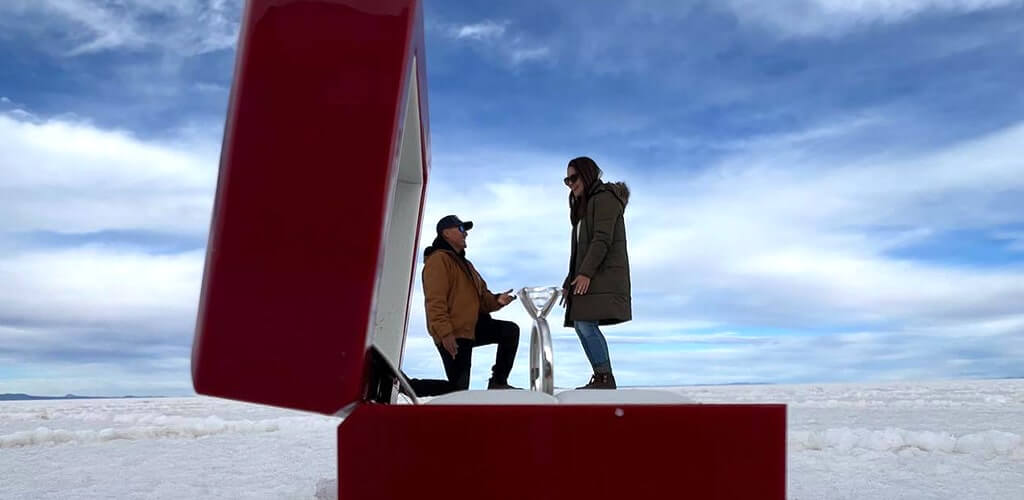 Proposing to your partner is one of the most important moments in your relationship. It's a moment that will be remembered forever. But, before we get started, there are a few things to keep in mind, firstly, you should consider your partner's personality and interests when planning your proposal. Think about what your partner enjoys doing, their favorite places, and what would make them feel special.
Second, make sure you have a clear plan for the proposal, including the location, time, and any necessary arrangements. Lastly, don't forget to capture the moment! Hire a photographer or videographer to document the proposal so you can relive the moment over and over again.
Here are 8 wedding proposal ideas that will wow your partner and make your engagement story one for the books.
1. Board Game Proposal
One way to pull off a fun and creative, and playful proposal is to plan the event around a board game. For introverted couples who enjoy playing board games at home and like spending time together, board games are a clever and quirky way to propose. This idea can be super simple or it can be as elaborate as you wish. If you're looking for something more personalized, a custom jigsaw puzzle with a cute proposal text would be perfect. However, you could also use transitional games such as Pictionary, scrabble, or charades.
2. A Fun Scavenger Hunt
A thoughtful scavenger hunt that leads your partner to different locations around the city or town where you live is sure to be fun and memorable. Each location should have a clue that leads to the next, with the final location being where you propose. The last spot can be a favorite restaurant, a park, or where the two of you had your first date. As Spring is around the corner, it's also the perfect time to plan an outdoor proposal.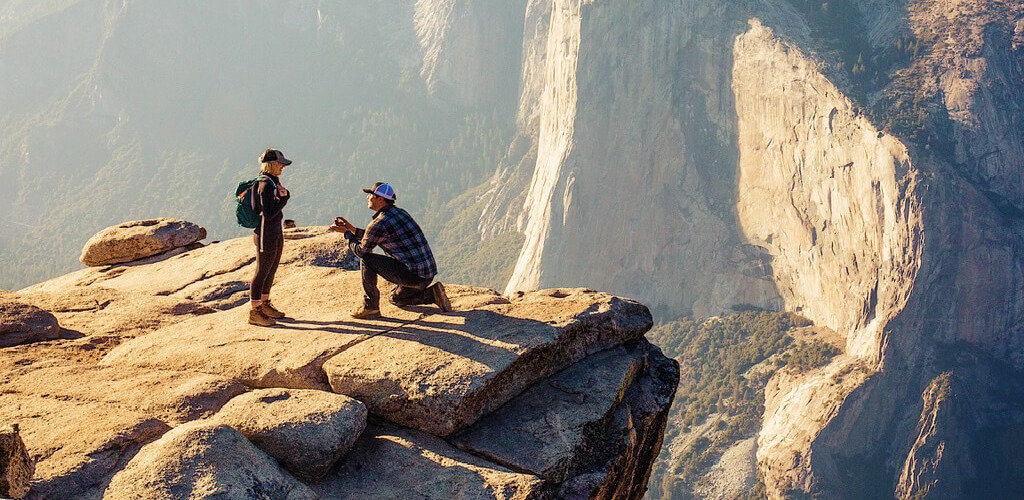 3. Create A Photo Book
Tell the beautiful story of your relationship through a personalized photo book and end it with a proposal. For couples who share a love of photography and would cherish a unique proposal experience, this idea is perfect. You can include pictures of your first holiday together or your favorite times spent together. At the end of the book, add a picture of the ring and use one of these cute marriage proposal lines:
Will you marry me?
You are the one I've been waiting for my whole life
Let's spend the rest of our lives together.
I can't imagine my life without you in it
4. Surprise Romantic Destination Getaway
On the hunt for an amazing destination proposal idea? There truly are hundreds of places to choose from when planning a surprise destination proposal with your spouse-to-be. Perhaps it's a romantic destination they have always wanted to visit or maybe one of the most picturesque places in the world that most people don't even know about. From natural wonders to beaches and deserts, this is definitely an epic way to pop the big question.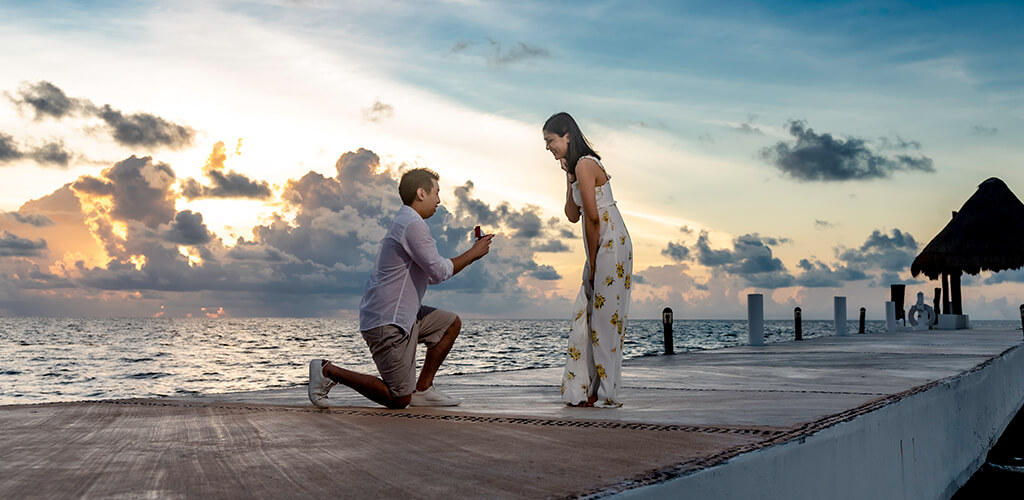 5. A Horse-Drawn Carriage Ride
Consider a horse-drawn carriage ride for a classic, romantic proposal that will ultimately make your partner feel like royalty. Many people dream of a big, public proposal, while others prefer a more intimate proposal, which includes scenic views and a magical setting. Whether you choose to trot through a winter wonderland or prefer to be surrounded by the beautiful gardens of Central Park, this is definitely a proposal that you, as a couple, will treasure forever!
6. Hot Air Balloon Proposal
Do you want an adventurous engagement moment? Then this one is definitely for you! Romance coupled with beautiful and majestic views while floating in the sky, you and your partner will quite literally feel like you're on top of the world. For an added experience, make sure to go hot air ballooning at sunrise or sunset. Trust us – your proposal photos will be magnificent!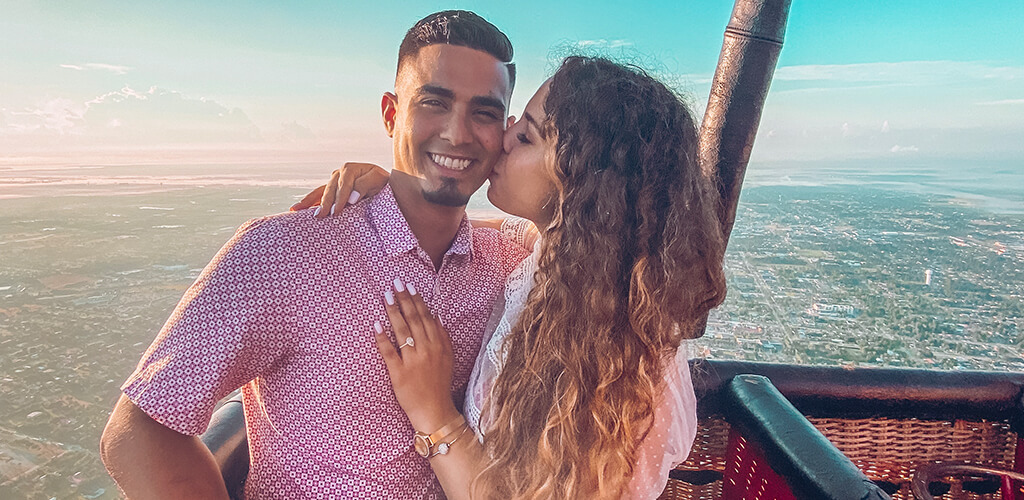 7. Recreate Your First Date
First dates are often filled with nerves, excitement, and plenty of butterflies… just like a marriage proposal but better! The experience of recreating your first date is romantic, sentimental, and so deeply meaningful. Not only does it show that you remember and cherish the early moments of your relationship, but it also allows you to relive those special memories together. Don't forget to add a few special personalized touches to make the proposal oh-so-perfect!
8. Plan a Surprise Picnic
Planning the perfect proposal is all about creating that unexpected moment to Take your partner to a scenic location, such as a park or beach, for a romantic picnic. Set the scene with a beautiful picnic basket, a cozy blanket, and a bottle of champagne. As your partner enjoys the lovely spread, you can pull out the ring and pop the question.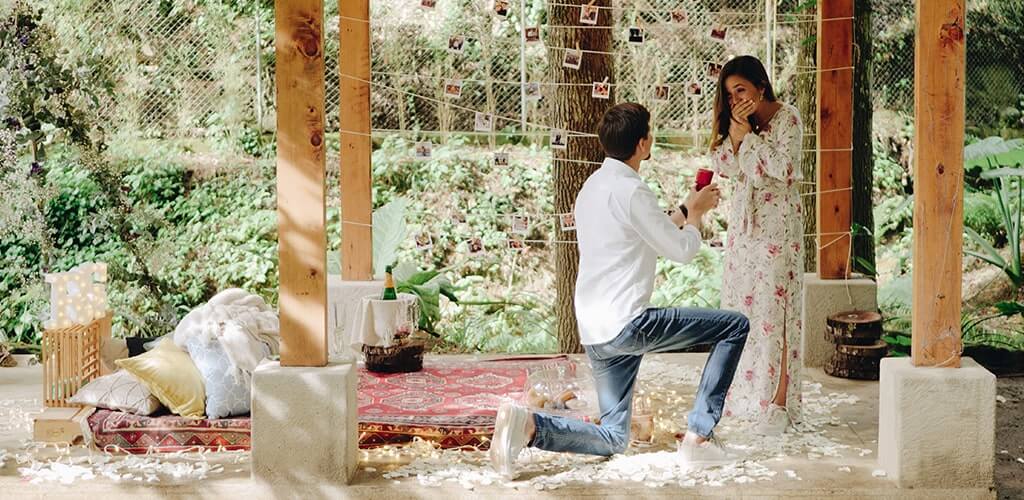 FAQs
How Can I Make My Proposal Romantic And Memorable?
Include meaningful elements in your proposal, such as your partner's favorite flowers, a special location, or even their favorite song. It's important to take your time to plan the proposal.
Should I Involve Family And Friends In My Proposal?
Of course, this is completely up to you! However, involving family and friends in your proposal can definitely make it extra special and memorable, especially if it's something that is important to your partner.
How do I choose the perfect engagement ring?
Choosing the perfect engagement ring can feel overwhelming, but it doesn't have to be. A few important tips to keep in mind is to take note of your partner's personal style and any jewelry they already wear. Make sure you set a budget and stick to it. And lastly, consider the 4Cs: carat, cut, clarity, and color.
Ring Down The Curtain
No matter which proposal idea you choose, the most important thing is to make it personal and meaningful. Think about what your partner loves and incorporate that into your proposal. With a little creativity and planning, you can create a proposal that your partner will remember for the rest of their life. Good luck, and congratulations on your engagement!
Still need help picking out the perfect engagement ring? Don't hesitate to reach out to us at JamesAllen.com. Our customer service team is here to assist 24/7.
Subscribe to our email list for access to secret sales, practical ring-buying tips, and $100 off your first purchase!