Throwing on a necklace is a simple way to elevate any look. Whether it's a pendant necklace or a simple chain, there are so many ways to style some shine around your neck.
But with great style comes great responsibility! First, we have to figure out what length and fit are best. Keep reading to find out how…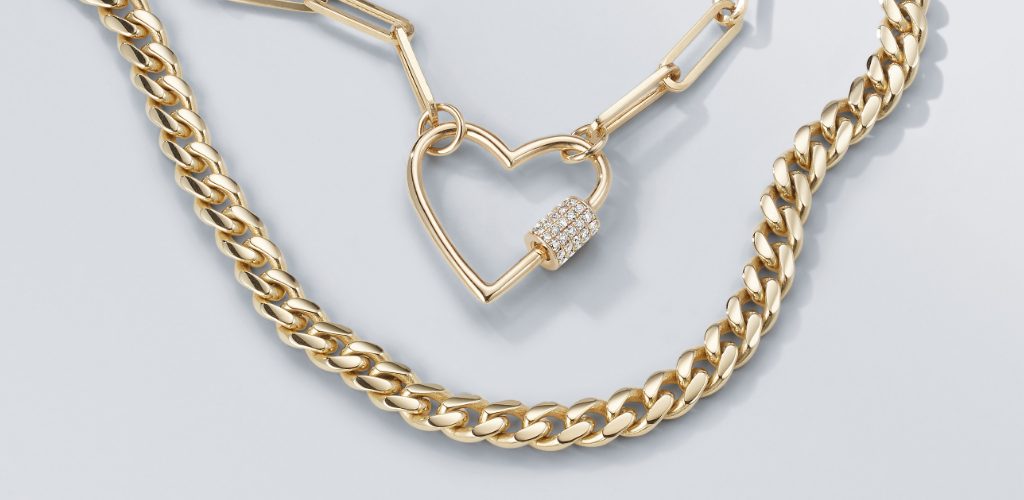 So, you're in the market for a new necklace but you want to make sure you're getting the right one. You've come to the right place!
Whether you're shopping for yourself or getting a gift for someone else, determining your necklace size is an important step. This can be said for both women and men!
In this blog, we're going to break down how to find the perfect size for your style, measurements, and personal taste.
Standard Necklace Lengths for Women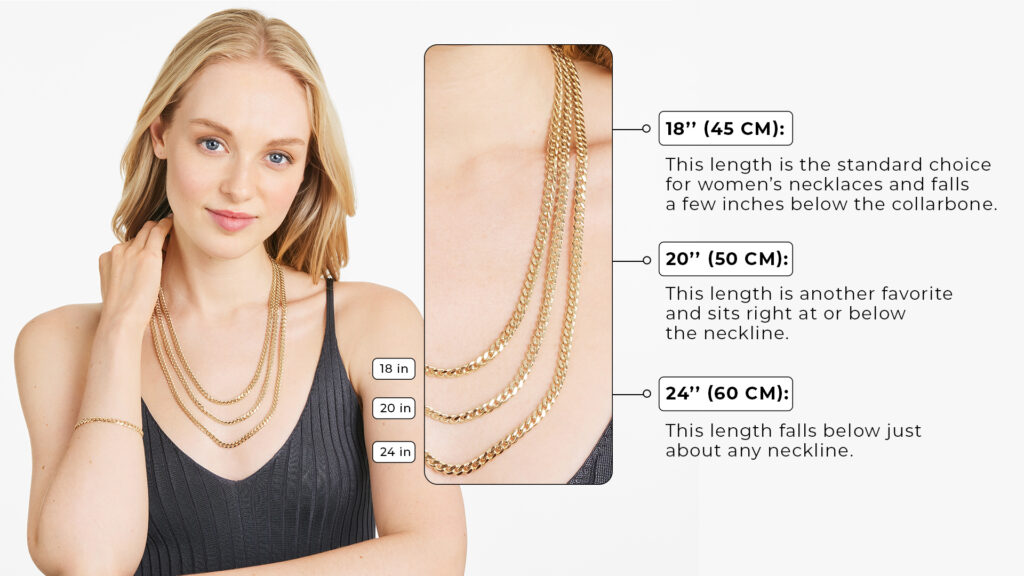 Standard Necklace Lengths For Men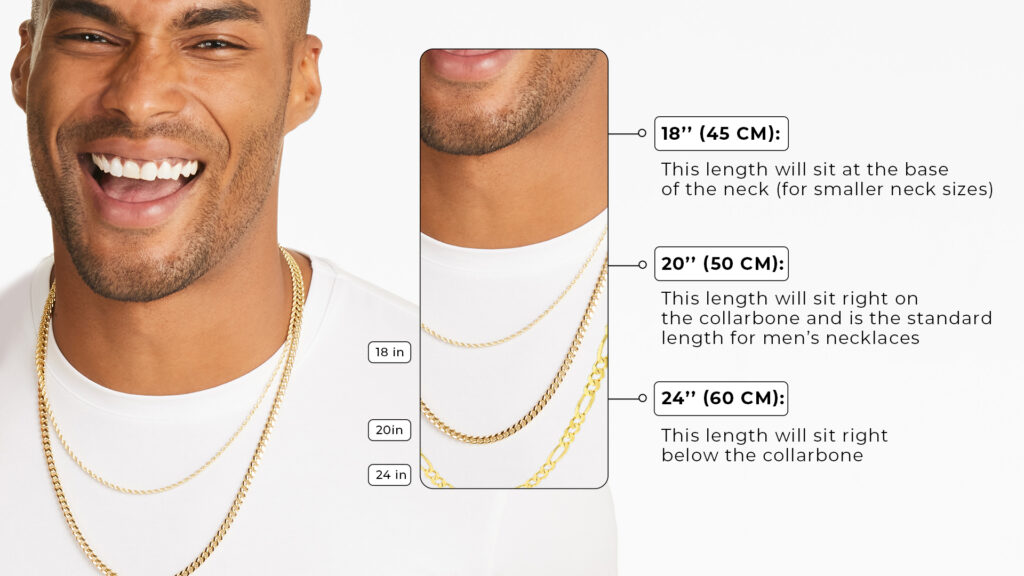 Factors To Consider When Choosing The Right Necklace For You
Everyone wants their necklace to fit as if it were tailor-made! Consider the following factors when shopping so your jewelry will feel like it was made for you:
Neck size
It might seem obvious, but yes, the width of your neck is the most important measurement to consider when necklace shopping. Same with rings and bracelets, necklaces are not always one-size-fits-all! Make sure you consider how you want your necklace to fit around your neck before you commit.
Keep reading to learn how to measure your neck size and determine your ideal necklace length.
Height
When shopping for a necklace, you're probably not thinking about how tall you are- but it may be a good idea to start!
Generally speaking, the taller you are, the longer your necklace should be.
If your height is below average, longer necklaces may be less complimentary. Oftentimes, long necklaces overwhelm shorter people.
Similarly, if you are of above-average height, short necklaces might get completely lost.
We all want to wear a chain that both complements our looks and shows off our beautiful jewelry.
If you are 5 feet tall or under, look for a necklace that is anywhere from 16 to 20 inches long.
If you are between 5'4 to 5'7, most necklaces of standard length will suit you wonderfully.
And if you are above average height, look for necklaces that are at least 20 inches long.
Keep in mind that these are all guidelines. If you are 6 feet tall and want to wear a choker, please do so! If you are 5 feet tall and want to wear a necklace that falls to your waist- don't let anyone stop you!
Wear what makes you feel best.
Body Type
Just like clothes shopping, you'll want to consider your body type when shopping for a new necklace.
If you want to accentuate certain features, jewelry has the magical ability to do so!
For example, if you want to accentuate your hips, a long and thin necklace may help. If you want to slim your hips, a thicker and shorter necklace may work better.
The same can be said for men. If you have broad shoulders, opt for a shorter and thicker chain. If you have narrow shoulders, opt for a chain that is thinner and longer.
Play around with different lengths of chains and see what works best for you!
Face Shape
Certain necklaces can make a face appear wider, rounder, shorter, or longer. Depending on your own face shape, you are likely to prefer one length to another.
For example, if you have a round face that you would like to appear longer, it's best to choose a necklace that will emphasize the length of your face. A necklace that is 20'' to 24'' long will bring the eye down and effortlessly slim your face.
If you have a square or more angular face, a short necklace will soften your sharp angles while elongating your neck.
It's really that simple!
The Look You Want
When shopping for a new piece of jewelry (especially one that you will want to wear for many years to come), it's a good idea to determine what look you want to achieve.
Ask yourself this: Do I want a minimalist, everyday look? Or do I want a necklace for special occasions?
This will help you figure out whether you want a standard-length necklace that you can simply throw on, a necklace that you can easily layer with other pieces, or one that you'll save for important events.
Keep your lifestyle in mind, as well! If your chain is very long, it may not be great to wear while keeping active. And if your chain is very short, it may not go with the types of tops you normally wear.
Once you decide on the look you want (everyday, casual, special, layered, etc.), finding the optimal length will be that much easier!
How To Measure Your Desired Necklace Size
Determining your ideal necklace length is an easy process. Here are the steps to do so:
Wrap a flexible measuring tape around your neck. Keep your finger on the spot where the two points meet.

Unwrap the tape while keeping your finger on the mark. This is your measurement.
If you want a choker, this measurement will be the perfect length for you. If not, add three inches to your neck measurement. This new measurement will be the minimum length of your desired necklace.
You can follow this method as well:
Wrap the same measuring tape around your neck. This time make the two points meet where you imagine you want your necklace to land. The number you reach is your ideal necklace length!
It's that easy!
FAQs
Is a 16 or 18 inch necklace better?
Deciding between these two lengths can be tricky. It really depends on your specific measurements and preferences. The 18'' necklace is the standard for women and is considered a classic go-to. When in doubt, opt for the 18''. This length is ideal for pendant necklaces as it will land right below the collar of a crew neck t-shirt, making sure it gets seen!
Is an 18 inch necklace short?
Not exactly! While the 18'' necklace is shorter than alternatives, this length is not likely to sit close to your neck. Generally, the 18'' necklace will sit just below your collarbone.
Is a 20 inch necklace long?
A 20'' necklace may be too long for some but perfect for others. If you are on the shorter side, this length may be a touch too long. However, if you are taller, this necklace will be perfect!
To Wrap Up
Changing up your personal style, even slightly, can help you uncover a whole new personality! And trying out different necklace lengths is the perfect way to do so.
Whether you have a gemstone hanging around your neck or links of gold, there is the perfect length out there for you.
Keep experimenting and playing with different styles and lengths- you'll look great no matter what.
Subscribe to our email list for access to secret sales, practical ring-buying tips, and $100 off your first purchase!
Armed with five years of writing experience, Rachel aims to turn dense topics into easily understandable content, one shining word at a time.