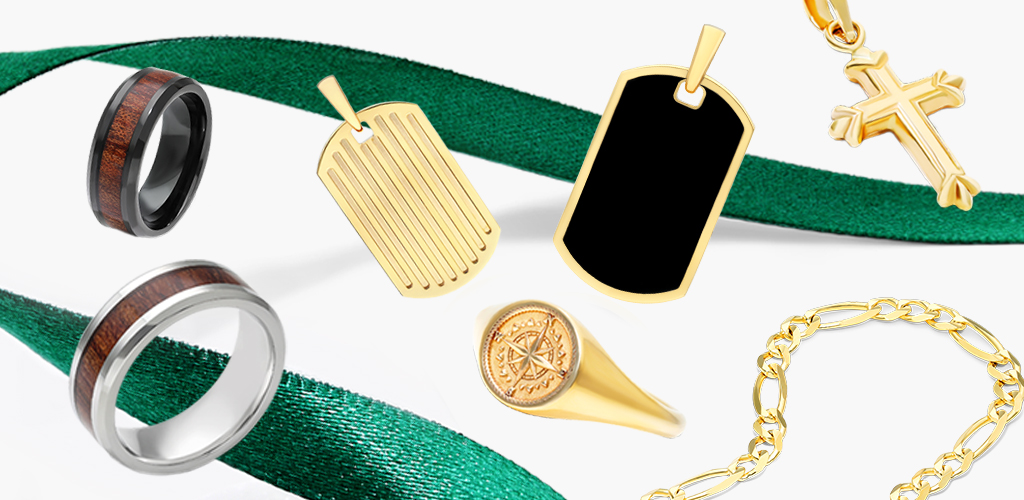 Holiday shopping is not always easy but buying the perfect gift for the man in your life, whether it's your dad, husband, brother, friend, or any other loved one, can be surprisingly challenging. Thanks to JamesAllen.com, checking off your gift list has never been easier. Keep scrolling to find the perfect piece that matches his taste and the demands of his day-to-day life.
James Allen Holiday Sale
Get excited – it's that time of year again, and the annual James Allen Holiday Sale is here! Take advantage of our gift to you with 25% off SITEWIDE for the upcoming magical holiday season.
Don't be a procrastinator this year! To help avoid the holiday rush, sleigh your gift list, wrap up some super savings and get all your shopping done early.
Jewelry Gifts For The Men In Your Life
The big question that always comes to mind is, "how much should I spend"? A year-end gift does not necessarily have to be over the top but simply to say "Happy Holidays" or a small token of appreciation for being in your life. As with any gift, it really depends on your budget.
To help you find the perfect gift, we've included a variety of price ranges. We have everything you need to fill your stockings. Whether you're looking for budget-friendly items or more extravagant pieces, our gift guide for him will have you sorted in no time.
Boyfriend/Husband
Your boyfriend, husband, or partner will love whatever you get him, but let's be honest, he definitely deserves a gift that'll have people wanting one for themselves too.
Contrary to popular belief, there are many men who love to shine too! These timeless men's jewelry pieces are a beautiful way to show your love for your significant other this festive season. In addition to many of the trendy fine jewelry available, we have no shortage of men's fashion ring options to choose from, regardless of his fashion sense or lifestyle.
Father
It's the most wonderful time of the year, so, why not show Dad just how much you appreciate all that he does for you by gifting him with a truly thoughtful gift that he'll love to wear for years to come? Men's fashion rings and personalized fine jewelry are our top picks right now. For a little touch of both, which makes his gift extra special and personal, why not engrave a meaningful message for your dad? You can add an engraving to a large selection of our available men's rings.
Sibling
Whether he's your stepbrother, half-brother, brother-in-law, biological brother, or your true nemesis, he must be special to you in some way, right? We're also here to help you put an end to the "who's the better sibling" debate once and for all *wink wink*.
Ready to splurge or prefer something more inexpensive? From chains and bracelets to signet rings and so much more, these jewelry pieces will definitely help you rack up some brownie points. Before you know it, he might even start calling you his favorite sibling!
Father-in-Law
It can sometimes seem impossible to impress your in-laws, but don't give up this holiday. Whether you've recently walked down the aisle or he's played an influential role in your life for years, your father-in-law deserves something great too. Check out some of our favorite jewelry pieces that are guaranteed to be a huge hit.
Friend
From childhood bestie to work spouse or colleague roomie you can't live without, these are the people that have been there for you through it all. You've celebrated each other's accomplishments, experienced life-changing adventures together, and of course, they've given you some great advice during those tough moments. So, what do these lifelong friends deserve? We think a stylish present that'll end the holiday season on the brightest note is exactly what they need.
Gifts that speak volumes about how much you appreciate them definitely won't go unnoticed (no matter the price tag). Whether you need a unique gift because your best friend has a distinct personality or you're looking for something more classic than a 90s friendship bracelet – we have everything you need.
h
Prefer something a lot more personalized? Check out our birthstone jewelry, available in an assortment of pieces such as earrings, rings, and necklaces. We stock all 12 birthstones, and each one has its own lovely meaning and symbolism. Just another personal and budget-friendly gift idea that we absolutely love!
Wrapping Things Up
At JamesAllen.com, we're all about sharing products we love with our customers, no matter the occasion. So, whether he's your best friend, your dad, or your fiancé, let him know how much he means to you with a special gift for the holidays.
If, after all of this, you're still unsure, contact our non-commissioned diamond and jewelry experts today. They are always available to help and answer any queries you may have. Happy holidays!
In case you haven't done so yet, subscribe to our email list for access to secret sales, practical ring-buying tips, and $100 off your first purchase!