Pearl jewelry pieces are classic accessories overloaded with undeniable sophistication. With its understated elegance and beauty, not to mention, a price tag perfect for all types of budgets, it's no wonder so many have gravitated towards this precious gemstone. Ready to find your perfect pearl accessory? Let's dive in and get to know about the lustrous luminous of the sea – pearls.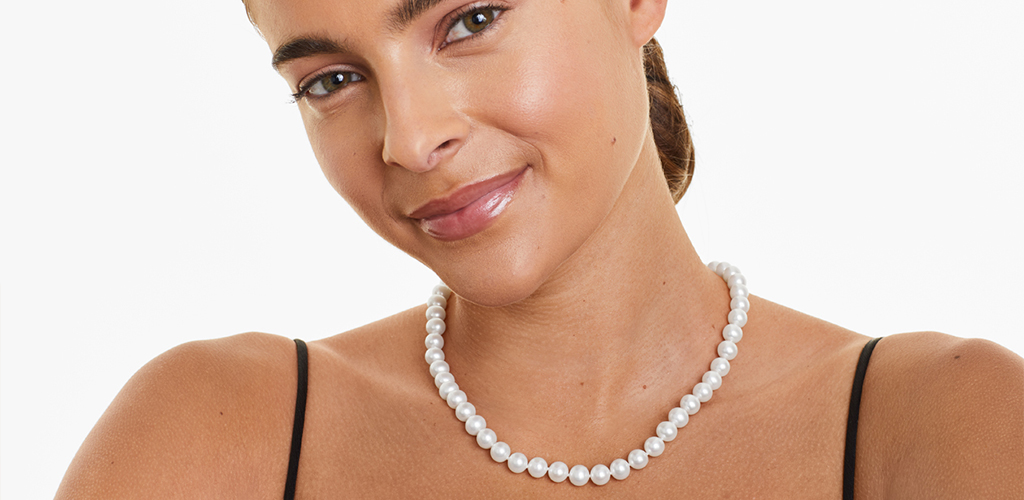 When it comes to the world of fashion, not only is the iconic Audrey Hepburn the definition of feminine elegance but she is often praised for revolutionizing the way we look at pearl jewelry today. However, she is not the only celebrity who has created many unforgettable moments flaunting a variety of pearl jewelry. Other stars include Grace Kelly, Coco Chanel, Michelle Obama, Rihanna and even Harry Styles.
From glamorous red-carpet events to casual dinner dates, finding the perfect statement pearl piece to help elevate any look has never been easier.
The History Of Pearl Jewelry
For thousands of years, people throughout the world have treasured pearls. Despite the long history of the gemstone, Pearls were discovered before written history began, so it is hard to attribute their discovery to one particular time or place. What we do know is that pearls have been worn as a form of jewelry as early as 2300 BC when presented as gifts to Chinese royalty.
While in ancient Rome, pearl jewelry was considered the ultimate status symbol. Did you know that the sixteenth century in England was known as the Pearl Age, reflecting the prestige carried by pearls at that time?
The Symbolism Of Pearls
Officially known as the world's oldest gem, pearls have often symbolized the moon because of their innate luster and its underwater mystique. They were also believed to be filled with magical properties. Perhaps, this is why so many cultures around the world associate pearls with modesty and innocence.
Additionally, pearls are the traditional June birthstone. Loved by women of all ages, this timeless wardrobe staple has long been associated with purity, humility and innocence. For this reason, it is believed that the June birthstone's meaning is "sweet simplicity."
Similar to the traditional meaning of a white dress, cultures throughout the ages have believed pearls symbolize purity.
Pearls & Your Wedding Day
In many cultures, pearls have been a popular wedding custom and bridal jewelry staple for many generations.
Whether you think of yourself as a modern, glam, or vintage-inspired bride-to-be, pearls are a beautiful way to add a chic finishing touch to your big day. And, they can also make for a great "something old" if they are vintage.
Here are just a few gorgeous and graceful ways to incorporate pearls on your wedding day.
Bridal Jewelry
Pearls have been among the most popular gemstones for bridal jewelry and for good reason. A beautiful choice for bridal jewelry, pearls are simple yet oh-so-perfect. They can also be worn long after your wedding since they're a fine jewelry wardrobe staple. From pearl engagement rings to earrings and even delicate bracelets, the truth is, you can never go wrong with pearl jewelry.
Another more practical reason is that pearls perfectly complement the traditional white wedding dress. So, if you're not so keen on pearl jewelry you could also incorporate pearls as accessories or embellishments on your wedding dress.
Did you know that legend has it that wearing pearls on your wedding day will bring a happy marriage? While others believe that a pearl is a representation of a tear and by wearing pearls, you ensure a lifetime of joy with your future spouse. This superstition is practiced by many brides who hope not to shed any tears in matrimony.
Customary Wedding Gift
Some customs have a common tradition where the groom gives his bride a piece of pearl jewelry on their wedding day. Depending on her style, the gift can be anything from elegant pearl earrings to a classic strand of pearls. However, in some families, it is also tradition for the future mother-in-law of the bride to pass down pearls that belong to her, or even gift her daughter-in-law with a new set of gorgeous pearls.
Trending Pearl Jewelry
Today, pearl jewelry is very much trending and considered to be real chic and fashionable, both for men and women. Contrary to popular belief, pearls should not be reserved for very special occasions or in your grandmother's jewelry box. In fact, pearl jewelry is making a huge comeback in 2022 as we see many new and exciting ways to wear pearls.
So, why buy pearl jewelry? Well, wearers love them because they're elegant, complementary, and versatile. And, gift-givers love them because they're affordable, sustainable, and beautiful in any setting.
JamesAllen.com offers a gorgeous selection of pearl jewelry, featuring Akoya, Tahitian, South Sea, and Freshwater pearls.
Pearl Earrings
"You can't ever go wrong with pearls. Perhaps pearls are a girl's best friend after all." – Ki Hackney
Pearl Bracelets
"Life is made up of a few moments all strung together like pearls. Each moment is a pearl, and it is up to us to pick the ones with the highest luster." – Joyce Hilfer
How To Care For Your Pearl Jewelry
Pearls are prized for their delicacy which is why they generally require a great deal of care. Follow these guidelines to help your pearls stay gorgeous for decades and achieve heirloom status.
Wear them as much as possible: the natural oils from your skin actually enhance the radiance of your pearls! Just like applying moisturizer to your skin to prevent dryness, pearls also appreciate a little help to stay hydrated and dewy.
Avoid contact with perfume or other harmful chemicals.
It's best to use a dry, soft cloth to remove any dirt or foreign material from your pearl if it appears dull or dirty.
Do not clean cultured pearls with any chemicals, abrasives or solvents. These substances can damage your pearls.
Never hang up your pearl necklaces or bracelets: always lay cultured pearl strands flat to dry. Hanging a strand may stretch the threads.
Store pearls separately: due to their delicacy, pearls can easily be scratched by when stored alongside other jewelry pieces.
Pearl jewelry should not be thrown into a purse, bag, or jewelry box carelessly.
Pearl Necklaces
"A woman needs ropes and ropes of pearls." – Coco Chanel
Pearl Rings
"The pearl is the queen of gems and the gem of queens." – Grace Kelly
FAQs About Pearl Jewelry
Can you wear pearl jewelry every day?
The answer is YES! Casual or formal, night or day, no matter the occasion pearls can be worn whenever and however you like. So, if your pearl jewelry is currently tucked away at the back of a drawer, we suggest you dig them out and show them off.
What is the price of pure pearls?
A traditional strand of white pearls can range from $100 (Freshwater pearl necklace) to $10,000 (Akoya pearl necklace). A strand of large, flawless South Sea pearls could even be valued as high as $100,000+ .
How can you tell if a pearl is real?
The luster, color and size of each pearl are dependent on the natural processes that occur inside a living oyster. Fake pearls, on the other hand, are typically made of glass or plastic, giving them a smoother and more uniform appearance. Buying from a trusted retailer, such as JamesAllen.com will ensure that your pearl jewelry is beautiful and authentic.
What does it mean when a woman wears a pearl necklace?
Pearls have always been a symbol of elegance and exquisite taste. They are also an expression of who you are as a woman and a sign of maturity. Commonly, these timeless jewels fittingly redefine the modern woman, who is all about strength, beauty, and refinement, just like these gemstones.
What is your favorite style of pearl jewelry?  Let us know on Instagram, Facebook, or Twitter
Subscribe to our email list for access to secret sales, practical ring-buying tips, and $100 off your first purchase!
Looking for more pearls of wisdom? Check out these related posts for inspiration!