Valentine's Day is the most romantic day of the year and is often synonymous with hearts, flowers, and of course, chocolate. This year, why not get creative and gift that special someone in your life with a beautiful piece of fine jewelry? Whether it's your mom, partner, spouse, or even your best friend, James Allen has the perfect gift that they will cherish forever.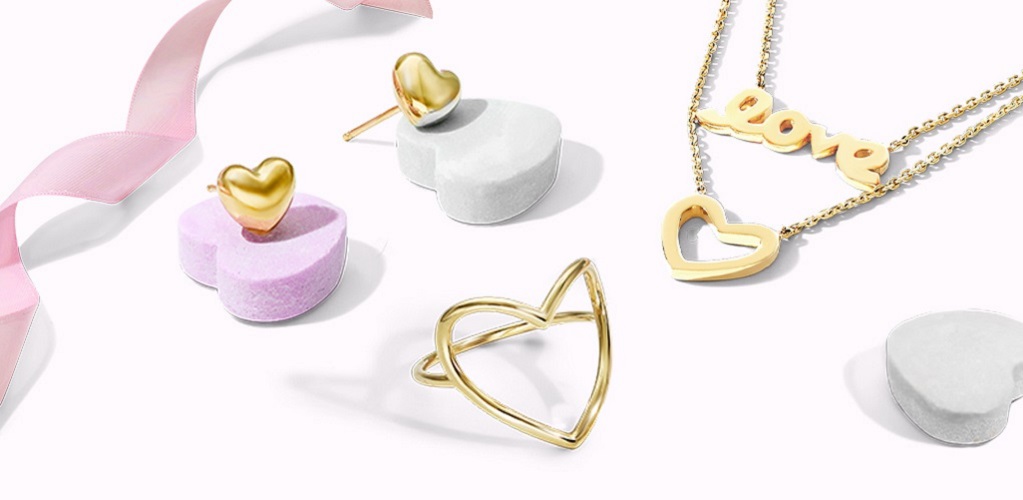 Gifts under $200
Mini Initial 'S' Bracelet -$112
Personalized jewelry is truly one of the most meaningful gift ideas. And this is why we LOVE this adorable, mini initial bracelet. Make it as personal as you like, whether you choose the letter of their first name, your last name, or the initials of your children. This is a timeless and perfect staple piece of jewelry. Check out our matching mini initial necklaces.
Valentine's Day gifting doesn't always have to be excessive. Opt for a simple yet stunning pair of heart stud earrings that are special enough for February 14th but also cute and to wear the other 364 days of the year.
P.S these are cupid approved!
Gifts under $250
Beaded Amethyst Necklace -$202
Birthstone jewelry is a stunning gift idea for Valentine's Day as it's both beautiful and meaningful. Selecting a piece of jewelry that features your special someone's birthstone will add that personalized yet sentimental touch you've been looking for. And, of course, each birthstone has its own lovely meaning. For example, February's birthstone, the amethyst, is rich with symbolism and often associated with protection, inner strength, and courage.
Cushion Garnet Hook Earrings -$225
Let your darling stand out this Valentine's Day with a pair of exquisite gemstone earrings. When it comes to gemstones, there is often a wide variety, from red rubies to pink sapphire and glamorous garnets. Be sure to choose a color that matches their eyes or compliments their skin tone. As gemstone earrings commonly feature small stones, they're quite affordable and make a great Valentine's Day gift.
Gifts Under $350
Duo Love And Heart Necklace -$315
Surprise your Valentine by expressing your love with this playful 14K yellow gold layered necklace. Just like you and your significant other, this necklace features a "love" and open heart joint pendant that beautifully complement each other.
Interlocked Rings Bolo Bracelet -$315
Minimalists will appreciate the subtle message that comes with this interlocked rings bracelet that symbolizes an everlasting connection and unity. What makes this yellow gold bracelet so perfect is that it's adjustable, super stylish, and nothing like a traditional V-day gift!
Gifts under $450
Lily Pink Freshwater Cultured Pearl Drop Earrings -$412
Gifting your sweetheart with a classic pair of pearl earrings comes highly recommended. Pearls are not only chic and timeless but can be worn for any occasion -day or night. These delicate pearl drop earrings are the epitome of sophistication and make the perfect gift for anyone who appreciates anything feminine and pink.
This gorgeous White Gold diamond heart bracelet is simple yet oh-so-romantic. Meaningful and super versatile, this beautiful gift is sure to capture your loved one's heart.
Gifts Under $600
Boy-Girl Diamond Necklace -$517
We love this one and there is no doubt your Valentine will too. This exquisite necklace features a diamond-studded girl and boy holding hands. This makes the perfect gift for anyone from best friends, bride-to-be, or expecting parents. You can also customize the number of charms.
Key To Your Love's Heart Diamond Necklace -$570
Capture the key to your love's heart with this sparkling statement. Available in white gold and rose gold, this stunning diamond necklace will make your Valentine's jewelry collection complete.
Splurge – Gifts under $1000
Cushion Halo Cluster Stud Earrings -$735
These dainty yet elegant stud earrings not only make a stunning Valentine's Day gift are also perfect for everyday wear. These studs are easily one of the most versatile pieces of jewelry that anyone can own and wear. From brunch with your gals to date night with your love, it's no wonder these are so popular.
Petite Arrow Diamond Bracelet – $940
Sleek and modern, this stunning diamond bracelet features a delicate arrow with a single row of diamonds extending from a circle of 14K yellow gold. The open triangle head of the arrow acts as a clasp for easy wear and comfort. This simple design is not only perfect for every day but is also lovely for those special occasions.
Which of these Valentine's Day jewels would you gift your sweetheart? Spread the love and tell us on one of our James Allen social channels: Instagram, Facebook, TikTok or Twitter!
Looking for more gift-giving inspiration? Check out these articles below!
Subscribe to our email list for access to secret sales, practical ring-buying tips, and $100 off your first purchase!