After many months of waiting, the time has finally come to bid farewell to your winter wardrobe and welcome the new season with your favorite warm-weather pieces. We've rounded up the hottest summer styles so that you can rock all the gold jewelry trends of summer 2022.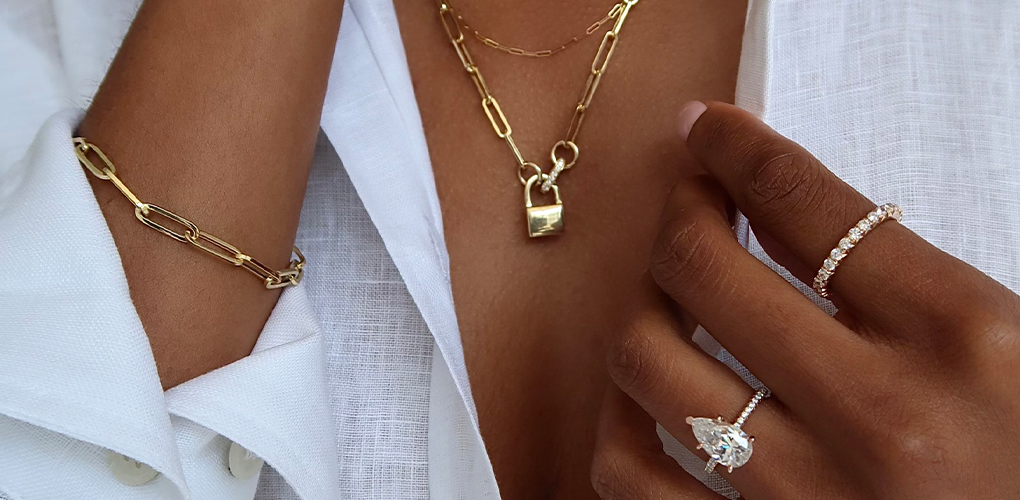 In our humble opinion, the jewelry pieces emerging this season are the most trendy we've seen in a long time. That's right, from the runway to the 'gram, gorgeous gold jewelry is by far one of the most dynamic trends for summer right now. So much so that it's making us excited just thinking about what's coming up next.
We've narrowed down the top trends that really stand out and we know you'll love them just as much as we do. So, keep scrolling to shop this season's best gold accessories!
Why Yellow Gold Jewelry?
There is no doubt that yellow gold is making a comeback, and is here to stay! Although many people may associate gold with an outdated metal or jewelry that once belonged to their grandmother, love it or loathe it, yellow gold is now incredibly chic and on-trend. From gold rings for women and men to simple and showstopping gold earrings, there's no shortage of staple pieces to keep everyone glowing this season.
In addition to its rich and warm appeal, the latest styles and designs available in yellow gold are incredibly beautiful. Back with a versatile vengeance and dominating the jewelry scene, gold jewelry is by far one of the top favorites for summer this year.
Everyday Gold Jewelry Pieces
There is a saying that goes, you should never leave the house without your shoes. When shoes and shirts are optional during summer, everyday gold jewelry takes its place as a wardrobe essential.
Now, the term "everyday jewelry pieces" may differ from person to person. The trick to this trend is opting for pieces in different sizes, textures, and designs.
Whether you're grabbing brunch with friends or going out on a spontaneous date, the right assortment can take your look to the next level. When it comes to figuring out the best everyday jewelry, luckily, gold jewelry complements just about any item in your summer wardrobe and looks good with every skin tone!
Yellow Gold Statement Pieces
A beautiful and bold addition to the lineup for the best jewelry to have this summer is statement pieces. In fact, statement necklaces are one of the hottest ways to spice up any basic summer outfit.
So what exactly is statement jewelry? Statement jewelry is typically pieces that are big, bold, and over the top. And, yes, you guessed it, they make quite the fashion statement.
Now, when you think of statement jewelry pieces, perhaps you imagine something large and intimidating. Fashion is all about trying new things. However, it's important to remember that if you're going to splurge on a statement piece, make sure that it's still your style and that you can wear it confidently.
Finding your statement piece should start with the type of jewelry you like best. Pick your poison, from rings, necklaces, bracelets, or earrings. Once you know which jewelry you like best and will wear more often, then you can start choosing the gold jewelry pieces to bring out when you're ready to have all eyes on you!
Yellow Gold Medallion Necklaces
Traditionally, gold medallion necklaces were worn as a status symbol and very often signified protection, luck, and guidance. And over the last few years, medallion necklaces have become increasingly popular and a much-loved accessory for both men and women.
One of the main reasons why these necklaces have become so fashionable is due to their endless designs, allowing the wearer to show off their own personality through their jewelry.
Whether you choose to wear a medallion necklace on its own or prefer to layer them with gold chains for a more decorated look, this versatile and effortless accessory will definitely be one of your go-to's this summer.
Yellow Gold Pearl Jewelry
One of the hottest trends right now is pearls. In fact, the world's oldest gemstone has become less about status and more about a lovely, everyday addition to any jewelry collection.
Featuring understated elegance and beauty as well as an affordable price tag, pearl pieces will play the perfect complement to your summer vibe.
While classic pearls are forever timeless and always in style, this season's essential is all about a combination of yellow gold and pearls. No matter if you choose a simple pearl bracelet or an elegant fashion ring, pearls will go with any outfit – from bikinis to business attire.
JamesAllen.com offers a gorgeous selection of pearl jewelry, featuring Akoya, Tahitian, South Sea, and Freshwater pearls.
A Touch of Color
There aren't any fashion rules when it comes to wearing color during summer. But as the warmer weather finally starts to take over 2022, the array of stunning color trends that flourished on the runways are now adored by people all over the world.
This is the perfect opportunity to experiment with fresh and playful jewelry designs. Playful pops of color are so trendy this year. In particular, we are loving all the dazzling colored gemstone jewelry. Gone are the days when these jewelry pieces were saved for those special occasions. These stunning accessories will complement any outfit, whether you're at the beach or at an elegant cocktail event.
Super Chic Signet Rings
Signet rings are a style that we just can't stop loving, and that's because there are so many different, gorgeous takes on these classic gold rings. A favorite for both men and women, signet rings typically feature a range of carved designs or diamonds. Originally, men used to wear these rings on the pinky finger, particularly gentlemen involved with business or politics.
But today, and especially this summer, you will see many people wearing gold signet rings as a chic accessory. Even celebs like Meghan Markle, Cara Delevingne, Jay Zee, and Gwyneth Paltrow have also been spotted wearing these fashionable rings. Which one is your favorite?
FAQs About Gold Jewelry
Can you wear gold jewelry in the pool?
Unfortunately, it's best to take off your gold jewelry if you're in the pool. Chlorine can damage and discolor metals like gold, ultimately running your jewelry.
Can you wear gold jewelry in the ocean?
The salt in the ocean's water can corrode metals and leave them weakened and tarnished. Not only do you risk loosening your gemstones or diamonds but there's also the risk of losing your jewelry in the sea.
Why is your gold turning black?
By itself, gold shouldn't tarnish. However, there are three main factors that could cause your gold to turn black. Harsh chemical detergents, your body's chemistry (sweat and hormones), and warm weather can cause moisture to get trapped under your jewelry that mixes with your body chemistry.
Is gold jewelry hypoallergenic?
Yes, and no. If you are partial to yellow gold and don't have an extreme metal allergy, the higher Karats of gold may work for you.
Final Thoughts
We at JamesAllen hope you enjoyed this blog post just as much as we loved writing it. Our archives are packed with fun and helpful tips and education about engagement rings, fine jewelry, and gemstones.
For more about gold, check out these gold jewelry-related posts.
Subscribe to our email list for access to secret sales, practical ring-buying tips, and $100 off your first purchase!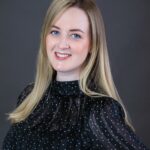 An experienced content writer with four years' experience, Tarryn enjoys educating and guiding jewelry shoppers, providing them with valuable insights and best practices for making informed purchases.