Who can escape the fascinating appeal of Sapphires? With its perfect balance of classical beauty and contemporary expression, it's no wonder this gemstone is so prevalent amongst many royal families.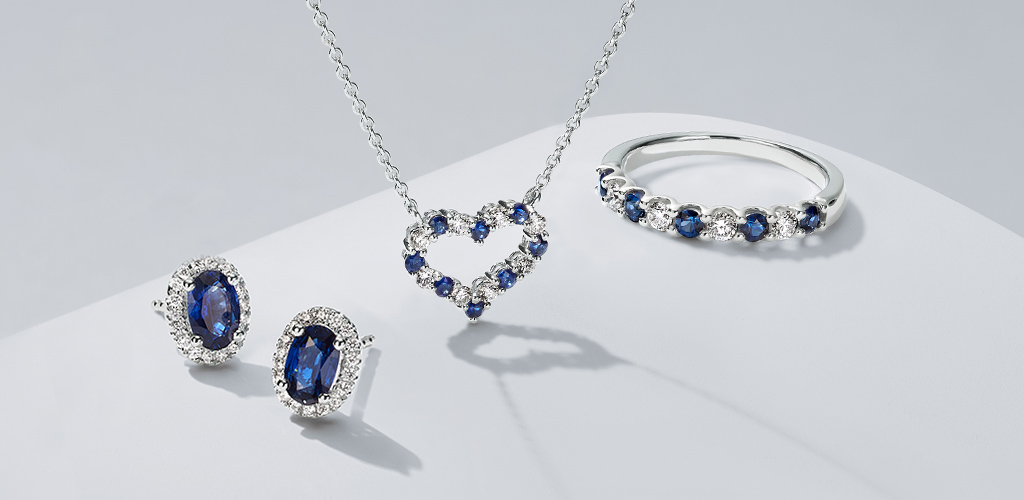 September brings seasonal changes and ushers in the start of the beautiful fall season. The month of September is not only one of the most popular months for weddings around the world, but it also possesses a largely favored gemstone too. 
Although the color that comes to mind for most people when they think of sapphire is deep royal blue, in reality, no two sapphires are alike because of the many variations of colors and shades. This guarantees a one-of-a-kind piece of jewelry with a beautiful and symbolic meaning.
Keep reading to learn more about one of our favorite birthstones.
What Are The Three Birthstones For September?
As a matter of fact, there are several gemstones that represent September besides sapphires. The month of September actually boasts three unique and magnificent gemstones as its birthstone. They include Sapphire, Lapis Lazuli, and Carnelian.
Even though sapphires are the most common gemstone choice for September, zircons come in second place. But don't let that stop you from adding any of the less popular gemstones to your jewelry collection.
What Is The September Birthstone Color?
The beautiful rich blue of Sapphire makes it one of the most desirable birthstones. But did you know that Sapphires come in a kaleidoscope of colors too? While the most popular hue is royal blue, the gemstone's colors can vary from pink, green, orange, purple, and yellow. From our point of view, no matter what you choose as your favorite shade, it still counts as a September birthstone. 
September Birthstone History & Symbolism
The word 'sapphire' comes from the Latin word 'saphirus' and the Greek word 'sapheiros, both meaning blue. Did you know that the unique meaning behind every gemstone is informed by its history and tradition? The historic and much-desired gemstone is customarily connected with royalty, nobility, and spirituality.
To date, royals believe that the September birthstone brings protection, good fortune, healing, and wisdom. But many also believe that sapphires represent virtue, good fortune, and sincerity, which are all important qualities in a marriage. Sapphire engagement rings have long been a symbol of devotion and sincerity, making them a perfect choice for brides.
Where Is The September Birthstone Found?
Sapphire is found in only a handful of locations around the world. The three most well-known and important sources for the September birthstone are Kashmir, Myanmar (formerly Burma), and Sri Lanka. Sri Lanka, in particular, boasts the world's most sought-after sapphires because of their rich, shimmering blue hues. However, sapphires from Sri Lanka are among the most expensive. 
More recently, mines and significant quantities of the September birthstone have also been found in Australia, Thailand, Cambodia, Madagascar, India, and the United States (Montana), among other countries in Asia and Africa. In fact, Madagascar is fast becoming one of the world's leading countries of stunning sapphires.
September Birthstone Jewelry Gifts
From elegant necklaces to bold sapphire earrings, the JamesAllen.com September birthstone jewelry collection is complete with various styles, designs, and colors. Making it perfect for those looking to make the ultimate style statement. September birthstone jewelry makes an excellent gift for a number of reasons:
Celebrating a special occasion? Sapphire jewelry is a traditional symbol for the 5th and 45th year's anniversary.
That special someone in your life who is born in September
Looking for a stunning piece of "something blue" jewelry?
Is Blue your favorite color? Go on and treat yourself to a piece of beautiful fine jewelry you'll cherish forever.
Now, when it comes to celebrities, blue sapphire engagement rings in particular are very popular and have also been associated with the royal family for centuries.
This trend began during the early 80s when Prince Charles gave Lady Diana Spencer a magnificent Sapphire engagement ring which, of course, came with a hefty price tag. The non-traditional and very unique engagement ring caused major controversy, as not everyone in the British royal family approved of the bold gemstone.
Princess Diana's sapphire blue engagement ring may be one of the most recognizable pieces of jewelry in history and it seems many other stars like Victoria Beckham, Penelope Cruz, and of course, Kate Middleton have followed suit.
Sapphire Birthstone Care & Cleaning
Jewelers use a tool called the Mohs Hardness Scale to rate a gemstone's general resistance to scratching. Gemstones are ranked from 1 to 10 on the scale, diamonds are the hardest at 10, while pearls are the softest at an average of 3. It's important to note that higher gemstones are more durable while lower gemstones need a little more protection and care.
Sapphires are ranked 9 on the Mohs Hardness Scale, meaning the gemstone is highly durable and is not prone to cracking, chipping, or breaking. Furthermore, you do not need to be overly careful when cleaning them. 
But, this does not mean you can get away from caring for and cleaning your sapphire jewelry. Keep in mind that at least twice a year, you should check your sapphires to ensure the gemstone is not loose in its setting. Additionally, experts recommend storing your sapphire jewelry separately in its own container or in a soft bag to avoid being scratched.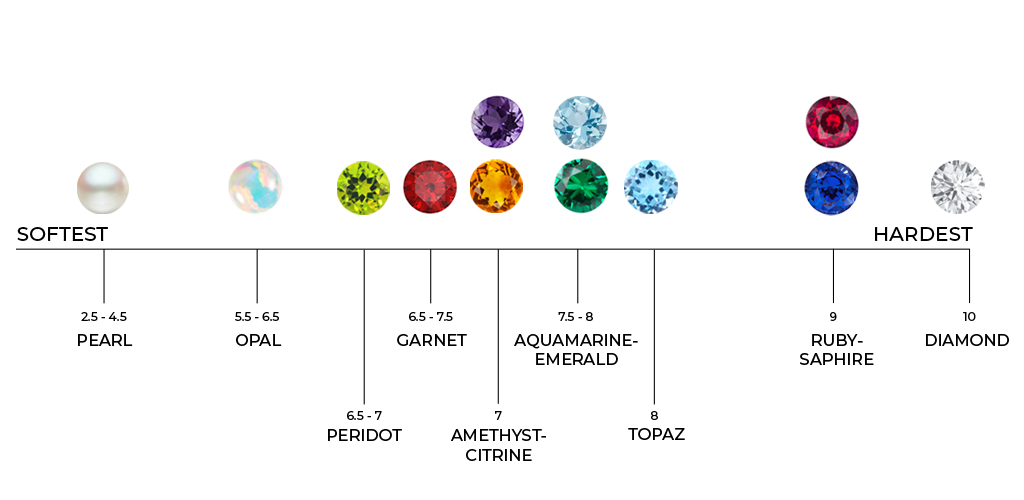 Sapphires can also easily be cleaned at home. Even though you can use ultrasonic cleaners and steam with no problem, soap and water will do the trick. 
All you'll need is:
A small bowl
Soft-bristled bristled toothbrush
Warm water
Mild soap
Steps to clean your diamond:
Add warm water into a small bowl with some mild soap.
Soak your sapphire jewelry for ± 20 minutes. If your jewelry seems extra dirty, let it soak longer.
Next, brush the gemstone with a soft-bristled toothbrush and rinse the jewelry with clean water.  
It's very important to dry the gemstone with a soft towel thoroughly.
DO NOT allow the water to stay sitting on the gemstone.
Fun Facts About Sapphires
Princess Diana's engagement ring featured a whopping 12ct oval cut sapphire surrounded by diamonds.
The Star of Adam is an oval-shaped blue star sapphire, currently the largest star sapphire in the world. Discovered in Sri Lanka in August 2015, it weighs 1,404.49 carats. 
Sapphires are often considered one of the Big 3 gemstones, accompanied by Emerald and Ruby.
Color changing sapphires exist. Yes, we are just as intrigued as you are. These types of sapphires exhibit different colors in different lighting, shifting from blue in the daylight to a bluish purple in the nighttime under incandescent light.
Sapphires and the Ruby gemstone have a lot in common, and many refer to them as 'relatives'. Both rubies and sapphires form the same mineral corundum, a crystalline form of aluminum oxide. Red corundum is called ruby, while all other gem-quality forms of corundum are called sapphires.
FAQs About The September Birthstone
What stone is suitable for Virgo?
The zodiac sign's birthstone belongs to those born between August 23rd and September 22nd. Although various gemstones are associated with Virgos, the main and most suitable stone is blue Sapphire.
Is Sapphire expensive?
Sapphires are regarded as one of the most valuable gemstones. However, they do range in price depending on many different factors. Sapphires range from $25 per carat to more than $11,000 per carat, and the most expensive one ever sold came in at $135,000 per carat.
Do all months have two birthstones?
Traditionally each month is associated with one birthstone, but you will find some months have multiple birthstones. This fact does create some confusion, but the multiple options for some months were created in order to allow more affordable options in addition to the traditional, more expensive stones.
Final Thoughts
Are you a September baby? Which color sapphire is your favorite? Let us know on Instagram, Facebook, TikTok, or Twitter.
You can also read more about a particular birthstone in our related blog posts.
January Garnets * February Amethysts * March Aquamarines * April Diamonds * May Emeralds * June Pearls * July Rubies * August Peridots * September Sapphires * October Opal * November Citrines * December Blue Topaz
Subscribe to our email list for access to secret sales, practical ring-buying tips, and $100 off your first purchase!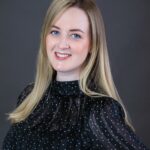 An experienced content writer with four years' experience, Tarryn enjoys educating and guiding jewelry shoppers, providing them with valuable insights and best practices for making informed purchases.