The October birthstone, opal, is known for the distinctive fiery flashes it emits whenever it catches the light. Read on for the opal jewelry that best showcases this gorgeous gemstone!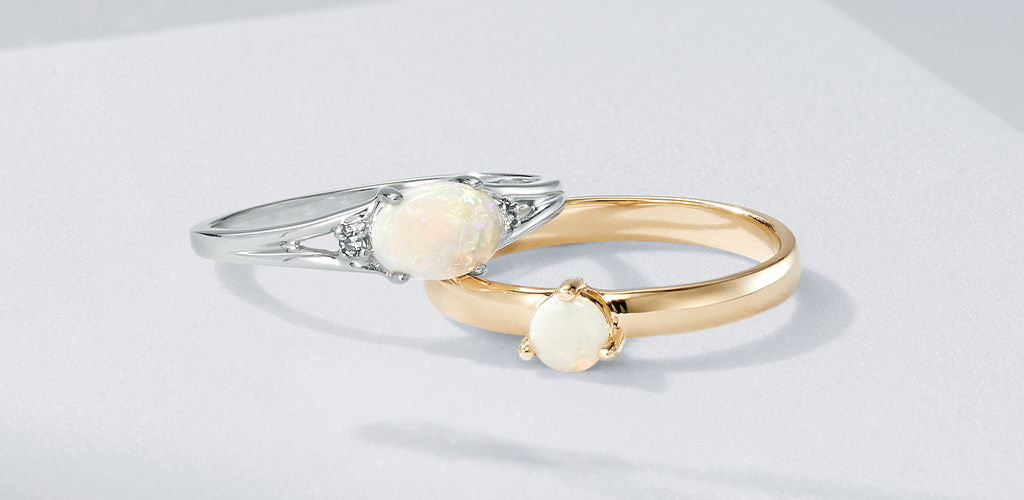 What Is October's Birthstone?
Opal! This is the OG of gemstones – in fact, it takes its name from the Latin word for "precious stone." This iridescent gemstone truly displays the full spectrum of hues, from a glimmering white to a full-on rainbow.
But did you know that October has a second birthstone? Tourmaline, a silica variant, comes in a range of hues; the most common is a clear green that's reminiscent of the verdant emerald.
What Is Opal?
Opals fall into two categories: precious and common. The common opal displays a uniform, milky-white or blue sheen. The precious opal, however, is the most prized in jewelry; this is the opal that displays the famous rainbow flashes characteristic of the gemstone.
Opal Birthstone Origins and History
Opals are found all over the world, but most of the world's supply comes from Australia. The Australian opal fields produce 97% of the world's opals! Opals were first discovered in Australia in the 1800s, and since then, they have become an important part of Australian culture.
Opal Symbolism and Meaning
Opals are said to symbolize hope, purity, and truth. They are also associated with loyalty, faithfulness, and confidence. In some cultures, opals are thought to bring good luck.
October Birthstone Colors and Appearance
Opals come in a wide range of colors, from white to black. The most popular color is white, followed by black. Black opals are the rarest and most valuable type of opal. Opals typically have a milky base color with flashing reflections of other colors. These "flashes" are what give opals their unique sparkling appearance.
Why Does Opal Flash?
Opal is a gemstone composed of amorphous silica and water. Its structure is a lattice of silica layers containing stacked layers. These stacked layers are of the perfect composition to catch and diffract light into the characteristic rainbow that characterizes opal.
Visible light can't penetrate the full width of an opal's dense structure. Along the way, it hits the various silica layers and splits into a spectrum of colors. An opal's fire is called opalescence. … Opal's fire is graded on a scale of 1 to 5, with 5 being the brightest.
Types of Opal Jewelry
There are many different types of opal jewelry available on the market today. You can find rings, earrings, necklaces, bracelets, and more. Some pieces are simple and understated, while others are large and eye-catching. No matter what your personal style is, there's sure to be an opal piece that's perfect for you! 
Opal rings
Opal rings are perfectly designed to flaunt the brilliance of the October birthstone. As you go about your day-to-day, gesturing, and wiggling your fingers, your movement allows the light to hit your opals in all the right spots. Opal rings glitter like no other!
Opal Necklaces
Talk about a show-stopper. An opal necklace with a sizeable center stone is a true stunner. And since every opal has its own color dispersal pattern, absolutely no one will be able to rival your piece of opal jewelry.
Opal Earrings
When one opal just isn't enough, opal earrings have got you (and your lobes) covered. They're especially good at bringing out the color of your eyes! The October birthstone highlights every eye color with its multi-hued glitter. 
This October's your chance to wrap yourself in a chunky scarf, pop on your new opal earrings, and light up the city with your opalescent fire!
What Are Fire Opals?
Fire opals are opaline in structure but with very different color characteristics. They aren't milky white like their more well-known counterparts; rather, they take their name from their warm hue, which can be anywhere in the range of yellow, orange, or red. At certain angles, they may flash green.
How Is Opal Cut?
Other gemstones sparkle thanks to the angle shapes they're cut into. Opals, however, are rounded and polished externally in order to display their impressive internal facets. Every precious stone is singular, but opal jewelry is unique on a whole different level. With every movement, opals flash different colors. It's a truly dynamic gemstone.
As for how opals are mounted, there are three popular choices: solid opal, doublet, and triplet.
Solid opal: This is natural opal that's cut and polished to reveal its natural opalescence. The highest quality opals are cut solid. All of James Allen's opal jewelry is set with solid opals.
Doublet: Two layers – an upper slice of rounded opal and a black backing. The dark back serves to brighten the opal's natural coloring
Triplet: Three layers – a black backing, a middle slice of flat opal, and a rounded upper layer of glass. The black backing brightens the opal's colors, and the upper layer of glass serves to protect the opal's soft surface.
What Jewelry Metals Look Good With Opal?
Opals are an interesting mix of colors. On the one hand, their presenting color, milky white, is quite neutral. On the other hand, opals' fire is pure rainbow fire. This color variance means that opal jewelry looks stunning in any setting. We recommend matching your jewelry metal to your opal's dominant color. Any color of jewelry metal can complement any opal, but here are our particular suggestions:
Milky white opal: yellow gold, rose gold, white gold, or platinum
Blue opal: white gold or platinum
Fire opal: yellow gold or rose gold
How To Care For Opals
All of James Allen's jewelry is solid opal, which requires similar cleaning to gold and platinum. Opals are relatively soft gemstones, with a grade of 6.5 on the Moh's Hardness Scale. Mix a few drops of dish soap in a cup of warm water; dip a soft-bristled toothbrush into the mixture and gently scrub your opal to clean it. It's safe to place it in water, so you can rinse your stone under the faucet after you're done cleaning it.
To Sum It Up
Opal is an ever-changing, gently colorful gemstone. As the October birthstone, opals are the ideal gift for an autumn birthday! Gift them a bit of color to brighten them up as the fall days get shorter and darker. Their opal will be as unique as they are!
Subscribe to our email list for access to secret sales, practical ring-buying tips, and $100 off your first purchase!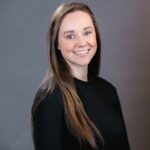 Jessica is a seasoned content writer with four years of experience and a qualified gemologist. She enjoys educating new shoppers on the best practices for buying jewelry.