Add a personal touch to your style through stacking rings. Not sure how to stack them or which ones to buy? Read on to see our top ring stacking tips and which styles you should keep an eye out for.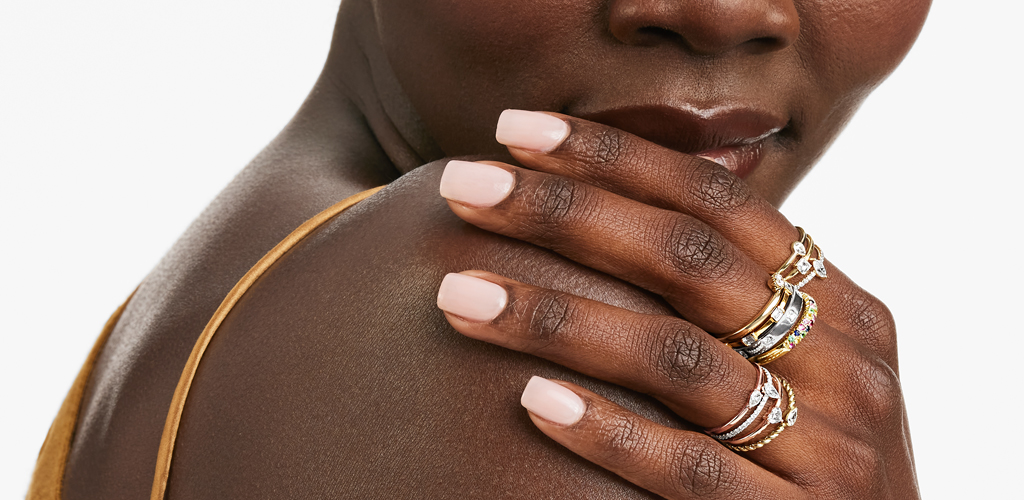 What Are Stackable Rings?
You might've heard of stacking rings as an on-trend style for jewelry lovers. But what are stackable rings? Well, it's simply all in their name. Stackable rings are rings that can be worn on top of each other. This creates a stacking effect that looks great for both day and night looks.
Stacking rings are typically daintier than standalone rings, from thinner styles that give you more freedom to stack however you like to curved designs that are more playful and romantic.
Remember, there are no rules to stacking rings since it's one of the best ways to express your personal style. We'll share some basic tips on different ways to stack rings if you're just getting started.
How To Wear Stackable Rings
Here are 5 on-trend ways to build the perfect ring stack for a minimalist or bold look.
Mix and Match
Mixing and matching your metals is the first way to build a ring stack. To mix your metals successfully, make sure you keep all rings on the same hand. Keep your white, yellow, and rose gold stackable rings on one hand instead of splitting metals on different hands based on colors.
Don't Stack Every Finger
Leave one finger bare on your stacking hand to create a more balanced look. If you're more of a minimalist, leaving every other finger ringless will give you a polished aesthetic. However, only leaving one finger bare is the way to go if you want all eyes on you. If you're having a hard time choosing, let your rings decide, see what fits most comfortably on which finger, and your answer will present itself.
Stack With Different Shapes & Styles
Similar to mixing metals, you should also mix different ring shapes and styles. Try stacking rings with thicker bands, like signet rings, and stack them with an eternity ring. Curved stackable rings are also great for creating dimensions in your ring stack.
Stack Both Hands
Stacking both hands is a fun way to add more oomph to your look. Trust us, the more stackable rings you invest in, the more you'll want to wear them, and for that, you need as many fingers as you can get. This can be as simple as stacking one finger on one hand and placing three rings on three different fingers on the other hand.
Gemstone Hack
If you're stacking rings with a gemstone or gem side stones, try investing in neutral stones so that the rings don't clash. As a general tip, it's always best to keep the gemstone stackables at a minimum or stack them with plain metal bands to even out the look.
Different Types Of Stackable Rings For Women
Now that you know the different ways of stacking rings, let's move on to choosing the best stackable rings for your style!
Not everyone likes the same metal color, some prefer only to wear the metal shade that suits their skin tone, and that's perfectly fine. Others love to incorporate different metals into their daily ensembles. Whether you like a plain set, a colorful catch, or a sparkling stack, here are our favorite stackable ring options for every woman's preference.
Gold Stackable Rings
Rose Gold Stackable Rings
Birthstone Stackable Rings
Diamond Stackable Rings
FAQs
Which finger do you wear stackable rings on?
Stackable rings can be worn on any finger of your choosing. There's no rule set on how to stack rings.
What do stackable rings mean?
Stackable rings mean rings that you wear one on top of one another to achieve a stylish stacked look.
Are stacking rings in style?
Stacking rings is currently a fun trend that doesn't seem to be going away anytime soon. This style has been adopted by both minimalists and maximalists alike.
Do you size up for stacking rings?
Yes and no. For your index, middle, and thumb, you will need to size up your stacking rings while sizing down for your pinky. If you enjoy wearing rings just below the tip of your finger, you should size down. A good rule of thumb is to buy adjustable rings that can be sized to any finger.
Ready Set Stack
Now you have all the information you need to start styling and stacking! Start with the basics, and get more creative as your jewelry collection expands. Visit us at JamesAllen.com and check out all our stunning stackables today!
We've always got new style tips and trending rings to share with you, so keep up with us on one of our social channels: Instagram, Facebook, TikTok, or Twitter.
Subscribe to our email list for access to secret sales, practical ring-buying tips, and $100 off your first purchase!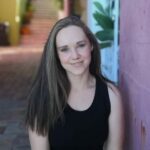 Jessica feels too much anxiety trying to come up with a cool bio. Read her awesome blog post instead.