Tap your heels together three times and repeat after us: there's no birthstone like ruby, there's no birthstone like ruby, there's no birthstone like a ruby.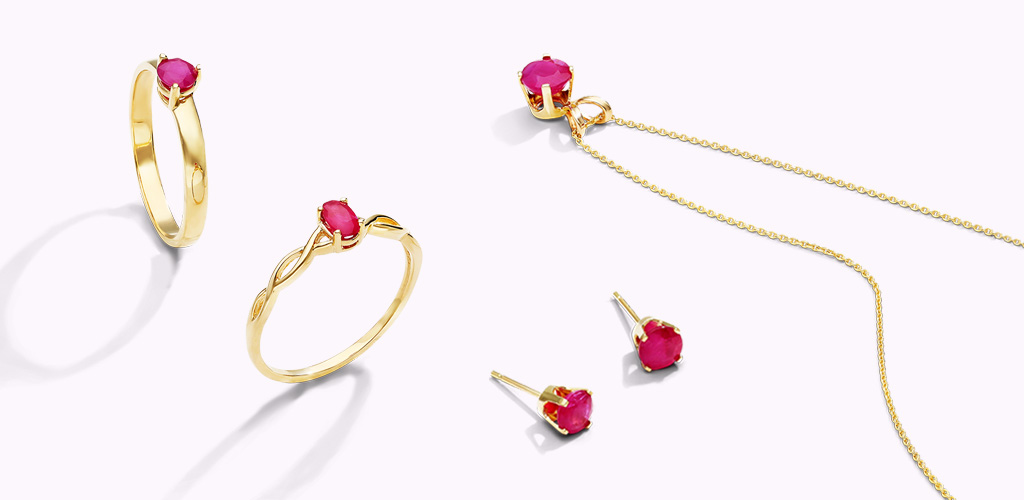 What Is The July Birthstone?
Ruby, the July birthstone, is a lustrous, blood-red color stone that has been prized for millennia. Rubies are mentioned multiple times in the bible, were described by Pliny in the first century AD, and are named "the king of gems" – ratnaraj – in Sanskrit. Traditionally mined in South Asia, and in particular Thailand and Myanmar, they made their way via the silk road to all corners of the ancient world.
Though rubies likely rose to royal status first in ancient India, they were quickly adopted into noble families wherever they went. Jaw-dropping ruby jewelry sets are currently worn by the royal families of England, Denmark, and Portugal. And a bit further back, Marco Polo wrote that the Chinese emperor Kublai Khan, upon visiting the ruby mines of Sri Lanka, was so taken by the gems' beauty that he offered to trade a whole city for one particularly massive scarlet stone.
Ruby Gemstone Meaning & Symbolism
Ruby gemstones enjoy a wealth of special ruby meanings, among them passion, love, wisdom, wealth, and power.
Ancient Hindus believed those who offered rubies to the god Krishna would be emperors in future life. People in India and Burma have also believed that rubies provided safety and peace, and medieval Europeans thought these gems guaranteed health, wealth, wisdom, and success in love.
The ruby's depth of history and meaning certainly makes them one of the more impressive birthstones; July babies are lucky enough to have an excuse to wear these charming gems year-round.
The Color Of Ruby
Color is the most significant factor affecting a ruby's value. The finest ruby has a pure, vibrant red to slightly purplish red color. In most markets, pure red colors command the highest prices, and ruby with overtones of orange and purple are less valued. The color must be neither too dark nor too light to be considered the finest quality. If the color is too dark, it has a negative effect on the stone's brightness.
At the other extreme, if the color is too light, the stone may be considered to be a pink sapphire, even if the color strength or intensity is high. That said, pink sapphires enjoy a following, at a far more competitive price than rubies. Ultimately, the most desirable color of ruby is the one you prefer the most.
The Difference Between Pink Sapphire and Ruby
Some gem dealers debate the borderline between ruby and pink sapphire. Historically, the word ruby referred to shades of red, which technically included pink. There are also cultural differences in the interpretation of ruby versus pink sapphire. In some gem-producing nations such as Sri Lanka, pink colors were always considered ruby, while in many other countries it is classified as pink sapphire.
The GIA Laboratory uses a controlled set of comparison stones called master stones to determine if corundum is ruby. Rubies are part of the corundum family. Corundum gemstones are only classified as rubies if they're red. The red in rubies comes from Chromium. Unfortunately, it also causes cracks and fissures, which is why it's very rare to find rubies larger than 3 carats.
The laboratory grades its master stones on the principle that red must be the dominant hue before a stone can be called a ruby. In the gem trade, though, pinpointing the dominant hue is subject to personal perception.
7 Fun Facts About Rubies
Ruby is one of the four precious gemstones. The others are emerald, sapphire, and diamond.
The word ruby comes from the Latin Rubens, which means red. Rubies are found in many shades of red, from rich darkish red to pigeon blood red and pinkish red. The red hue comes from traces of the mineral chromium. The most precious rubies are those with a full, rich red color with just a hint of blue tones.
A ruby is a pink to blood-red colored gemstone, a variety of the mineral corundum. Other varieties of gem-quality corundum are called sapphires.
Ruby is the birthstone for July. It is also a traditional gift for those celebrating their 15th or 40th anniversary.
Rubies are extremely strong, registering 9 on the Mohs scale of hardness. They are as resilient as sapphires and only slightly softer than diamonds.
Rubies have been found all over the world, including in Myanmar (formerly Burma), Africa, Australia, and the USA. Most of the finest rubies were mined in Myanmar, thus the finest rubies are now known as "Burmese Rubies".
Almost all rubies have flaws – Rubies without imperfections are exceptionally rare. In fact, that is one way that a ruby is authenticated – if it has no inclusions, it is likely not a genuine ruby!
The July Birthstone: Ruby Rings
A ruby ring is the perfect birthstone gift. Special, singular, and super scarlet – gifting a beautiful ruby in a meaningful setting will melt the heart of any July birthday. The ultimate advantage of a ruby ring? The wearer can always see it. They'll hold it up to the light, wiggle their fingers, and let your ruby birthstone ring shine.
The July Birthstone: Ruby Engagement Rings
Rubies have a long history of symbolizing love, passion, romance, courage, and protection. This beautiful symbolism makes them a perfect center stone for your engagement ring.
Ruby engagement rings aren't just a unique twist on the traditional diamond ring, but they offer a sense of personalized style and will certainly make you stand out from the crowd.
The July Birthstone: Ruby Necklaces
A ruby necklace is the birthstone gift for the extroverted July birthday. It makes its wearer an instant subject of attention. What's better than a stunning ruby pendant to punctuate a grand entrance?
The July Birthstone: Ruby Bracelets
Make your very special July baby feel even more glorious with a diamond and ruby bracelet customized to them. Or slip on a ruby bangle and start celebrating.
The July Birthstone: Ruby Earrings
Studded diamond and ruby earrings are cute additions to your gemstone wardrobe. Popping on these sparkling ruby hoops is the simple formula for an instant good day. Or if you're a simple stud lover, try on a pair of halo ruby studs for maximum sparkle.
Rubies are bold gemstones with a deep-rooted royal history. Anyone with a July birthday has lucked out since the ruby is a birthstone with gusto. Extremely durable, this scarlet stone can be worn all the way to your next July birthday with minimal upkeep needed. Gifting ruby jewelry is a surefire way to memorably mark your next July milestone.
More About Gemstones
We hope you found this helpful! If you're looking to know more about gemstones, or you're curious to learn more about a particular birthstone, check out our related blogs below!
January Garnets * February Amethysts * March Aquamarines * April Diamonds * May Emeralds * June Pearls * July Rubies * August Peridots * September Sapphires * October Opal * November Citrines * December Blue Topaz
Subscribe to our email list for access to secret sales, practical ring-buying tips, and $100 off your first purchase!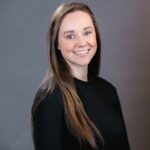 Jessica is a seasoned content writer with four years of experience and a qualified gemologist. She enjoys educating new shoppers on the best practices for buying jewelry.