Looking for a gift for a special August-born someone? Peridot jewelry is here to end your search! Its bright yellow-green hue complements both cool and warm skin tones – plus, it looks stunning in any design.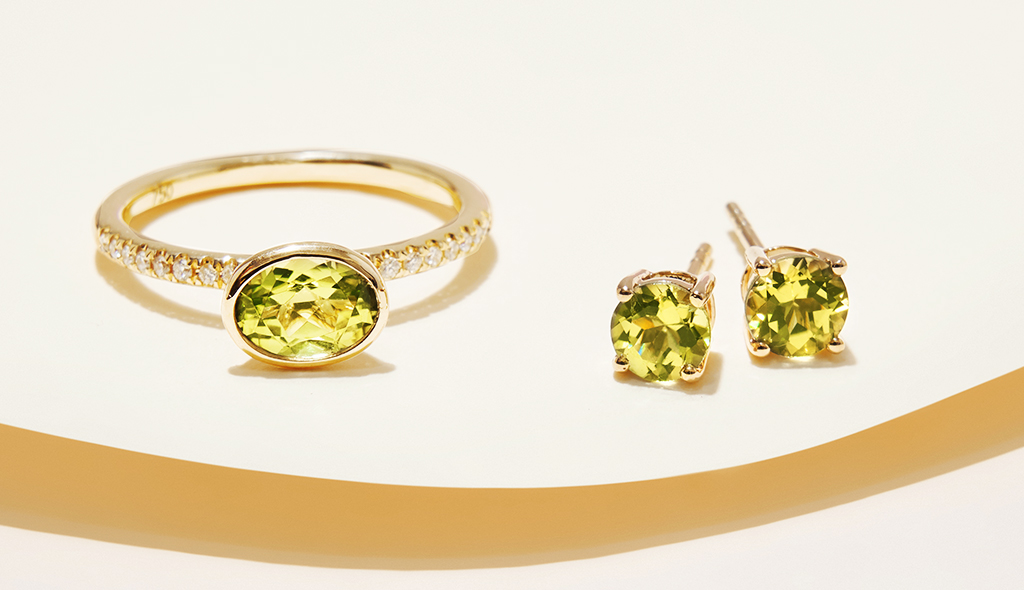 THE MEANING OF PERIDOT
Peridot is the August birthstone, and it's an especially summery treat! Widely believed to sharpen the mind, imbue positivity, and promote good health, peridot is simply delightful. Its grass-green hue pairs perfectly with those hazy, lazy, crazy days of summer. Wear the August birthstone as you sip a mint mojito by the side of the pool.
WHAT IS PERIDOT?
Peridot is the gem-quality form of olivine, a silicate mineral found in the earth's upper mantle. It's also called chrysolite. It's always green, although the particular shade depends on its iron content. Peridot is the form of olivine that contains 12% – 15% iron, although it also contains a good amount of magnesium. Olivine with high magnesium content is called forsterite – and appears brighter green- while those with more iron content are called fayalite – and appear muddy brown.
Peridot has also been found in meteorites! These stunning silvery meteorites are honeycombed with yellowish peridots.
THE HISTORY OF PERIDOT
Peridot has been treasured for thousands of years. The earliest record we have of mined peridot is from around 1500 BCE, off the coast of Egypt on St. John's island. Although the etymology of peridot is disputed, it possibly derives from the Arabic "faridat," meaning "gem."
Peridot has often been mistaken for emerald; the broad color spectrums of the two green stones tend to overlap. The Three Holy Kings shrine in Germany's Cologne Cathedral was – for centuries – famous for its impressive emerald decorations, which turned out to be several hundred carats' worths of gorgeous peridot! Similarly, historians suspect that Cleopatra's renowned collection of emerald jewelry was, in fact, largely a collection of peridot jewelry.
HOW TO WEAR PERIDOT
This sunny green gem looks incredible with warm metals. Yellow gold + peridots are an especially winning duo. And it goes without saying that anyone with green eyes would see their natural iris color boosted 10x over by a pair of verdant peridot earrings.
The real kicker? It looks fabulous in any cut. You can rock your favorite stone shape – oval, princess, baguette, cushion, classic round – in peridot.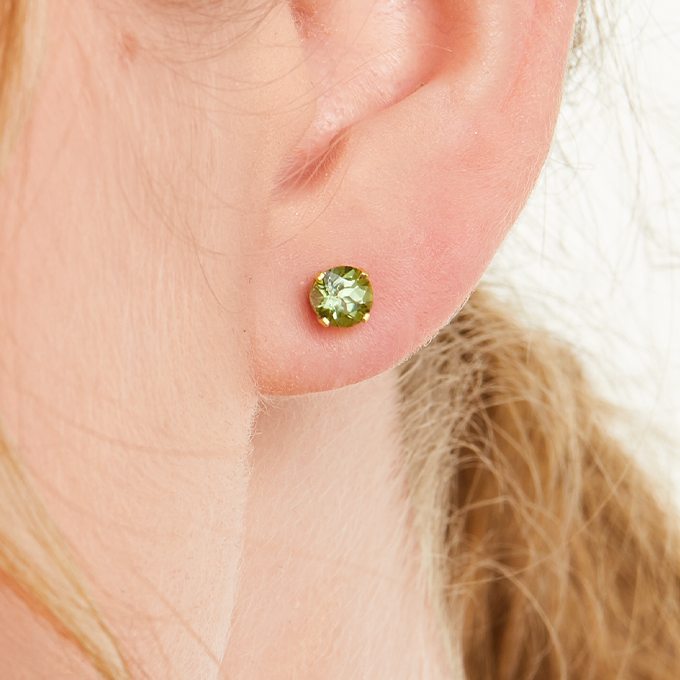 Gift this simple pair of peridot stud earrings to your favorite green-eyed August birthday!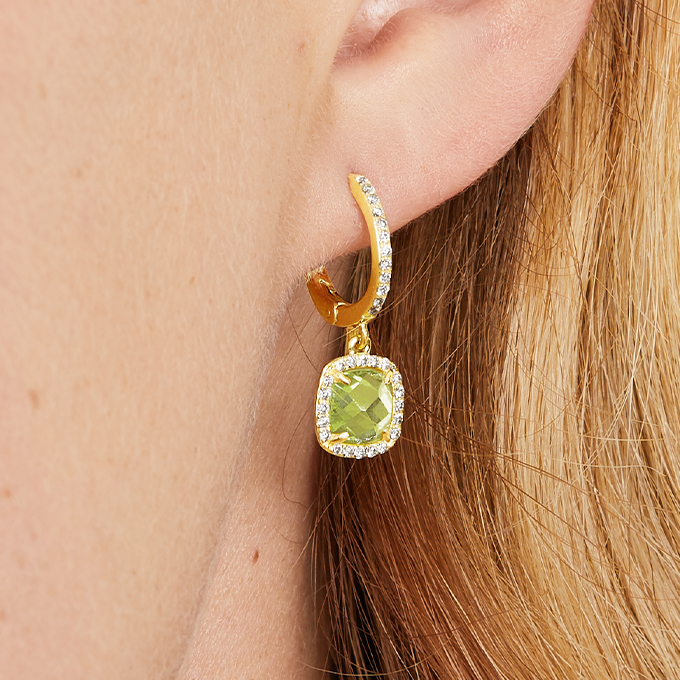 The cushion cut on this pair of gems means that dozens of facets are ready to catch the light and make these peridot beauties sparkle!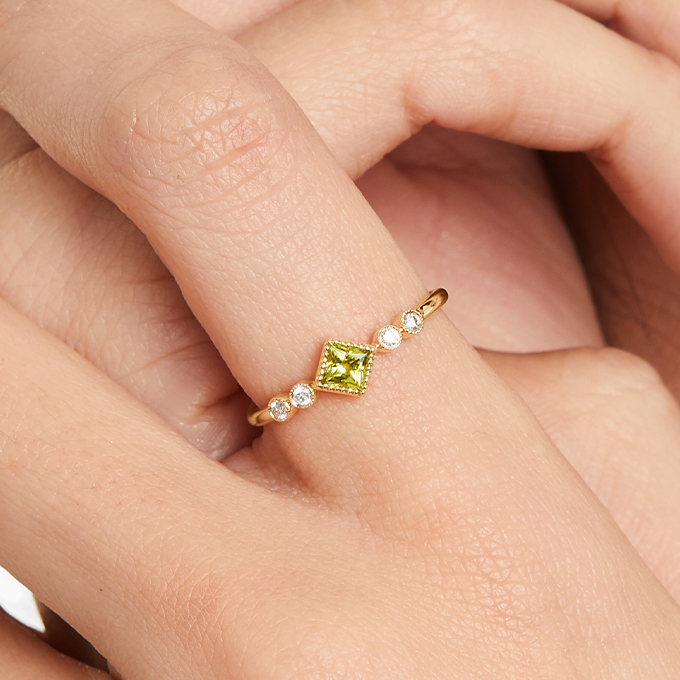 This princess-cut peridot, accented with 4 round diamonds and set in yellow gold, ticks all the right boxes.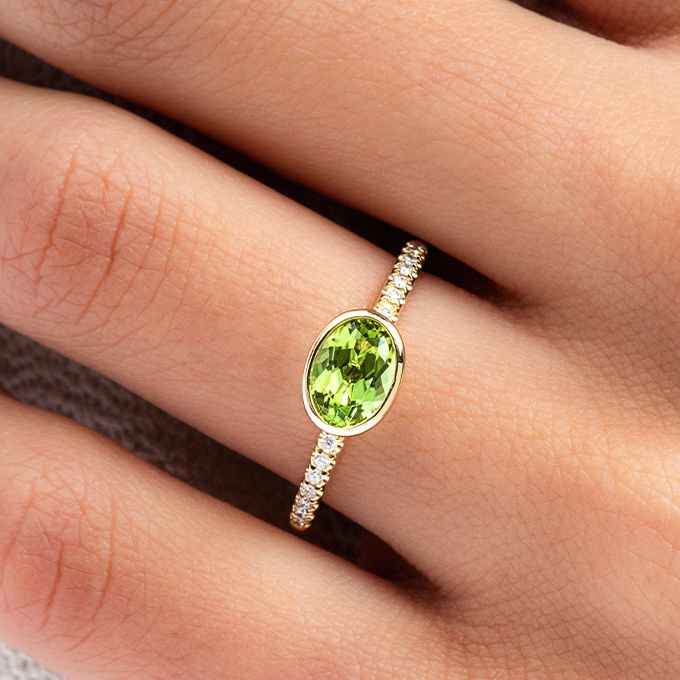 Want to propose to your August-born beloved with a stone that's uniquely suited to them? Propose with peridot! The pavé-set diamonds along the shank of this ring make this peridot engagement ring particularly well-suited to popping the question.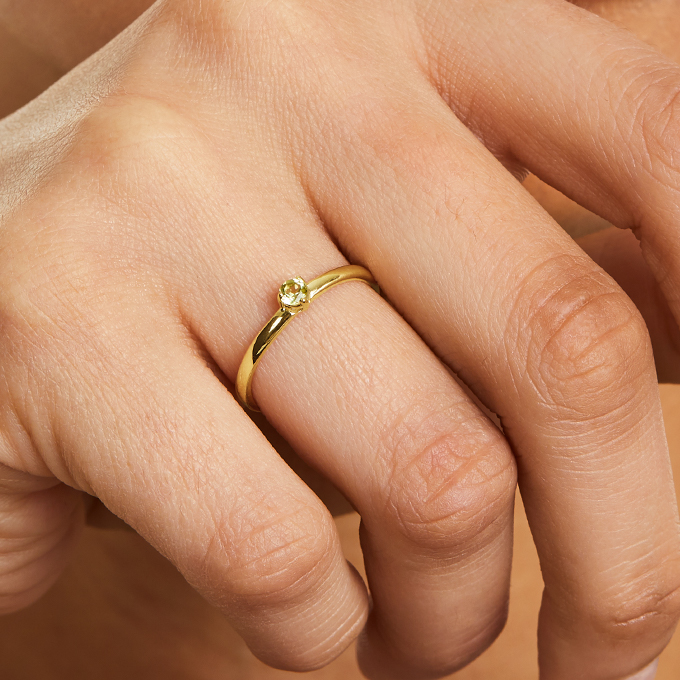 Dainty, delicate, and just the right amount of glitter. This simple ring is especially suited for younger gift recipients.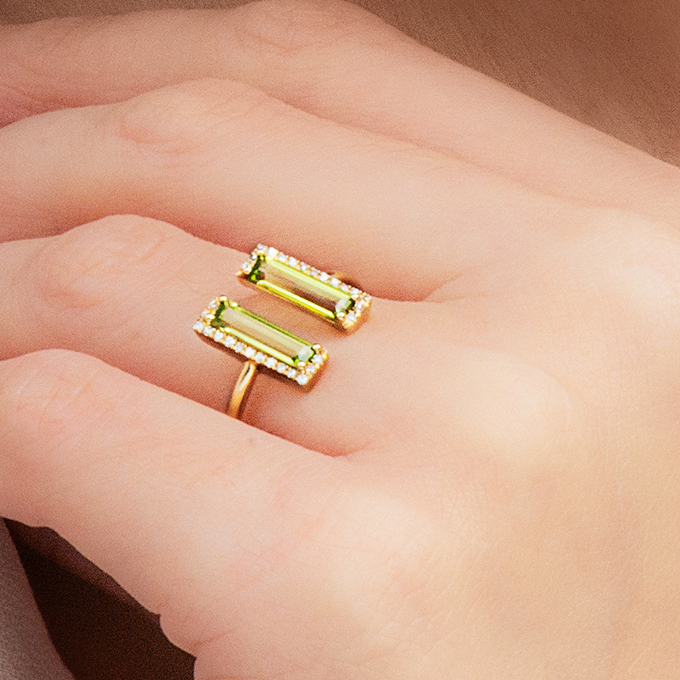 This art deco-esque ring is a real attention-grabber. Two diamond-studded, baguette-cut peridots make for an unbeatable dynamic duo in this open ring.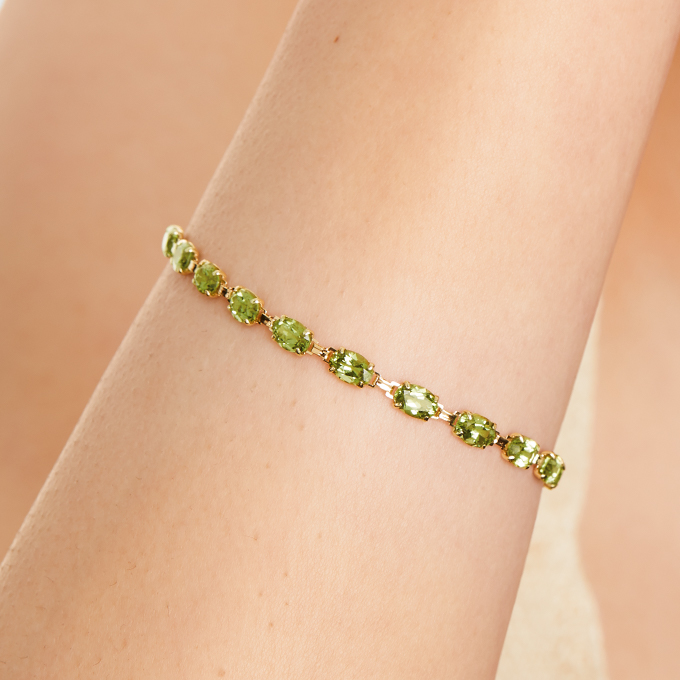 Encircle your wrist with a line of pure peridot! 18 oval-cut peridots, lined up and held fast in yellow gold prongs, make for an undeniably stunning birthstone jewelry piece. This bracelet will make you want to get your hands on every cocktail party invitation you can get, just for more excuses to wear it out!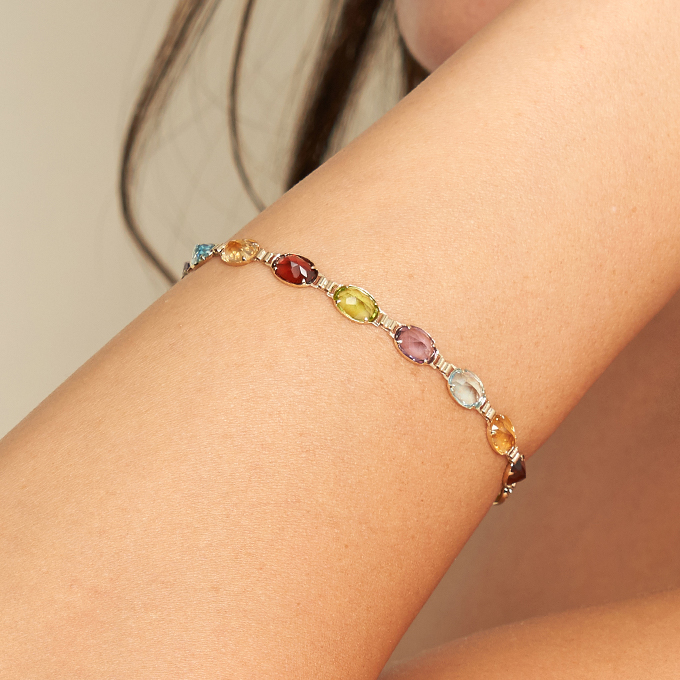 In this bracelet, peridot stars alongside garnet, blue topaz, citrine, and amethyst. It's an ideal gift for anyone with a playful sense of humor and a love of all things colorful.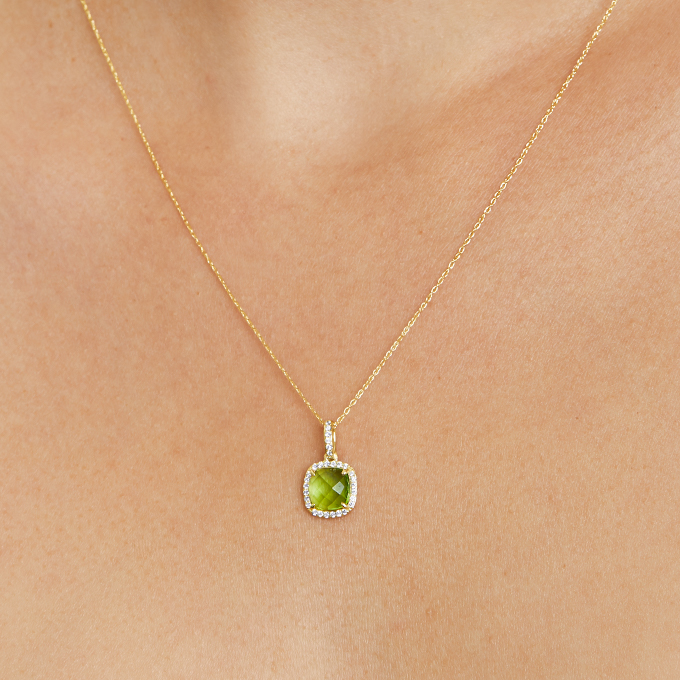 Facets, facets, and more facets! Cut to catch the light at any angle and accented with pavé diamonds, this centerpiece stone wows with its sparkle.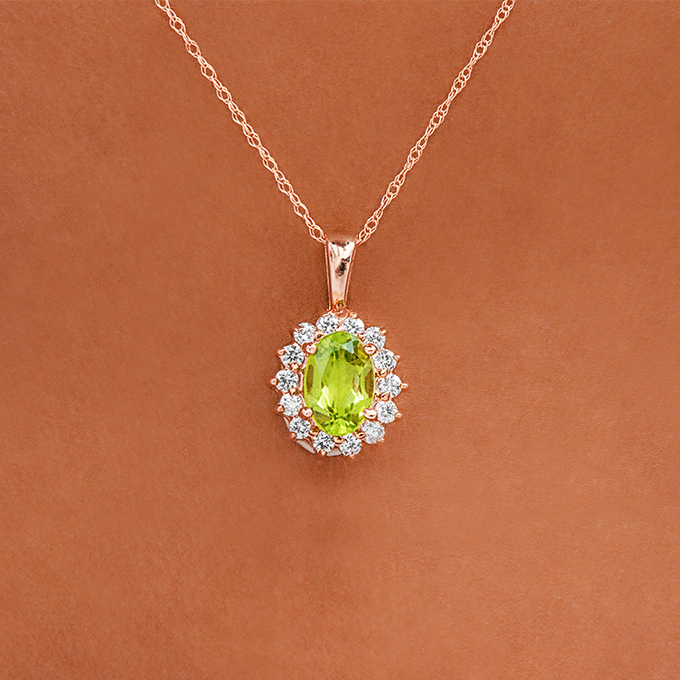 What better for the August birthstone than a sun-inspired pendant setting? Rose gold and peridot make for a unique, eye-catching color pairing.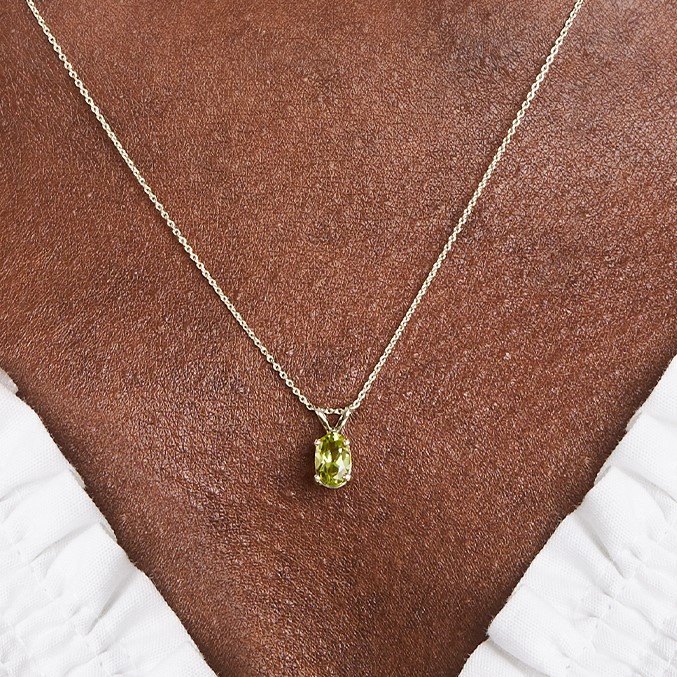 A half-carat, oval-cut peridot is the jewelry pendant gift that will make any August birthday smile. Its flat-backed setting keeps the stone lying flat as it's worn throughout the day.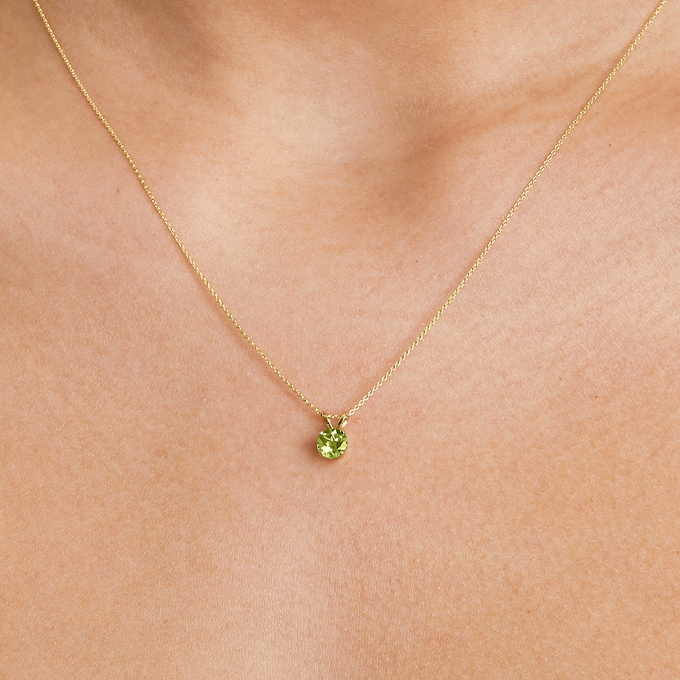 This clean, simple necklace highlights what an August birthday wants most: yellow gold and peridots. This is a no-fail birthstone jewelry piece that suits absolutely any gift recipient.
The Bottom Line
Peridot, the August birthstone, provides a welcome pop of summery green color to any sunny ensemble. It's just – loveable! Peridot jewelry is THE go-to purchase when you're searching for a successful August birthday gift. The leafy hue complements most skin tones and looks especially stunning on those with green eyes.
Get Your Fill of Birthstone Jewelry
Subscribe to our email list for access to secret sales, practical ring-buying tips, and $100 off your first purchase!
Rachel is an unabashed linguistics fanatic who can identify the ancient Greek root of any word. She promises not to spray you with Windex.