Peridot is the perfect summery treat! Its grass-green hue pairs perfectly with those hazy, lazy, crazy days of summer. Wear the August birthstone as you sip a mint mojito by the side of the pool.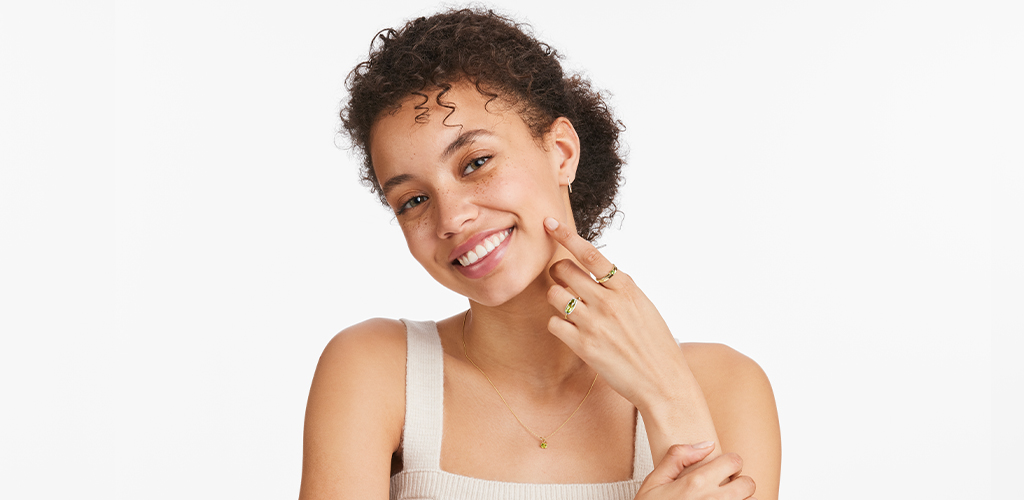 Looking for a gift for someone special born in August? Peridot jewelry is here to end your search! Its bright yellow-green hue complements both cool and warm skin tones – plus, it looks stunning in any design. Peridot is a cosmic gemstone, perfect for an out-of-this-world gift or a gem you could easily treat yourself to.
If you want to know more about the peridot birthstone, read on to find out about its origin, meaning, symbolism, and other fun facts!
What Is The Birthstone For August
Did you know that August has three unique birthstones? Peridot, spinel, and sardonyx. Peridot is the most famous of the three as it only exists in one color- a cosmic green.
Some cultures believed that peridot had the power to ward off evil spirits, and so they began to set the gem in gold and other precious metals to intensify its good fortune. Peridot jewelry began as goblets and decorated sword handles, all with the belief that these objects would now bring greatness, strength, and power.
Where Is Peridot Found?
Though not as popular as other gemstones, peridot is the only gem that comes in a single color and is formed in the earth's mantle (the mostly-solid bulk of the earth's interior). So, why is this cool? Well, the only other gem to be formed in the earth's mantle is the diamond. All other gemstones (except pearls) are formed in the earth's crust.
Peridot is mined in many parts of the world. It was first mined by Egyptians on an island (St John's Island) located in the Dead Sea. Nowadays, it's mined in countries like China, Brazil, Australia, Norway, and Pakistan.
Fun Fact: Peridot has also been found in meteorites! These stunning silvery meteorites are honeycombed with yellowish peridots.
August Birthstone Color
When we think of popular green gemstones, the first one that comes to mind is the emerald. After all, emeralds are the rarest and most valuable green gem we know of. However, there's another green gemstone that deserves our attention, and it's the August birthstone. Peridot is an exclusively green gemstone, and it's widely used in birthstone jewelry. Its extraterrestrial color is one of the most important qualities of this special gem.
Peridot can range from pure green to yellowish green, almost like a grass green shade. 
Peridot Birthstone Meaning & History
Peridot has been mined as a gemstone for over 4000 years and is even mentioned in the Bible. It's referred to in there by its original title, Chrysolite. The name Chrysolite was taken from the Ancient Greek word chrysolithos, meaning golden stone, as it often has flashes of gold seen within it. The August gemstone is the only famous member of the Olivine mineral family, which is a species of magnesium-rich silicate minerals.
Peridots have long been associated with Ancient Egypt. The Egyptians thought peridot protected against nightmares and brought the wearer confidence, good luck, and health. It's believed that some of Cleopatra's famous emeralds were actually peridots.
Peridot Birthstone Symbolism
Need some extra luck in your life? Peridot is one of the luckiest gemstones you'll find. Peridot is also known as the money stone and increases willpower, well-being, and vitality.
Peridot is known as the stone of compassion, and peridot is believed to bring its wearer good health, good cheer, restful sleep, and peace in their relationships by balancing emotions and mind. This green gemstone is also said to have the ability to inspire eloquence and creativity.
Peridot Birthstone Jewelry
This sunny green gem looks incredible with warm metals. Yellow gold + peridots are an especially winning duo. And it goes without saying that anyone with green eyes would see their natural iris color boosted 10x over by a pair of peridot earrings.
The real kicker? It looks fabulous in any cut. You can rock your favorite stone shape – oval, princess, baguette, cushion, classic round – in peridot.
Peridot, the August birthstone, provides a welcome pop of summery green color to any sunny ensemble. The leafy hue complements most skin tones and looks especially stunning on those with green eyes.
Want to propose to your August-born beloved with a stone that's uniquely suited to them? Propose with peridot!
FAQs About The August Birthstone
What is peridot good for?
Peridot is good for protecting against negativity and easing anger. It's a friendly gemstone that helps during difficult times and balances emotions. 
Is Peridot a rare gem?
Peridot is a common mineral, but gem-quality peridot is fairly rare, with some peridot gems being found in exotic places.
What zodia is peridot?
The August birthstone belongs to the Leo star sign.
Does peridot glow in the dark?
3000 years ago, the miners on Topazios Island didn't work in the daytime because they believed that peridot was invisible in daylight. Since it could absorb the sun's rays, it had the ability to glow in the dark, making it easier to mine at night.
Can you wear Peridot every day?
Of course! Since peridot is a lucky stone with so much positive symbolism, it's the perfect gem to wear every day. Make sure you have your peridot cleaned regularly to keep its color sparkling.
Get Your Fill of Birthstone Jewelry
Subscribe to our email list for access to secret sales, practical ring-buying tips, and $100 off your first purchase!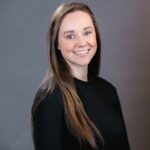 Jessica is a seasoned content writer with four years of experience and a qualified gemologist. She enjoys educating new shoppers on the best practices for buying jewelry.