Discover the jewelry minimalists are going crazy for to wear alone, stacked, or layered with other minimalist jewelry pieces that will remain trendy now and for years to come.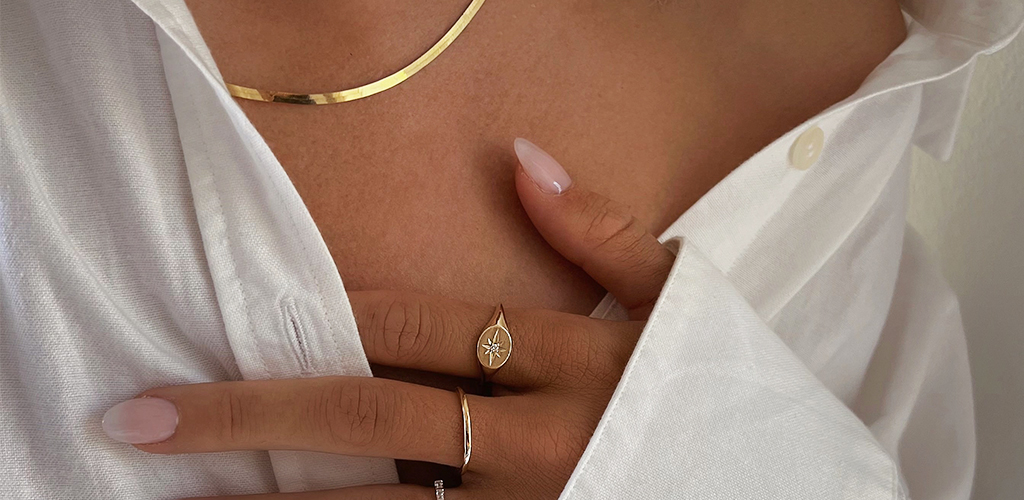 Whether you like plain and simple jewelry designs or you want to add a more minimalist edge to your style, we're here to help you on your minimalist style journey.
Minimalist jewelry is and always will be a fashionable option for just about any event or occasion. We've looked at common mistakes made when trying to pull off this look and how we can make it easier for you to rock minimalist jewelry and still look effortlessly stunning.
Here are our top tips to look out for when purchasing, pairing, and wearing minimalist jewelry like a pro.
What Is Minimalist Jewelry?
Essentially, minimalist jewelry is accessories with simple and unfussy designs that work subtly into your look. Simple fashion is the name of the game for people looking to buy and wear minimalist jewelry, but that's not to say your overall aesthetic won't make a statement.
Often subtle jewelry can tie a great outfit together and give it the touch of sparkle it's missing. Or it can add a hint of your personality to whatever you wear, night or day!
Can I Wear Multiple Pieces of Minimalist Jewelry?
Minimalist jewelry doesn't necessarily mean you only need one piece of jewelry. Definitely play around with different pieces that you can stack, layer, or wear on different parts of your body.
Whether you like layering or stacking your jewelry, you can style your go-to minimalist designs in a way that doesn't give off a cluttered look.
However, don't feel as though you need to wear multiple pieces of minimalist jewelry. A simple necklace, bracelet, and ring design can look incredible without the need to add more.
Does The Minimalist Jewelry Need To Be The Same Metal?
Playing around with different metal colors is your prerogative, and no one should say otherwise.
You can mix and match your minimalist jewelry to your heart's content, but do keep in mind that when you pair the pieces of the same metal color, it really does make a statement. What you want to avoid is over cluttering your look with too many different colors. So we suggest you stick with two metal colors max.
Most people with warmer skin tones can pull off a darker yellow and rose gold metal combination. Whereas those with cooler skin tones look great in white metals like silver, white gold, and platinum. The key is to play around and see which metals look best on you. This can also vary for your day or night looks.
Related Post: How To Choose The Right Jewelry For Your Skin Tone
Minimalist Jewelry: The Classics
When it comes to minimalist jewelry, invest in the essentials. Add a few classic pieces to your jewelry box for a chic minimalist style that works every time. Timeless jewelry pieces will always pass the latest trends. Whether it's a pair of gold hoops or a cuff bracelet, you can wear these items to give your everyday look a contemporary spin.
Classic or vintage jewelry can be bought for absolutely any occasion and will stand the test of time. They also make for the best gifts and are perfect for both casual and formal environments.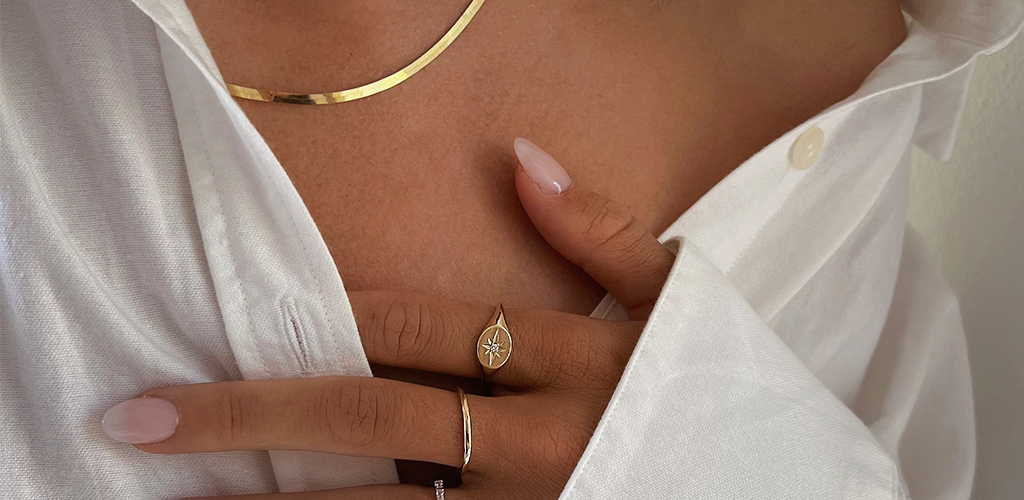 Minimalist Jewelry To Make A Bold Statement
The key to a minimalist style is an outfit that has one showstopping jewelry piece. Whether it be a sleek pair of thick huggie hoops or a chunky signet ring, a single jewel can keep you looking fashion-forward. Nothing screams minimalist chic more than one impactful piece of jewelry to keep all eyes on you.
You'd do your best to get that big, bold look with one piece of jewelry by investing in solid gold pieces. Modern minimalist jewelry trends all point to yellow gold jewelry, a warm and versatile metal that looks good on any skin tone.
Minimalist Jewelry: Simple, Yet Sparkling
Just because you're going with minimalist jewelry doesn't mean you need to lose your shine. Diamond jewelry is still the perfect choice for a polished and sparkling aesthetic, like diamond pendants or diamond tennis bracelets. Our only advice here will be to stick to one kind of metal if you wear more than one piece of diamond jewelry.
If you're looking for just a hint of sparkle, a modest bezel set or dome ring could be the perfect asset to your minimalist collection.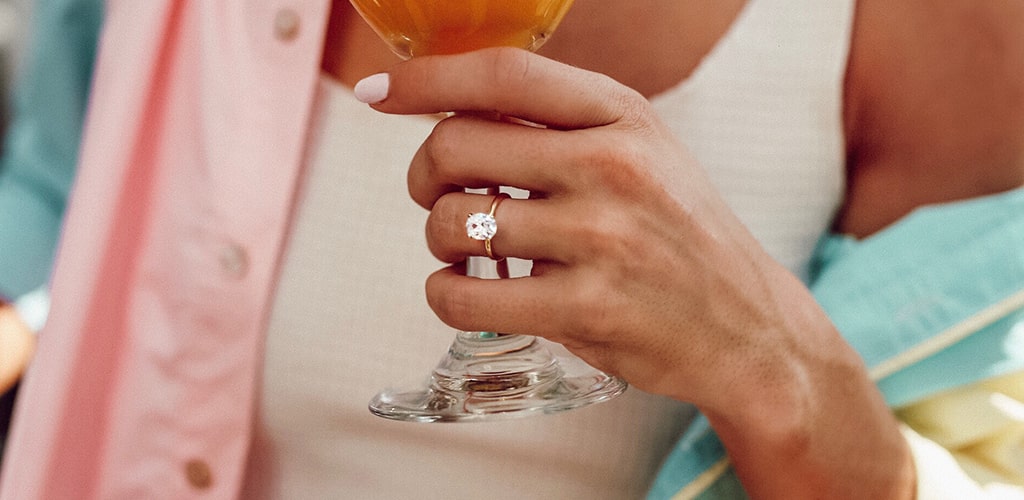 Keep Your Jewelry Box Light
Minimalist jewelry can serve you time and time again. Stick to a few flexible pieces you might wear for informal and formal occasions with any type of outfit. Here, we suggest starting with precious metals. These metals often appear as clean, sleek lines with smooth satin surfaces.
This type of jewelry is a staple of simple elegance and is easy to throw on at a minute's notice. Take a pair of simple stackable rings or a medallion necklace, for example; put them on, and you've gone from casual to polished in an instant.
Plus, it's a long-term investment in quality and style you'll get to cherish and wear any time you want.
Related post: Minimalist Jewelry: Back To Basics
Spice Up Your Minimalist Jewelry With Gemstones
A pop of color may be just what the fashionistas ordered. If your outfit of choice happens to be a simple white, beige or black ensemble, gemstone jewelry will serve as your ideal accessory.
What we love about gemstones is their ability to look fabulous in whichever fine jewelry piece you prefer. Their color will give you the extra finesse your outfit needs to make a statement; your options are endless, from gemstone rings to a chic gemstone necklace or bracelet. 
As a minimalist rule, it's less complicated to stick to your favorite type of gemstone and avoid unnecessary mixing and matching.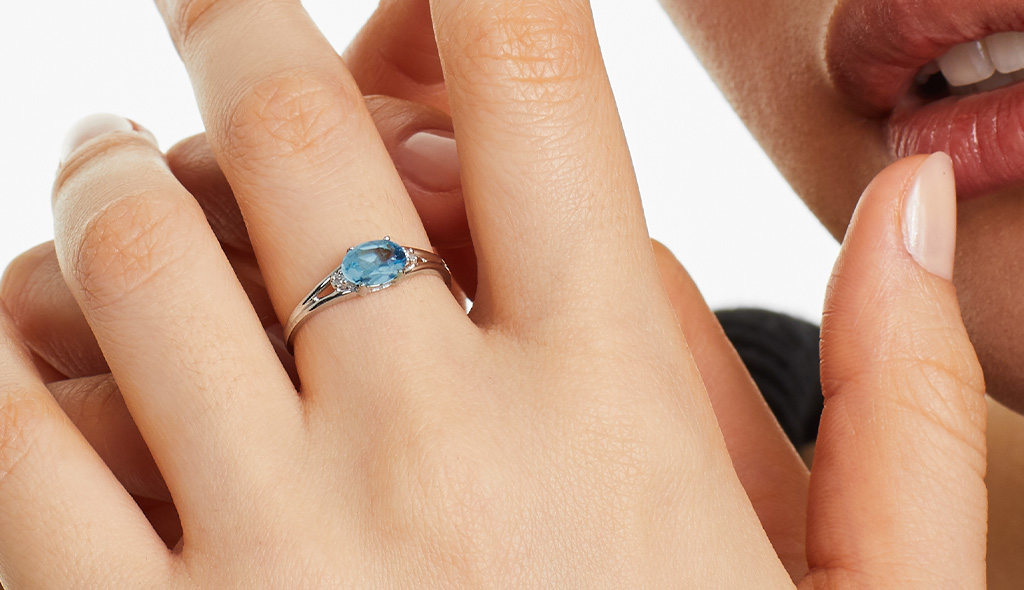 Avoid Complicated Designs
Minimalist jewelry can be fun and explorative, from asymmetric lines for abstract simplicity or perfectly symmetrical pieces that give you a sleek look. Try to avoid designs that are too intricate and move towards more opulent jewelry with clean cuts and smooth surfaces.
You don't want to take away from the curated minimalism that comes with uncomplicated jewelry designs.
Buying A Piece of Minimalist Jewelry For Someone Special
If you're thinking about getting a piece of jewelry for someone special, but you want it to be affordable and not over the top, minimalist jewelry is the way to go!
We all like adding accessories to our jewelry boxes that we know we can wear every day no matter the occasion, so trust us when we say your gift will be appreciated and worn often!
Go for a simple stackable birthstone ring, a plain medallion necklace, a simple pair of hoop earrings, or a cuff bracelet to let them know you care and that you have great taste in jewelry.
FAQs
What Is Minimalist Jewelry?
Minimalist jewelry is simple, clean, and unembellished, focusing on basic designs and materials.
How Do I Style Minimalist Jewelry?
Wear one piece for a touch of elegance, or layer multiple pieces for a modern look that complements your style.
What Materials Are Common In Minimalist Jewelry?
Common materials include sterling silver, gold, rose gold, and gemstones like diamonds and pearls.
Is Minimalist Jewelry Suitable For Special Occasions?
Yes, it's versatile. Delicate pieces can add elegance to formal events when chosen thoughtfully.
Closing Thoughts
We at JamesAllen.com hope you enjoyed this article as much as we loved writing it. Our archives are brimming with fun and helpful tips about fine jewelry. Learn how to match your personality and style with the jewelry of your dreams. You can find our selection of reads below.
If you have any questions about our products or want to design your own earrings or pendants, contact one of our 24/7 customer service agents.
SHOP THE STORY
Subscribe to our email list for access to secret sales, practical ring-buying tips, and $100 off your first purchase!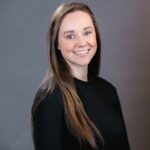 Jessica is a seasoned content writer with four years of experience and a qualified gemologist. She enjoys educating new shoppers on the best practices for buying jewelry.