Capture the freshness of spring with emeralds, May's birthstone, and our favorite vibrant gemstone!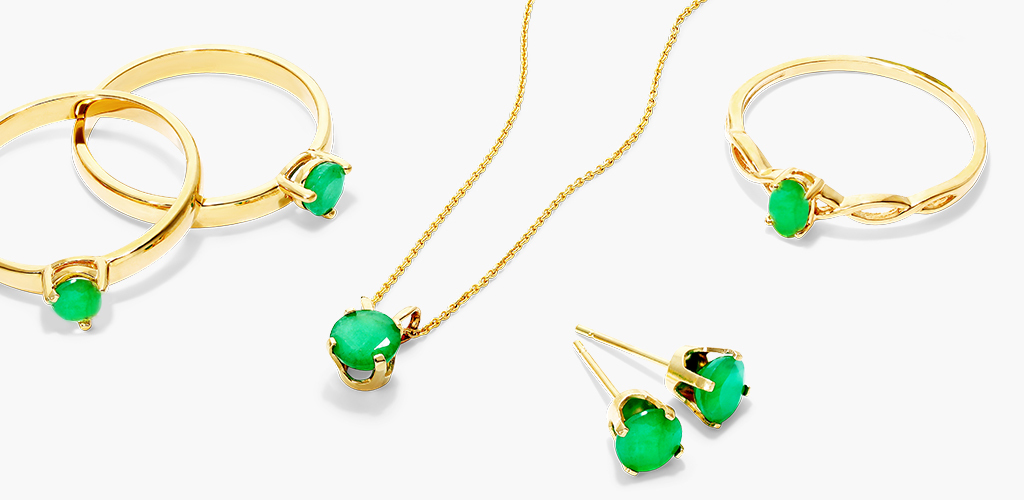 What Is The May Birthstone?
Emerald, the May birthstone, is one of the rarest gemstones out there. Literally meaning "green" in Greek, emerald mining has existed, as we know it, for well over three thousand years.
Emerald is a form of the mineral beryl, which has been tinged green by trace amounts of chromium and/or vanadium. Ooooh, and how green it can be! From light to deep-colored, emerald's verdant hues span the green spectrum. The better the emerald gemstone's cut, the richer its color.
Fun fact: another popular version of the mineral beryl, tinged blue by trace amounts of iron, is aquamarine!
Emerald History & Origin
Throughout the ages, cultures across the globe have delighted in this green gem: Cleopatra regularly flaunted emeralds and gave them away as diplomatic gifts, Spanish conquerors plundered emeralds from the Incas, and legend has it that an emerald was one of the 4 sacred stones given to King Solomon. Nowadays, nearly half of the world's emeralds are mined in Colombia.
Emerald Symbolism & Meaning
Many ancient healers believed that wearing or being near an emerald would promote wellness of the heart. Through time, the emerald has been known as a symbol of truth and love. In ancient Greece and Rome, emerald was said to be the gemstone of the goddess Venus, purveyor of love and hope.
Emeralds, because of their green color, were said to represent vitality, and it's the perfect gemstone to represent happy new beginnings, love, and an eternal relationship. Emerald can also represent a faithful relationship and a strong natural connection with a partner.
Buying An Emerald Stone
The emerald cut is one with particularly few facets, and as such doesn't give a stone's imperfections anywhere to hide. This is why it suits stones with excellent clarity! Although any stone can be cut into an emerald cut, this particular cut originated with emerald gemstones. It suits them perfectly!
Two features are most important in an emerald: the hue and the clarity. Emeralds can contain various imperfections, which can be hidden by other multi-faceted cuts. But if you want your emerald to shine incredibly, and its green color to somehow appear brighter, then choose a stone with a high grade of clarity.
Emeralds can be the affordable gemstone choice! A 1-carat emerald actually appears larger than a 1-carat diamond. Why? Emeralds are less dense, and thus take up more space. Plus, at the same carat weight as diamonds, emeralds have much lower price points.
How to Wear Emeralds
Emeralds are durable (7.5-8 on the Moh's Hardness Scale), but they're not nearly as hard as diamonds (a maximum 10 on the Moh's Scale). This means that they can be chipped or damaged, particularly if you wear them often. You can prevent this by choosing a sturdy setting for your emerald that properly encases it: strong prongs or an all-around bezel setting.
If you've got red hair or freckles, emeralds will look particularly fabulous on you! Red and green are complementary colors, so pair them as much as you can. Does it matter what type of jewelry in which you choose to showcase your emerald? No! Go wild, it'll all look incredible.
Blue eyes? Dark green emerald earrings are your thing. The cool hue of the emeralds will complement your icy irises!
Pro tip: Because emeralds can be quite dark in color, it's best to opt for larger carats, which allow more light to strike the stone and reveal its features.
Emerald Jewelry: May Birthstone Gifts
Shopping for a May birthday? Go emerald. Not only are they beautiful on their own, but emeralds also represent youthful vitality, which makes them meaningful birthday presents. Gift a necklace, bracelet, ring, or earrings with May's vivid green stone!
Looking for something earthy to add a pop of color to your stacked ring look? Try an emerald ring and you'll turn heads with the most vibrant stone out there! Not only are gemstone rings versatile for every season, but they make the perfect gift for the special Taurus in your life.
It's no surprise that the emerald birthstone gets a lot of attention when worn. Its green aura is so magnificent it's impossible to miss in a crowd. If you're looking to have all eyes on you, an emerald pendant or necklace is the right way to go!
If you prefer to treat yourself or your loved one to something dainty that can be dressed up or down, we recommend an emerald bracelet. No matter your outfit, a diamond or gemstone bracelet can make you feel amazing at any time on all occasions!
Looking for simple elegance with your favorite green shade? Why not invest in a pair of emerald birthstone earrings? Whether it be studs or the more trendy earpieces, earrings are one accessory that can be thrown on in a second and instantly transform your face and your look.
Emerald Engagement Rings
Did you know that your engagement ring's center stone doesn't necessarily need to be a diamond? If you want to feature a stunning emerald instead, your stone of choice can be set in any of our engagement ring designs. This is even more perfect if the ring recipient was born in May.
The May birthstone is the perfect green light to "Will you marry me?" Choose a ring with emerald side stones or a vibrant center stone.
May Birthstone: 6 Fun Facts
Emerald's vivid green color is said to symbolize fertility and life and was once thought to represent internal youth.
The Romans dedicated the May birthstone to Venus, their Goddess of love.
Emeralds are very rare and are said to sometimes be harder to find than diamonds.
The deeper the green on an emerald birthstone the more valuable it is.
Emeralds are actually larger than diamonds since they have a less dense composition.
Unlike diamonds, an emerald's imperfections can improve the gem's value.
FAQs about May Birthstone
What are the two birthstones for May?
There is only one birthstone for May, the emerald.
Which stone is best for May's birthstone?
The best stone as a gift for someone born in May is the emerald gemstone. This stone comes in a variety of green hues.
What Color Is The May Birthstone?
The May birthstone is green. Emeralds can range in color from deep greens to faint, misty green hues.
What crystal goes with May?
The associated crystal with May or the Taurus zodiac is Jade.
Final Thoughts
Emeralds truly are one of the most versatile gemstones. From engagement rings to pendant necklaces, they can be worn with nearly everything for a rich pop of color. And they've got an undeniable glamour – celebs are positively obsessed with them.
Emeralds are said to bring their wearers foresight and good luck. So, do you see an emerald in your future?
Read More About Trending Gemstones:
Subscribe to our email list for access to secret sales, practical ring-buying tips, and $100 off your first purchase!