What Is November's Birthstone?
November's birthstone citrine is wonderful for countless reasons. From its rich, warm color to its durability and special meaning, it is no wonder citrine is beloved by so many. Read on to learn all about this gorgeous gemstone and find the perfect piece for you and your loved ones.
The Symbolism and Meaning of Citrine?
Citrine is thought to have multiple beautiful meanings. For many, citrine is considered to have healing properties such as calming, clarity, soothing, and comfort.
Others believe that November's birthstone offers protection against everything from evil thoughts to snakes! Still others believe that citrine is a sign of prosperity and imagination.
Citrine is also thought to be a symbol of hope, positivity, joy, and growth. Whether you are looking for the bonus of healing powers or love the idea of added positivity in your life, this warm, November birthstone jewelry is a winner.
What Color is the November Birthstone?
Citrine is known for its rich, warm, golden yellow color. November's birthstone comes in shades from light yellow to bright orange, all the way to brownish orange.
This orange-yellow quartz gets its color from small amounts of iron. The bolder and more yellow citrine is the shade that is thought to be most desirable. Though, the best shade of citrine is the one you love the most.
A Brief History of the November Birthstone
November's birthstone gets its name from the old French word for lemon, reflecting its warm, yellow color. It is thought that ancient Egyptians were among the first to use this gemstone to bring good luck.
While ancient Greeks used them for ornaments and Roman priests used the gemstone in rings. Luckily, citrine rings aren't just for priests anymore!
And Chinese emperors are thought to have worn citrine due to the belief this gemstone would focus their minds. Citrine has even been found in the handles of swords and daggers, not surprising since this birthstone is thought to have protective qualities.
Understanding Citrine's Sensitivity and Fragility
Citrine is actually fairly durable, ranking 7 on the Mohs hardness scale. While softer than a diamond or even a sapphire, this number means it is quite sturdy against scratches. This durability is one more reason the November birthstone is so popular.
Whether rocking a gorgeous citrine necklace at a special occasion or choosing a chic pair of citrine earrings, the November birthstone is a great choice to wear for everyday and special events.
Practical Tips for Cleaning and Preserving Citrine Jewelry
While citrine is fairly durable, it is still important to care for them properly, to ensure they always give you that gorgeous glow.
Clean using warm, soapy water & let air dry thoroughly
Keep away from high heat
Avoid long-term exposure to direct sunlight
Store separately from other jewelry
Avoid using harsh cleaning chemicals
What Are the Other November Birthstones?
Like many other months, November has two birthstones. In addition to citrine, topaz, specifically yellow topaz, is a birthstone for November. Yellow topaz was originally November's birthstone, but because it is so rare, the similarly colored citrine became an additional official birthstone for the month in the early 20th century.
Topaz is also the birthstone for December. So if you're looking for something blue, checkout our blue topaz birthstone collection!
FAQs
What is the spiritual meaning of citrine?
Citrine is thought to have many special properties including energizing and healing properties.
How do I cleanse and recharge citrine crystals?
The best way to clean your citrine jewelry is to use warm soapy water and let it air dry completely.
Can you wear citrine everyday?
Yes! Thanks to its durability and style, citrine is a great choice to wear everyday. It is very complimentary and easy to mix and match with other birthstone jewelry, and all jewelry, including diamond engagement rings and wedding rings.
Is citrine expensive?
Citrine is considered to be relatively affordable, thanks to being a widely available gemstone.
What metal is best for citrine jewelry?
This birthstone is wonderfully versatile! Citrine is thought to look best with yellow gold but it also looks great with white gold or platinum, as well as rose gold.
SHOP RELATED PRODUCTS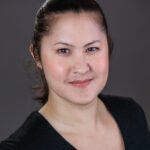 With over 10 years of experience writing and editing on a wide variety of subjects, Sarah is a veteran of the content world. Since joining James Allen, she has focused on all things diamonds and fine jewelry with the goal of educating and empowering consumers.