Looking for a timeless piece of jewelry that is both beautiful and meaningful? Gemstone rings are a perfect choice. Whether you're looking for an engagement ring or a simple statement piece, a gemstone ring is sure to add a touch of elegance and sophistication to your jewelry collection.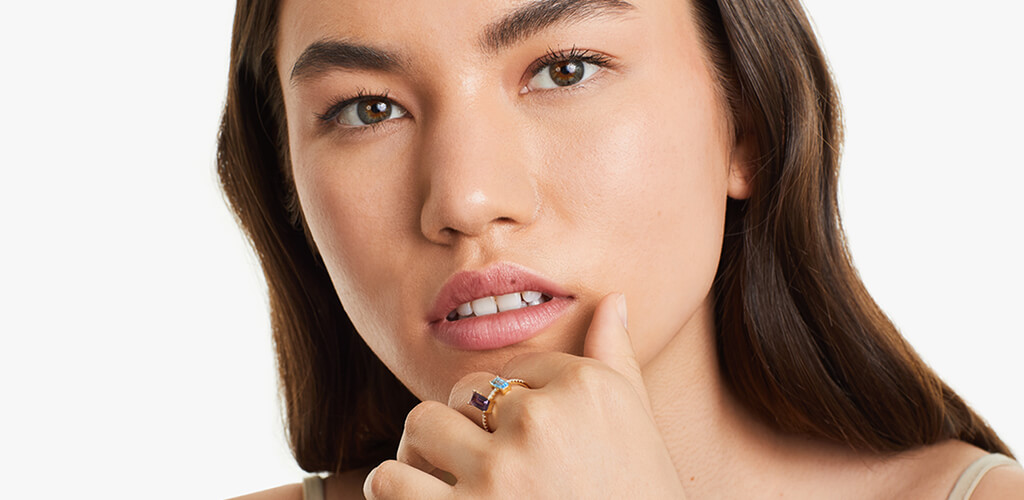 What Are Gemstones?
Gemstones are minerals, rocks, and other organic materials cut and polished to create jewelry pieces and other attractive clothing accessories or decorative ornaments. Gems are either considered precious or semi-precious.
Some popular gemstones include diamonds, rubies, sapphires, emeralds, and amethysts. Each gemstone has its own unique properties and meanings, making them an exceptional and personal addition to any collection. Whether you are looking to add some sparkle to your jewelry box or incorporate some natural beauty into your home, gemstone rings are a great choice!
Gemstone Rings In 2023
Gemstone rings have grown in popularity recently as a distinctive way to bring color and flair to any ensemble. There is a gemstone ring for every taste and occasion, whether you choose vivid hues or more subdued ones.
In 2023, you can be sure to see a rise in gemstone jewelry as everyday pieces, and gemstone engagement rings. Most gemstones are more affordable than diamonds and also offer their wearers a special piece of individuality, making them an ever more appealing accessory.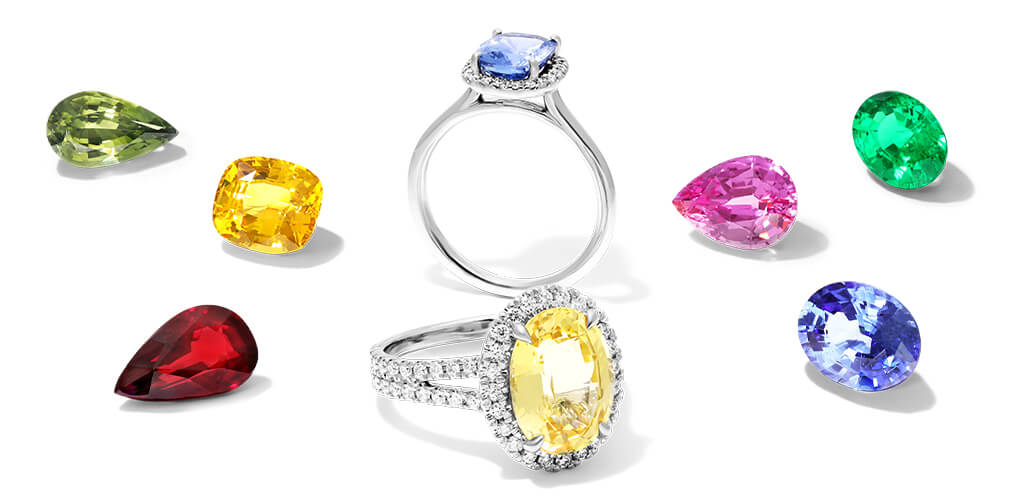 The Appeal of Gemstone Rings
Natural beauty and allure are difficult to resist in gemstone rings. They give you a special way to express yourself and flaunt your individual flair. Gemstone rings, as opposed to classic diamond rings, come in various colors and can be made to suit your preferences and individual style.
Many couples now opt for gemstone wedding rings, a unique twist on the traditional gold ring with lots of rich symbolism. Another fun aspect of gemstone jewelry is that everyone has their own birthstone (or two — depending on the month) making it so much easier to pick a sentimental gemstone ring for yourself or someone special.
Popular Gemstone Rings For Women
Gemstone rings for women can be made from a wide variety of jewels, each with its own special qualities and symbolic meanings.
Here are some of our favorites:
Style Tips for Gemstone Rings
Gemstone rings can be worn in many ways depending on the occasion and your style. Here are some foolproof styling tips for your gemstone rings:
Stacking
Stacking gemstone rings is a common and fun way to wear them. You can mix and match your favorite shades and fashion trends to create a distinctive look. Just be sure to maintain a balance between the sizes and shapes of the rings; you don't want your look to be overkill. 
Everyday Wear
Gemstone rings can also be worn as an everyday accessory. One of the best things about these rings is the color they bring to your daily looks. They can turn an otherwise dull outfit into something interesting.
Statement Piece
If you want to make a statement with your gemstone ring, choose a larger stone or a unique setting. You can pair this with simpler jewelry to really make your ring stand out.
Matching Set
If you have a gemstone engagement ring that you love, consider getting a matching gemstone wedding ring to match it. This styling tip applies to your other gemstone stackables, too. If you have a particular gemstone you love, like your birthstone, you can create a sentimental set you'll love to wear forever.
Caring for Gemstone Rings
Gemstone rings require special care to ensure that they remain in good condition. Here are some tips for caring for your gemstone ring:
Avoid wearing your ring while doing outdoor activities, gym, or harsh construction work.
Clean your ring regularly with a soft cloth and mild dish soap.
Keep your ring stored in a jewelry box or pouch to protect it from scratches and damage.
Don't wear your ring while in the ocean.
Related Post: How To Clean Your Jewelry At Home & Other Useful Tips
FAQs
Are gemstone rings more affordable than diamond rings?
Gemstone rings can be more affordable than diamond rings, depending on the type of gemstone and the size of the stone.
Can gemstone rings be resized?
Gemstone rings can often be resized, but it is important to work with a professional jeweler who is experienced with working with gemstones.
Can gemstone rings be worn every day?
Of course! Gemstone rings are a staple accessory that can be worn daily with your day and night looks. They're perfect if you're looking to add a pop of color to your outfit or a personalized touch.
Looking for your next best fit? Visit us at JamesAllen.com and enjoy our wide variety of gemstone rings and other stunning fine jewelry pieces.
Subscribe to our email list for access to secret sales, practical ring-buying tips, and $100 off your first purchase!
The author generated this text in part with GPT-3. The author reviewed, edited, and revised the language and takes ultimate responsibility for the content.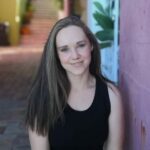 Jessica feels too much anxiety trying to come up with a cool bio. Read her awesome blog post instead.