Have you ever wondered how a James Allen engagement ring gets made? How the exact diamond that you choose is precisely set in any one of our 500+ unique ring settings? Get ready for a step-by-step look at the crafting of your dream engagement ring.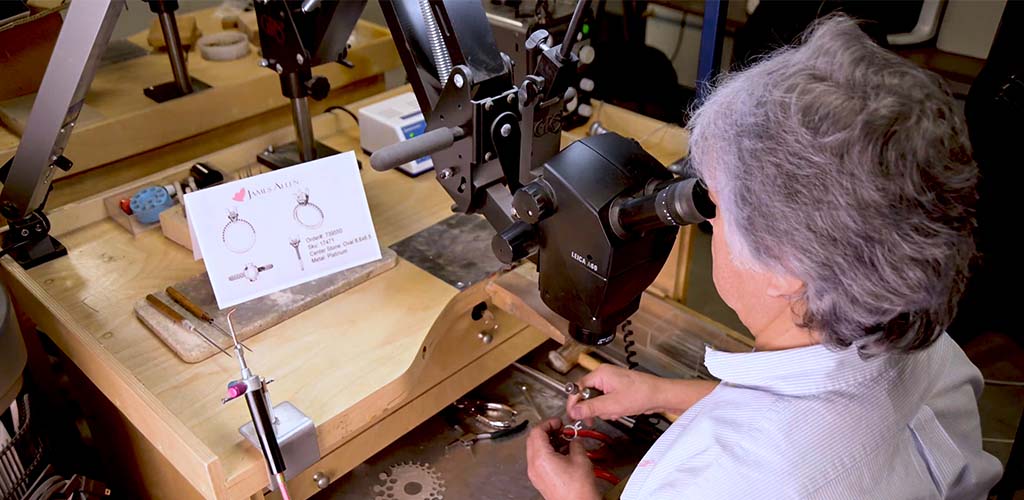 A James Allen engagement ring is a feat of logistical and artistic execution. From the sourcing of the diamond, to the manufacturing of the setting, to the hand-setting of every unique stone, each ring requires precise craftsmanship performed in a precise order.
Choosing The Diamond
The crafting of engagement rings all starts with a diamond – over 300,000 loose diamonds actually. Our hundreds of thousands of diamonds are one of two types: 1) earth-created diamonds are guaranteed to be sourced from a conflict-free mine, and our 2) lab-created diamonds are regularly manufactured in advanced labs around the world. After multiple inspections and expert cutting, each diamond is then shipped to James Allen headquarters, where our technicians photograph it with our proprietary 360° high-definition cameras in order to provide our customers with a better-than-loupe inspection ability. Each diamond comes with its own GIA certificate, inspected by a nationally accredited gem-grading laboratory.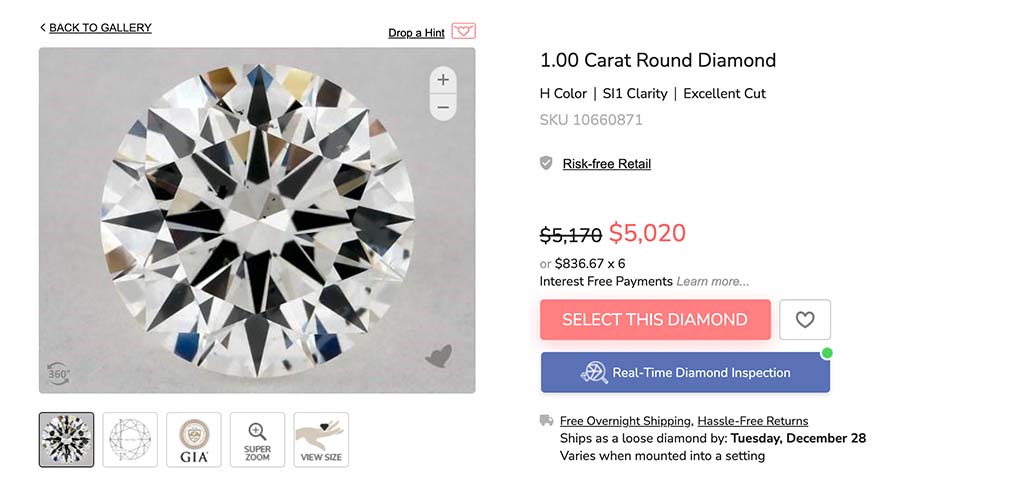 Choosing The Setting
Each of our over 500+ settings is, like our diamonds, photographed in 360° high-definition. Created by our in-house designers, you won't find these settings anywhere other than JamesAllen.com. They're both unique and customizable. All of our settings can be set with a stone of any carat weight, and nearly all of them can be set with any of a number of stone shapes. Whether you're choosing a 2-carat princess-cut diamond or a 0.5-carat pear-shaped sapphire as your center stone, James Allen engagement ring settings are up to the job.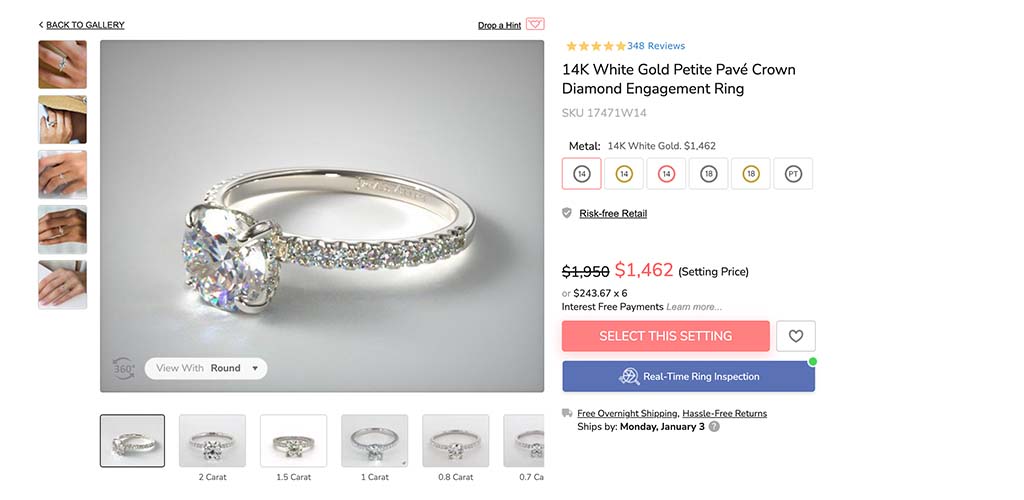 Computer Imaging
In order to accommodate our customers' unique stones in the settings of their choice, our jewelers utilize computer modeling. For each setting, they virtually adjust its base and prongs to the precise measurements to snugly hold the ring's dedicated stones. This assures that, in every engagement ring, every diamond and every mounting are perfectly matched.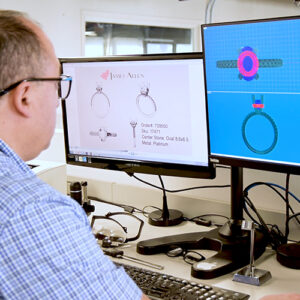 Smoothing The Setting
The initial setting, though created to a customer's specifications, is rough. Our jewelers smooth out the rough edges, ensuring that the mountings are ready to receive their jewels!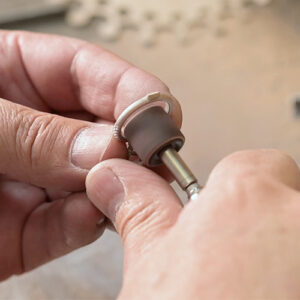 Setting The Diamond(s)
Taking the chosen center stone, a jeweler carefully mounts it in the prepared setting. If the ring has side-stones, a halo, or a diamond-encrusted band, the jeweler will also match the accent diamonds in terms of clarity and color, ensuring a sparkling uniformity.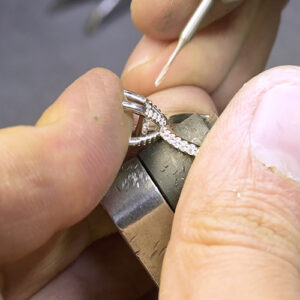 Hand-Polishing
After all the sparkling diamonds are mounted in the custom setting, a jeweler polishes the completed ring. This adds the final touch of shine and removes any lingering rough patches in the metal.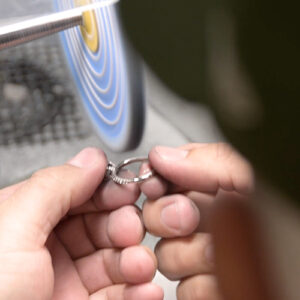 Laser Engraving
Would you like to take your James Allen engagement ring's customization all the way? Then our jewelry team will add a romantic laser engraving to the inner surface of your engagement ring! Choose your desired text and tell us your font preference: block or cursive. Next, our laser engraving machine will create an extremely precise inscription on any jewelry metal. And it's durable! Your engraved phrase will withstand a lifetime's worth of wear.
How much does this cost? Nothing! At James Allen, ring engravings are completely free at checkout.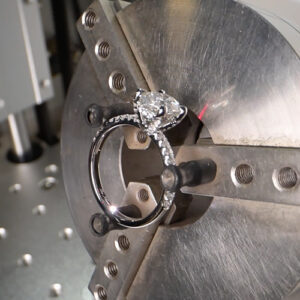 Check out some of our finest engagement rings:
The Bottom Line
When you buy a James Allen engagement ring, you're getting the product of a long line of expert craftsmanship. Each ring is an unparalleled work of art, thanks to the combined efforts of an entire team of jewelry experts.
Tips On Creating Your Dream Ring:
Subscribe to our email list for access to secret sales, practical ring-buying tips, and $100 off your first purchase!
Rachel is an unabashed linguistics fanatic who can identify the ancient Greek root of any word. She promises not to spray you with Windex.