December is here and so are all its wintry hues! If you're looking for a gem that will match this icy season, look no further. Blue topaz is one of December's birthstones and for good reason.

Blue topaz comes in a range of azure tones, from sky to royal blue- so there's something for everyone.

Keep reading to learn more about this striking stone.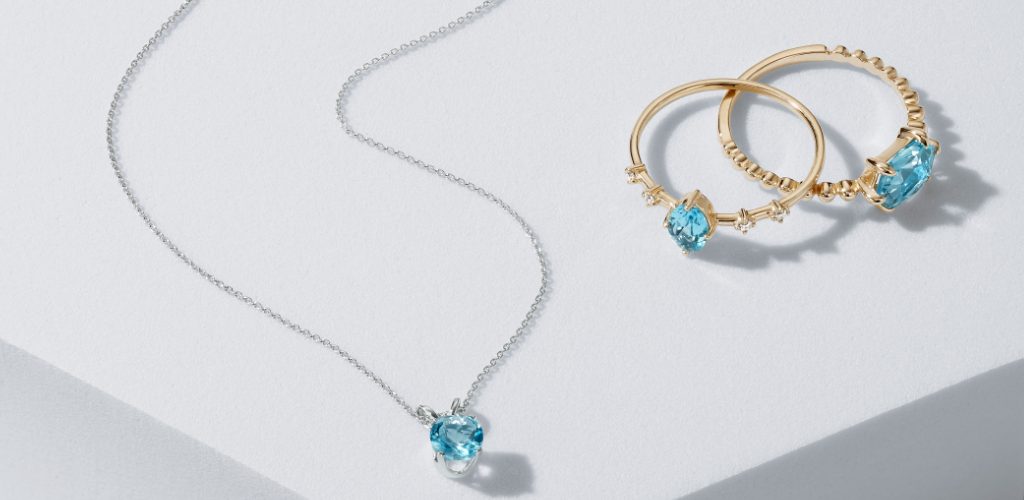 What Is December's Birthstone?
Depending on the source, December has 3 to 4 official birthstones. They are: tanzanite, zircon, turquoise, and blue topaz. Despite being very different in composition and properties, all four of these gems are known for their piercing blue color.
In this blog we're going to be focusing on the ever-clear blue topaz!
What Is Blue Topaz?
Topaz is a silicate mineral, which in its purest state, is entirely colorless. Topaz can be many different colors, including yellow, gray, and red, though it is most often associated with the rare color blue.
Here are some fun facts about topaz:

1. On the Mohs scale of hardness, topaz registers at an 8 out of 10. This means it is harder than tanzanite and almost as tough as sapphire! Topaz is one of earth's hardest naturally occurring gemstones, making it ideal for everyday wear- no matter how you choose to rock it.

2. Did you know that topaz has pleochroism? This means that depending on the angle of light, topaz can vary in color. Every which way you move, your topaz will appear in different aquatic hues.

3. And finally: topaz is also the gemstone for the 4th, 19th, and 23rd wedding anniversaries. Gifting your loved one a topaz piece for your December anniversary will make the occasion all the more meaningful.
Blue Topaz Birthstone Origin and History
In the Hindu religion, topaz means heat. In Sanskrit, the word 'topazion' means fire. This is likely because when it was first discovered, topaz was only known for its yellow-orange variety. In the 1700s, the name topaz came to refer to the gem we are now familiar with.
In the 1970s, gemologists discovered how to take colorless topaz, expose it to heat, and produce that iconic vibrant blue. Since then, the popularity of blue topaz has been on a steady incline.
Today, blue topaz can be found all over the globe, from Southeast Asia to Central Europe, to Southern Africa.
Blue Topaz Symbolism and Meaning
Blue topaz is not only cool in color. Topaz has a rich history of being associated with having a cool mind as well.
Even in the Middle Ages, people believed topaz could break curses and dispel fits of anger. In India, topaz has long been purported to assure a long life, beauty, and intelligence.
Today, blue topaz more commonly represents true love. A love that is clear-sighted, honest, and communicative.
Let the crystal clear transparency of the blue topaz inspire such qualities within your own relationships!
December Birthstone Colors and Appearance
Topaz naturally occurs in a columnar shape. For this reason, it tends to look its best in oblong cuts such as baguette, oval, and pear shapes. For the best clarity and color, go for an open facet cut.
In addition to shape and cut, topaz also varies in color. Blue topaz comes in three different hues: sky blue, London blue, and swiss blue.
Sky blue is pale with a light tone and saturation, London blue is deep with a moderate tone and saturation, and swiss blue is highly vibrant and rich in tone and saturation. Swiss blue does not occur naturally in nature but is highly sought after due to its electric shade.
Whether it's pale, deep, or bright, any topaz is sure to turn heads and stun while doing so.
Types of Blue Topaz Jewelry
Blue topaz makes a beautiful addition to any piece of jewelry. Whether it's a gift for someone else or a treat for yourself, topaz is the perfect December present!
Here are just a few ways you can show off this stunning birthstone.
Blue Topaz Rings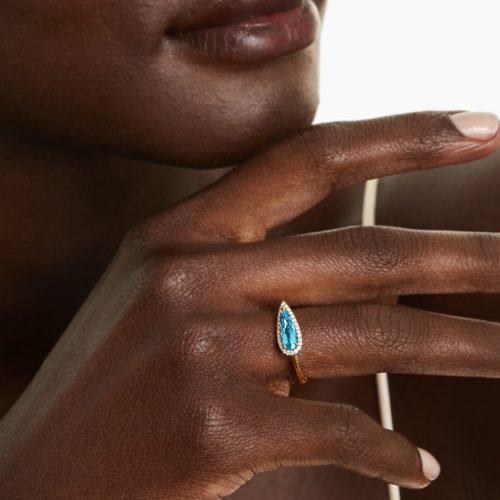 If you're looking for a quieter way to don this regal gem, keep your eyes out for a blue topaz ring. Small but mighty, a topaz ring will add just a dash of striking blue to your ensemble. What's not to love?
Blue Topaz Necklaces
Are you into statement pieces? A blue topaz necklace is the perfect way to draw attention to this birthstone. Front and center, a necklace will present this dazzling blue to everyone you encounter- loud and clear!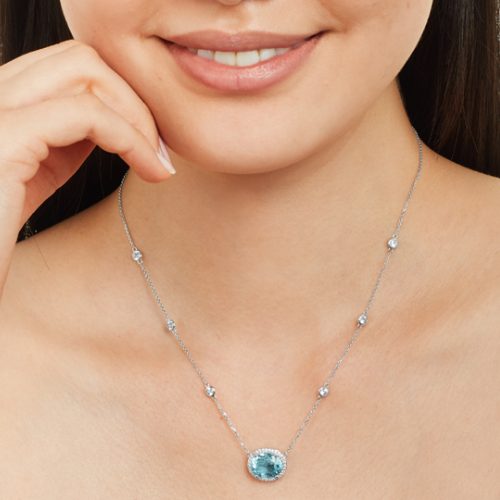 Blue Topaz Earrings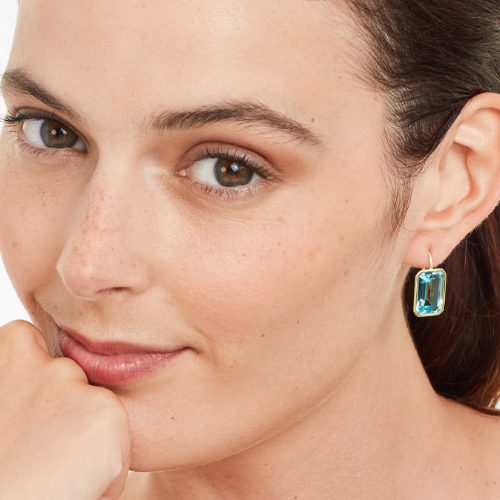 A pair of earrings means double the dazzle! Throwing on a pair of blue topaz earrings will instantly elevate your look while helping to keep your wits about you.
Blue Topaz Bracelets
Who doesn't love a little shine around the wrist? A blue topaz bracelet will showcase this beautiful gem in a neat row of dazzling blue. Paired with another piece of topaz jewelry, and voila! Your look is complete.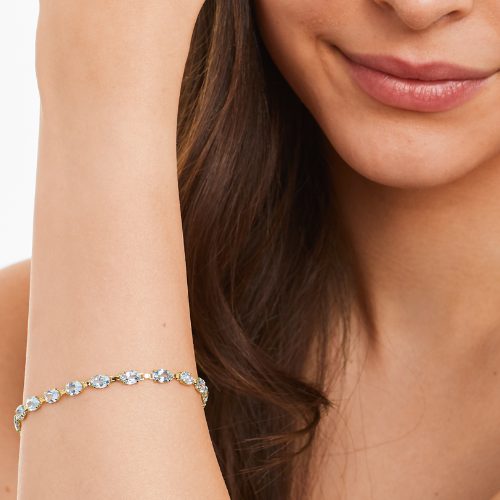 What Jewelry Metals Look Good With Blue Topaz
Platinum silver is by the far the most popular metal type to pair with blue topaz. Silver and white gold accentuate the blue topaz's clean and sleek energy beautifully.
Rose gold is another popular option. The contrast between the blue and rose tones creates a compelling pair.
But don't feel the need to only stick to these suggestions! Think about your skin tone, eye color, and personal taste. Given the varying hues of blue topaz, you can pair it with just about any metal type!
How To Care For Blue Topaz Jewelry
Just like any other crystal, dirt and grime can easily accumulate on the surface of your topaz. Thankfully, this gem is very easy to maintain.
When you want to clean your stone, you can easily do so with warm water and soap. Make sure you scrub it gently with a brush or washcloth. Pat it dry and watch its shine return!
While this may sound very simple, make sure not to leave your topaz in water for too long. Doing so may cause damage to your piece. The cleaning process should be short, simple, and easy!
Just remember to handle your gem with care, and you're all set.
To Wrap Up
If you ever feel like you need some clarity of mind, simply look to blue topaz to change that! You may be surprised at the results.
This December, you can pay homage to the chill of the season with equally chilly jewelry. We're sure you'll be cool as ice!
Subscribe to our email list for access to secret sales, practical ring-buying tips, and $100 off your first purchase!
Armed with five years of writing experience, Rachel aims to turn dense topics into easily understandable content, one shining word at a time.