Black is back, and it's here to stay! Whatever the outfit, whatever the style, black jewelry has the ability to take your look from simple to stunning.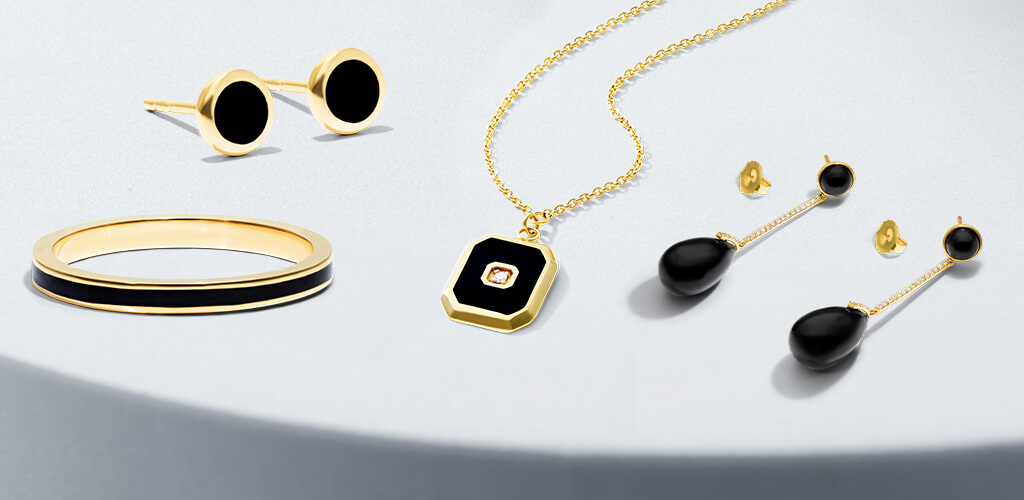 The color black has long been a favorite color for all kinds of fashion items. From the iconic Little Black Dress to classic black heels, a little black goes a long way. And the same can be said for black jewelry!
Black jewelry is versatile, chic, and easy to pair with all kinds of outfits. Best of all, this trend is on the rise and here to stay!
Origin of the trend
The trend of black or dark jewelry has a long and rich history. Its popularity in contemporary fashions begins with the Goth and punk subcultures that gained traction in the 80s. The aesthetics of these groups prioritized dark and subversive looks, which included leather, metal, dark colors, and of course, black jewelry!

Think of a black chocker with metal accents or a black pentagram pendant- this all began with gothic, punk, and occult groups.
Like most niche trends, this style eventually found its way into the mainstream mindset. Today, black jewelry isn't so quickly associated with supernatural beliefs or rebellious mindsets, but rather, is found amongst everyday fashion aesthetics.

Black jewelry is a versatile element that can be added to any look- from black metal to black diamonds.
In recent years, black jewelry has really taken off, giving a new look to this enduring trend.
Current Black Jewelry Trends
Black Diamonds
In the iconic show Sex And The City, Mr. Big proposes to Carrie Bradshaw with a 5-carat black diamond engagement ring. She asks him, "Why black?" to which he responds, "Because you are not like anyone else."
Black diamonds, especially black diamond engagement rings, are striking, unique, and not like any other diamond color out there.
Black diamonds are a more affordable option than traditional colorless diamonds and pair well with virtually any metal color and setting. Best of all, they work for both men's and women's engagement and wedding rings. 
If you're an unconventional couple, looking for an unconventional engagement, black diamonds will be perfect for you!
Statement Pieces
What better way to make a statement than with a pair of black earrings or a stunning black necklace? From big hoops to a simple black ring, black accessories are the perfect way to imbue your outfit with some loud edge.

In 2023, we're all about making a statement and standing out in the crowd. The great thing about black jewelry is that it will always add a touch of drama, glamor, and attitude to any outfit.
You can break up a casual work outfit with a dash of black with its unconventional and offbeat shine.

Why Black Jewelry Is Here To Stay
These days, trends come and go like the weather. But, if history tells us one thing, it's that black jewelry is an enduring fashion favorite. From celebrity engagement rings and fashion runways to everyday wearable gems, we keep finding more ways to love (and wear!) this beautiful style.
A. Versatility of black jewelry
Black truly goes with everything. Black is a neutral color, meaning depending on how you rock it, it can work for both casual and formal occasions.

Black jewelry can easily be mixed, matched, and layered with other colors and materials, making it a reliable choice when accessorizing.
Going for a classic and minimalist look? Black has got your back! Going for a bold statement-making look? Black will be there for you, too!
Offering endless possibilities, black jewelry can enhance and accentuate your personal style- whatever that may be!
B. Durability of black jewelry
When purchasing new jewelry, durability is an important factor to consider. Thankfully, black jewelry is known for its durability and long-lasting luster!
 
Black wedding rings, for example, are often made out of materials such as tungsten, titanium, tantalum, or stainless steel. These materials can withstand the wear and tear of daily life, ensuring that your ring will truly stand the test of time.
Unlike traditional wedding ring metals, black jewelry has an impressive durability that is hard to ignore.
C. Fashionability of black jewelry
Black jewelry has quickly become a staple in the fashion world due to its timeless and bold appearance. Black is a color that never goes out of style and can add a touch of glamor to any outfit.
There are so many options to choose from, making black jewelry an accessible way to elevate your style.
Its versatility, durability, and current popularity, make it a must-have in any fashion-savvy person's jewelry collection.
D. Rise of alternative fashion
Living in 2023 means embracing one's individuality and the little details about ourselves that make us unique. This, of course, includes dressing in a way that honors our style and helps us stand out from the crowd.

Alternative fashion has grown in recent years, giving rise to black jewelry and accessories. With the growing desire for self-expression, black jewelry delivers exactly what it did when it broke onto the scene in the 80s.
It's time we embrace the fact that we're a little off-kilter, strange, and even a little weird. It's time we leave behind conformity and expectations! And we can do so with a little black jewelry here and there.
Versatile, stylish, classic, and oh-so-unique! What's not to love?
Final Thoughts
In a time when we all try to focus on self-expression, individuality, and non-conformity, we should feel emboldened to try new things and go against the grain. What better way to do that than with black jewelry?

If you find yourself looking for a way to embrace your inner style or perhaps, give your style a little refresh, give this trend a shot!

As alternative fashion continues to grow, we're sure that black jewelry won't be going anyway for a long time!
Join in on the trend and don't forget to subscribe to our email list for access to secret sales, practical ring-buying tips, and $100 off your first purchase!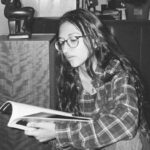 Rachel is fond of the written word and the moving image- and will talk about both with anyone who will listen!