Ah, the beauty of a simple engagement ring! If you do it right, you don't have to go over the top. After all, diamonds are the only way to achieve incredible sparkle. Simple engagement rings come in a huge range of designs. You can be assured that less is more.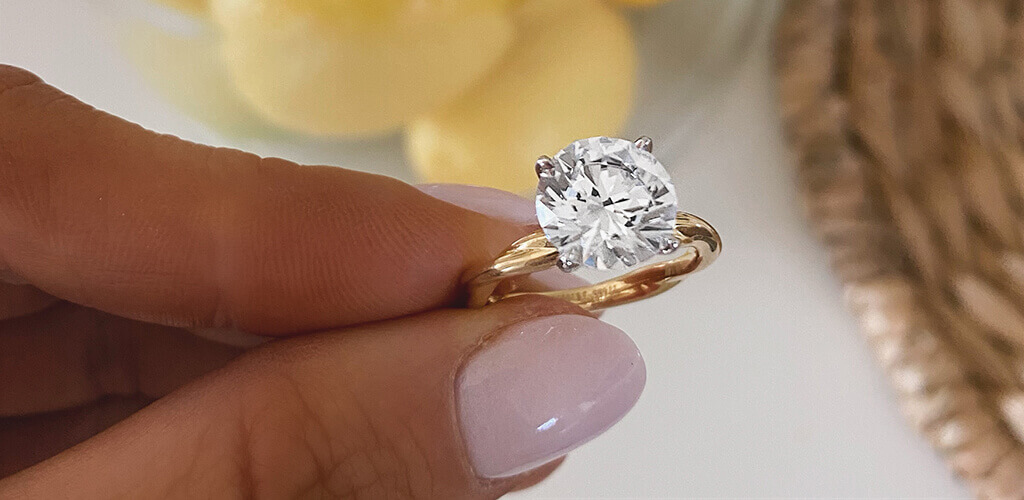 What makes an engagement ring "simple"? For the most part, it means that it's free of the more glitzy ring features such as pavè, engraved designs, halos, and multiple accent stones. Simple engagement rings are all about clean lines while also incorporating a limited amount of diamonds and gemstones.
This is the fun part: there are SO MANY types of simple engagement rings! Check them out below, and don't forget to add your favorite to your wishlist on JamesAllen.com.
Back To Basics
The Benefits of Minimalist Engagement Rings
Maintaining fewer diamonds is easier
More diamonds mean more sparkle but also more maintenance. Accent stones trap dirt and require regular cleaning, and the multiple prongs require tightening by a jeweler twice a year. The bottom line is: simple engagement rings are perfect for the no-fuss wearer.
All eyes on your diamond
Go all in on an eye-popping center stone. It will take center stage! There's little to distract from your sparkling stone. Plus, with the money you save on accent stones, you can invest to the fullest in your dream diamond.
Your wedding ring has more pairing options
A simple engagement ring complements absolutely any style of a wedding ring. Your wedding set will look fabulous no matter which wedding ring to choose. Keep it simple? Glitz it up? Add gemstones? Play with diamond shapes? Yes yes yes yes. Flex your creativity!
Easier on the wallet
Less overall glitz means that there's less upfront cost. There's no need to spend a large part of your ring budget on a diamond-studded band. This frees you up to invest the lion's share of your money in an incredible center diamond or gemstone! Pro tip: go for a lab created diamond to get a 30% larger diamond while staying in-budget!
We've put together a walk-through of our best and most creative simple engagement ring styles.
Solitaire Engagement Rings
Everyone loves the classics. And with good reason! Solitaire engagement rings are said to be the most simple engagement rings yet they remain perfectly elegant and timeless. The rings highlight the single-center diamond or gemstone like no other.
Unique Diamond Shapes
Diamonds come in a variety of stunning shapes, so if you're thinking of adding some kind of wow factor to your simple engagement ring – this may be the way to go! While round and princess cut diamonds are usually the most popular shapes for engagement rings, this may not appeal to every person.
A simple band or ring setting will easily complement any diamond shape. Pick the one your heart desires, whether it be cushion, emerald, oval, Asscher, marquise, or pear.
Three Stone Diamond Engagement Ring
Three stone engagement rings are the perfect way to keep it simple while still getting your diamond fix. The elegant combination of a large center stone and two smaller, identical side stones is undeniably minimalist. And yet, all those facets sparkle bright!
Now you may be thinking, how does this three stone engagement ring avoid overwhelming the eye? By sticking with a simple round cut diamond, you get a symmetrical, straightforward, and stunning ring.
Bezel-Set Engagement Rings
Did you know that bezel-set engagement rings are the second most popular ring setting? Why, you ask? Well, this is mainly because of its simplicity and modern look. It is also known to be the perfect ring for people who lead an active lifestyle.
This type of setting provides excellent security and protection for the center stone. It's so versatile that it perfectly accommodates every diamond shape. Did we mention bezel set engagement rings will never snag on fabric?
Gemstone Engagement Rings
These simple engagement rings are rich in gorgeous hues. For anyone who thinks "simple" is a synonym for "plain," our gemstone engagement rings will prove otherwise.
Gemstone engagement rings aren't a new trend. In fact, for centuries, we've seen the most glamorous royals and celebrities styled in all kinds of gemstone jewelry. Unlike diamonds, unique gemstones come in a variety of colors, so regardless of the setting or style, gemstones make stunning center stones. Ever considered a sapphire engagement ring?
Split Shank Engagement Rings
Looking for a simple, yet unique engagement ring? You've come to the right place! There are various types of split shank engagement rings, but the most common is where the shank (band) splits into two. This creates two separate metal pieces that stem from the center diamond.
Its sophisticated look has won over many A-list brides including Beyoncé, Megan Fox, and Blake Lively.
Swirl And Twisted Bands
A simplistic design but not too basic. These bands aren't packed with diamonds, but they are packed with plenty of personality! Swirl and twisted bands typically feature a prong setting where the metal band is crafted in a way that gives off a half-circular "swirl" effect around the center stone.
The result is a modern, unique look boasting a highly secure setting. Whether you're looking for a striking and minimalistic engagement ring or a thin dual band elegantly twisted together to achieve a natural "woven" look, the options are endless.
FAQs
What is the most important factor to consider when selecting a simple engagement ring?
When shopping for a simple engagement ring, the 4Cs should be prioritized by the color of the diamond.
Can I add stones to my simple engagement ring later on?
Yes. The classic solitaire setting is the perfect fit for a simple engagement band, especially if you intend to set diamonds later on. Experts suggest that if you are considering this, make sure the band is thick enough to accommodate diamonds later.
Can an engagement ring be a plain band?
Yes. Engagement rings can be any type of ring type or setting. It's most important to choose a style that you or your partner will enjoy wearing.
SHOP RELATED PRODUCTS