Tap your heels together three times and repeat after us: there's no birthstone like ruby, there's no birthstone like ruby, there's no birthstone like ruby.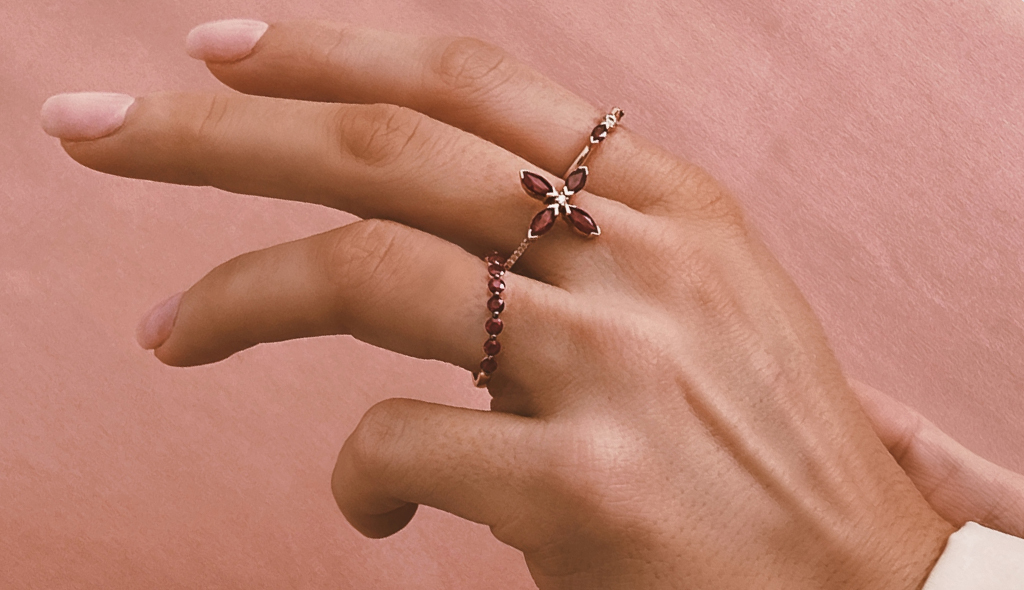 Ruby, the July birthstone, is simply luxurious. Its blood-red color has been prized for millennia. Rubies are mentioned multiple times in the bible, were described by Pliny in the first century AD, and are named "the king of gems" – ratnaraj – in Sanskrit. Traditionally mined in South Asia, and in particular Thailand and Myanmar, they made their way via the silk road to all corners of the ancient world.
Though rubies likely rose to royal status first in ancient India, they were quickly adopted into noble families wherever they went. Jaw-dropping ruby jewelry sets are currently worn by the royal families of England, Denmark, and Portugal. And a bit further back, Marco Polo wrote that the Chinese emperor Kublai Khan, upon visiting the ruby mines of Sri Lanka, was so taken by the gems' beauty that he offered to trade a whole city for one particularly massive scarlet stone.
Ruby's Meaning
Ruby birthdays enjoy a wealth of special ruby meanings, among them passion, love, wisdom, wealth, and power. Nice. The ruby's depth of history and meaning certainly makes them one of the more impressive birthstones; July babies are lucky enough to have an excuse to wear these charmed gems year-round.
The Ruby Anniversary
If you're celebrating your 40th wedding anniversary, there can be no gift other than rubies. 40 years of marriage calls for the Ruby Anniversary, and there are plenty of ruby jewelry gifts to celebrate with.
Ruby's Durability
It's almost as if ruby were made to be worn. At a 9 on the Mohs Hardness Scale, rubies are quite close to diamonds in terms of toughness. They're incredibly durable and resistant to scratching. No matter how or when you wear them, they'll come out the other side looking as good as can be.
Fun fact: The ruby is very closely related to the sapphire; both precious stones are a variety of the mineral corundum. However, ruby exists at the redder end of the spectrum.
The July Birthstone: Ruby Rings
A ruby ring is the perfect birthstone gift. Special, singular, and super scarlet – gifting a beautiful ruby in a meaningful setting will melt the heart of any July birthday. The ultimate advantage of a ruby ring? The wearer can always see it. They'll hold it up to the light, wiggle their fingers, and let your ruby birthstone ring shine.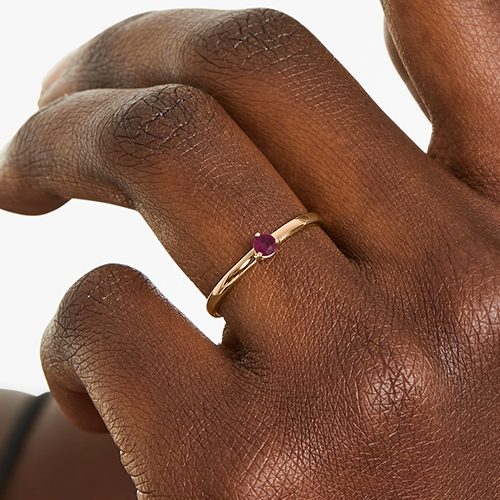 A dainty, minimalist yellow gold ruby ring for the ages. This is a beautiful ring that is perfect for daily wear. While it's classically gorgeous on its own, it won't steal the spotlight of other rings – say, an engagement ring.
The ideal ruby gift for: giving as a special, but not over-the-top, July birthday present to a loved one.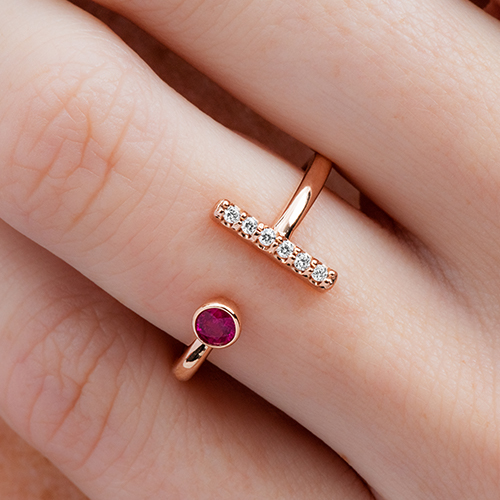 This asymmetrical diamond and ruby open ring throws tradition for a loop. This is a ruby birthstone gift for the July birthday who's always got a one-up on the up-and-coming. Trendy? Check.
The ideal ruby gift for: a July baby who never stops looking for the next unique jewelry piece to add to their crazy stylish jewelry ward.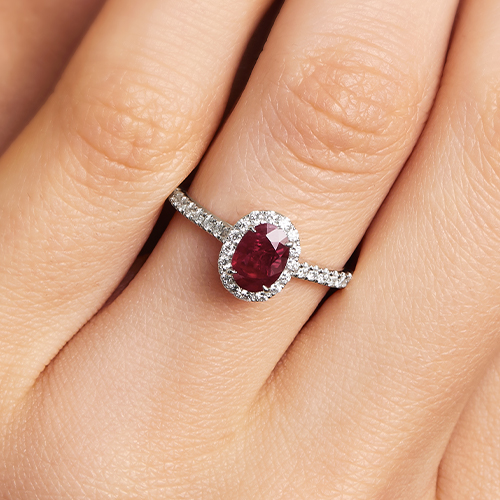 Engagement rings don't always have to feature center diamonds. If you're thinking of proposing to a July baby, consider featuring a stunning crimson ruby. If you don't want to forgo the "forever" stone completely, accent diamonds are ruby's classic partner in crime.
The ideal ruby gift for: proposing to your July-born beloved!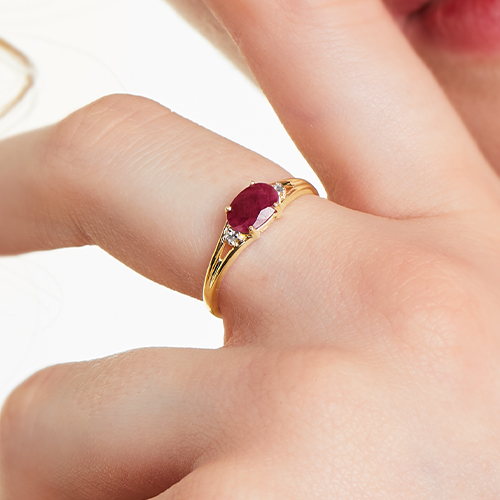 This unique oval ruby is set horizontally in the less common "East-West" style and zhuzhed up with two petite round accent diamonds nestled in a yellow gold split shank solitaire setting.
The ideal ruby gift for: marking big occasions, like a graduation, a promotion, or a marriage.
The July Birthstone: Ruby Necklaces
A ruby necklace is the birthstone gift for the extroverted July birthday. It makes its wearer an instant subject of attention. What's better than a stunning ruby pendant to punctuate a grand entrance?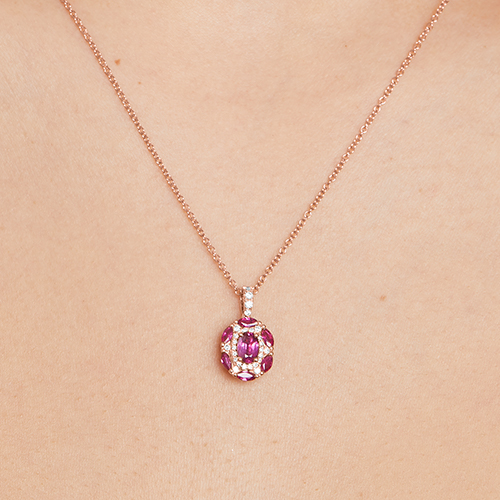 A truly magnificent, 7-ruby clustered pendant, accented with over 25 petite round diamonds. This is a necklace to wear to your most special events.
The ideal ruby gift for: A particularly memorable wedding anniversary with the July love of your life.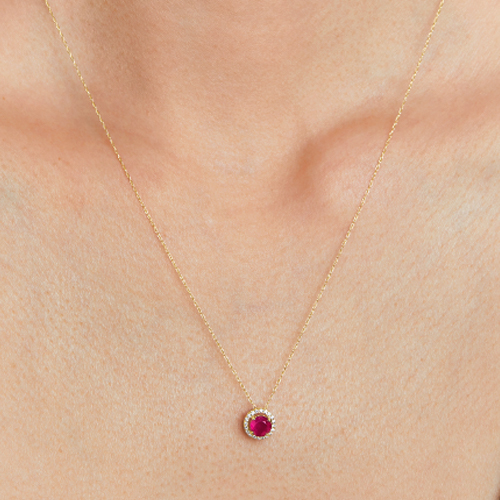 Sweet, petite, and what a treat!
The ideal ruby gift for: A beloved July birthday who needs a bit more shine in their life.
The July Birthstone: Ruby Bracelets
Make your very special July baby feel even more glorious with a diamond tennis bracelet customized to them. This 3-prong tennis bracelet is studded with fine rubies, making a beloved classic even better.
The ideal ruby gift for: A recently-promoted special someone who deserves to celebrate their professional achievements.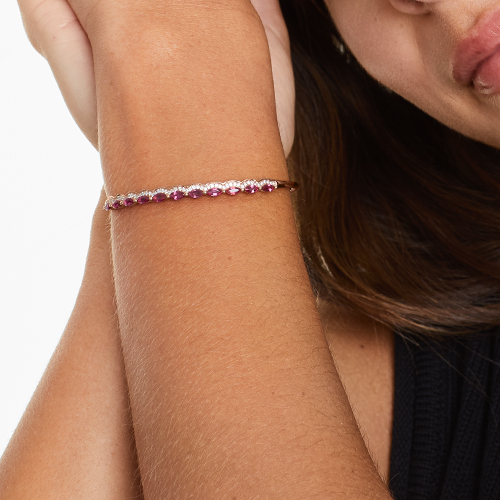 Slip on this ruby bangle and start celebrating. This half-scalloped diamond and ruby bangle has party vibes – but in an elegant way.
The ideal ruby gift for: The July birthday who's a regular at invitation-only rooftop parties.
The July Birthstone: Ruby Earrings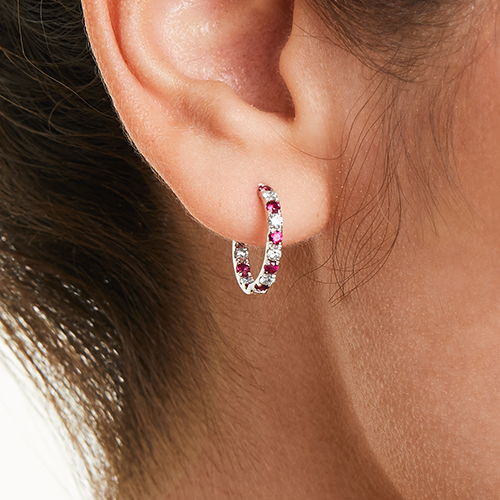 These studded diamond and ruby earrings are cute additions to your gemstone wardrobe. Popping on these sparkling huggie hoops is the simple formula for an instant good day.
The ideal ruby gift for: the July baby who owns a closet full of sundresses and matching kitten heels.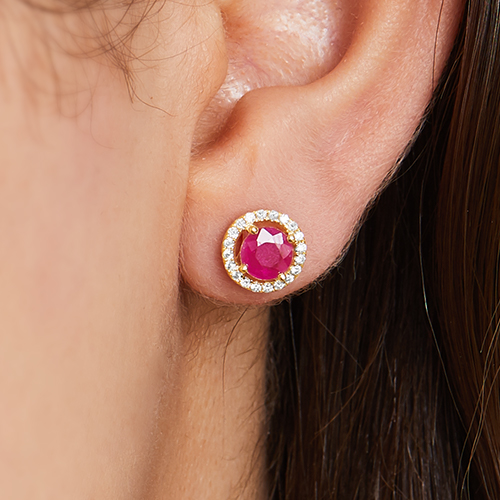 These are ruby stud earrings, with extra! Floating diamond halos pump up these studs with glitter. 
The ideal ruby gift for: the jewelry wearer who won't settle for anything less than maximum sparkle.
To Sum It Up
Rubies are a bold gemstone with a deep-rooted royal history. Anyone with a July birthday has lucked out, since the ruby is a birthstone with gusto. Extremely durable, this scarlet stone can be worn all the way to your next July birthday with minimal upkeep needed. Gifting ruby jewelry is a surefire way to memorably mark your next July milestone.
Read Up On Birthstones Year-Round
Subscribe to our email list for access to secret sales, practical ring-buying tips, and $100 off your first purchase!
Rachel is an unabashed linguistics fanatic who can identify the ancient Greek root of any word. She promises not to spray you with Windex.