Pearls have always been a reliable classic, and lately, they've been undergoing a serious refresh as the hottest new engagement ring trend. You definitely need to take a deeper look at these underwater beauties – and here's why!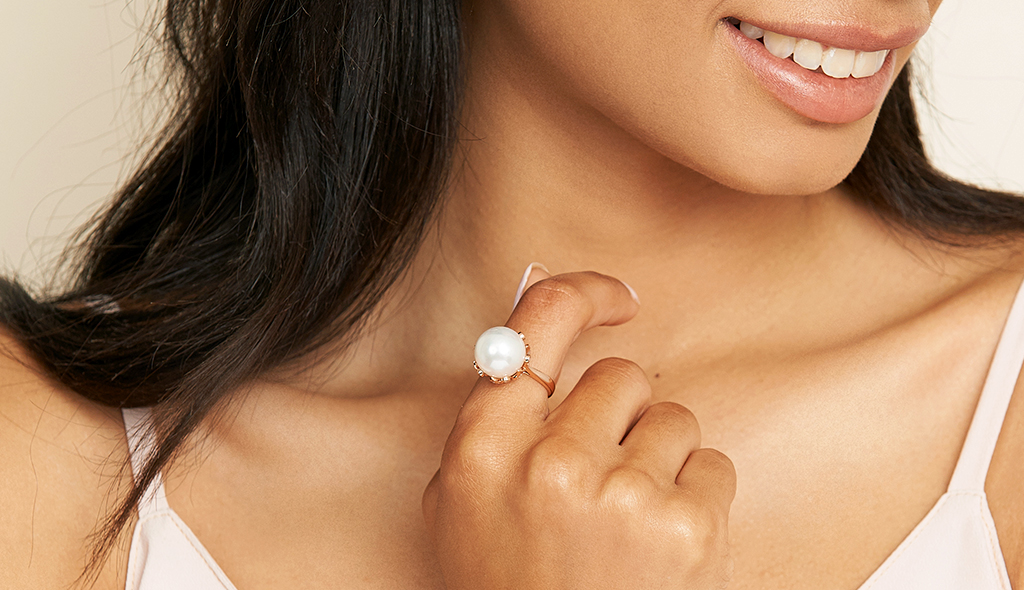 Pearl engagement rings are riding in on a sparkling new wave that's all their own. Forget clutching your pearls! These statement pieces are far from those dull, staid stereotypes. 
How Pearls Are Made – And Harvested
We have the friendly oyster to thank for these luminescent beauties. Oysters are critical parts of the marine ecosystem; in nature, they inhabit the tidal zones of either freshwater or saltwater bodies and perform numerous functions. They clean water through filtration, they form oyster reefs that provide homes for smaller organisms, they're a sustainable food source, and of course: with the right stimulation, certain oyster species produce pearls.
Oysters are living organisms that thrive under specific conditions. And they need to thrive in order to produce pearls. Pearl farmers place them in natural environments – either on oyster frames, or artificial oyster reefs.
After growing for a number of months, pearl farmers "nucleate" the oysters; they insert a tiny bead along with a small portion of tissue from another oyster. This gently irritates the oyster, which secretes a smooth substance called nacre, or mother of pearl, around the bead in order to protect itself from further irritation. Over the course of months or years, the layers of nacre accumulate and, eventually become a recognizable pearl.
Why Pearl Harvesting Is So Sustainable
At this point, the small pearl is often carefully extracted, and replaced by another bead. This bead often becomes a much larger pearl in the now-mature oyster. This oyster may continue to produce more pearls, or it may be either released or "retired." If, in fact, the oyster is retired – a.k.a. used up – then no part of the oyster goes to waste: the pearl is harvested, the meat is eaten, and oyster shells (which are rich in calcium carbonate) are often ground up to be used as a nutrient-rich addition to animal feed or other on-land farming processes.
The bottom line: pearl farming actually benefits the environment!
Not to mention, pearl designs are just plain pretty. They're the perfect mix of timeless & fresh, and more and more couples (including celebrities couples like Emma Stone and Dave McCary) are choosing to forgo diamond engagement rings in favor of pearls.
Here are 5 reasons why pearl engagement rings are the perfect match for the next generation of ring shoppers:
Reason #1: They're Unique
Pearls are the only creature-made gemstones – which is cool. They're sustainable, which is even cooler. And just like diamonds, no two pearls are quite the same. Why? The conditions in which pearls are created vary, just like those needed to form diamonds. But rather than underground heat, pressure, and minerals, pearls' unique qualities are determined by their specific oyster's anatomy and chemistry. Meaning, each oyster leaves its mark on the pearls it creates, imbuing all pearl engagement rings with incredible stories.
Split-Shank Pearl Engagement Ring
This double-banded pearl engagement ring will criss-cross your ring finger forever. A delicate basket in the shape of four leaves cups the pearl as it "blooms" upon its yellow gold band.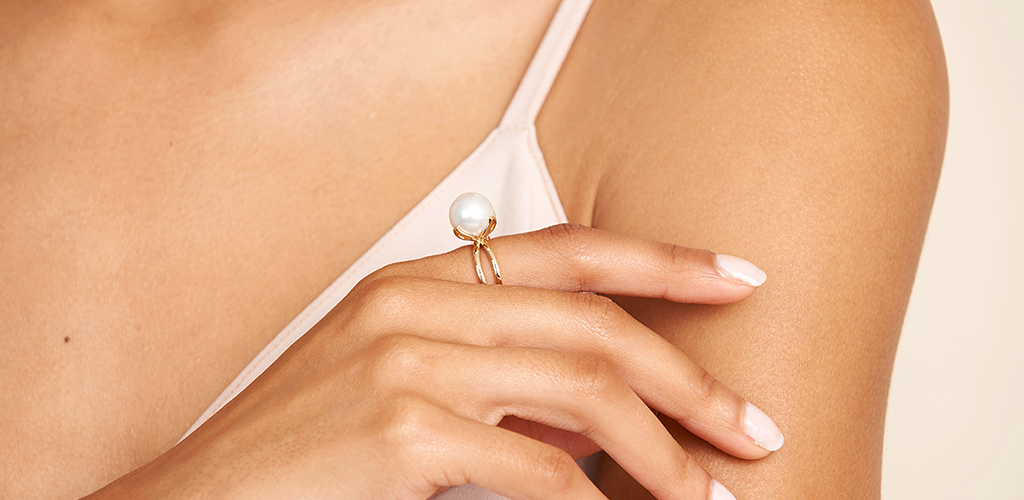 Cultured Pearl & Diamond Vine Ring
This crossover pavé design is a head-turning, diamond-studded twirl of a ring. White gold vines climb along the sides of this large, freshwater pearl.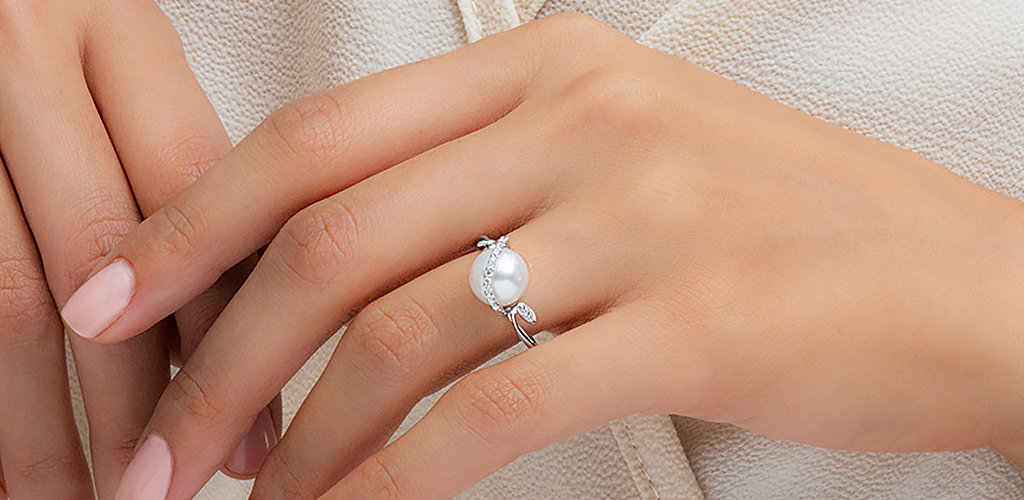 Reason #2: They're Budget-Friendly
It's never a bad idea to consider your wallet, and pearls are a fraction of the cost of diamonds. That's because the cost of harvesting jewelry-grade pearls is much, much less than that of mining gemstones or growing them in a lab. All in all, pearl engagement rings are one of the best options for the conscientious ring shopper who doesn't want to compromise on luxury.
Side Trio Pearl Engagement Ring
Center diamond? No thank you. A center pearl is on the menu today, with a smattering of delicate diamond side-stones. This classic engagement ring style, which usually features an eye-catching diamond, instead shows the power of an equally gorgeous freshwater gemstone.
Vine Motif Freshwater Pearl Ring
For the jewelry lover who also adores flowers, this ring is a find. A basket of diamond-dotted leaves and buds cups a large freshwater pearl, allowing it to perch daintily on your finger like a delicate blossom.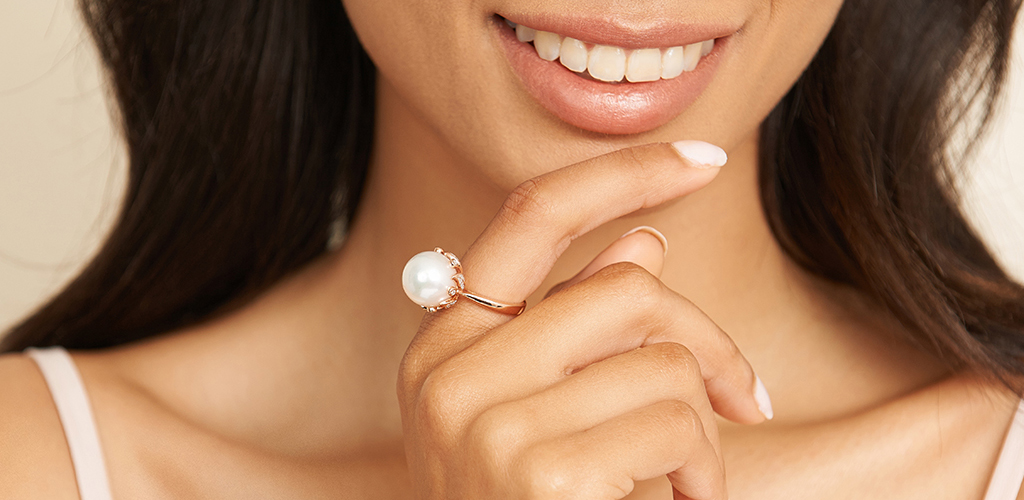 Reason #3: They're the June Birthstone
If your partner is a June baby, then you should take a deeper look at pearl engagement rings. To add an extra summery touch, set off your eye-popping pearl in yellow gold. And if you're looking to celebrate special occasions throughout the year, check out our full range of birthstone jewelry.
Mable Pearl Ring
Minimalist, bold, and encircled in yellow gold – this Mabe pearl sits flat on your finger, ready and waiting for admiration. Which it will get because, hey, look how pretty it is!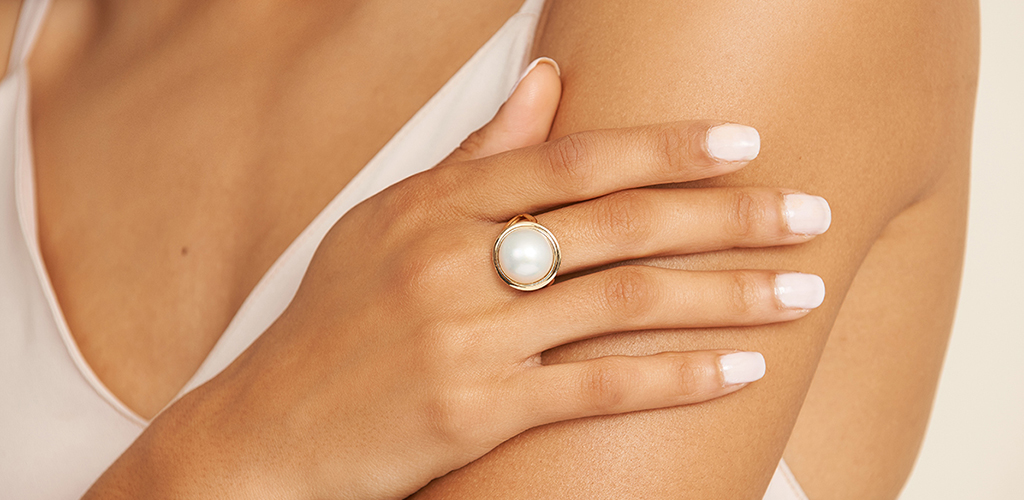 Freshwater Cultured Pearl Twist Ring
This swirling Escher-like infinity band puts a new twist on an eternity ring. This yellow gold ring swoops and dives around the star of the show: a 10mm freshwater pearl. One gold band + one pearl = one helluva pearlescent engagement ring.
Reason #4: They Come in All Designs
With new rings, trends come new freedom to explore designs! An artistic license is the name of the game. If you're a fan of haute-couture, pearl engagement rings are treasure troves of shapes, patterns, and charm.
Nested Pearl Engagement Ring
Get ready for an engagement ring like no other: a cream-colored freshwater pearl resting in textured layers of gold brings to mind a proud egg nested safely in a bird's nest.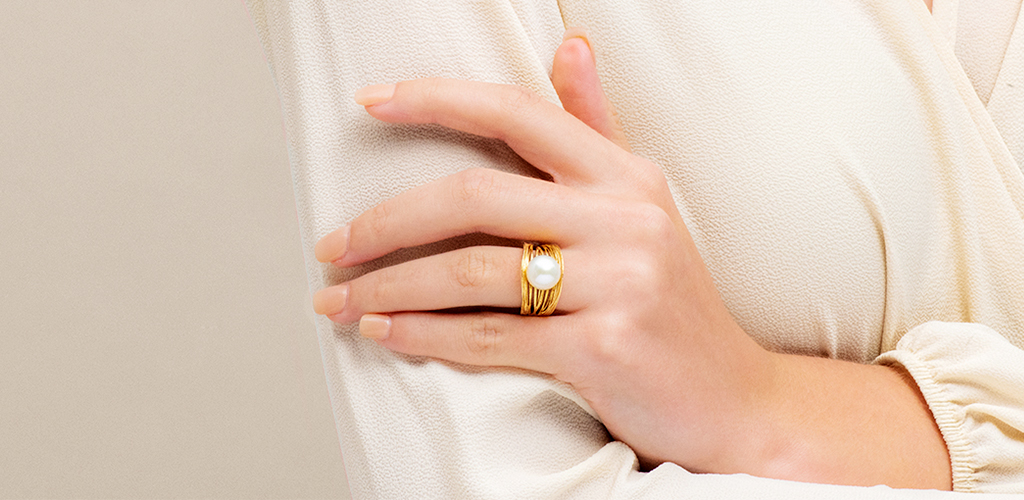 Open Circle Pearl Engagement Ring
Maybe one large center pearl isn't for you. Maybe what you love are delicate seed pearls, arranged perfectly in an open ring. The negative space of this ring shows off the individual beauty of each tiny, perfect pearl.
Reason #5: They Go With Everything
That pearly sheen is more than a simple blank slate – it also enhances its surroundings. Pearls are perfect companions to other precious stones like morganite and sapphire. You can always give a nod to tradition by adding accent diamonds; they complement pearls beautifully!
Sapphire, Diamond, and Pearl Engagement Ring
Push your center pearl to the forefront with a duo of dark blue, pear-cut sapphires. An Akoya pearl, a particularly bright white type of pearl, is additionally flanked by two subtle bands of small, shining, pavé-set diamonds.
Looking for real-life proposal inspiration? Or just want to read some feel-good engagement stories? See how our customers have popped the question in our "Engagement Moments" section.
If Pearls Make You Flash Your Pearly Whites, Read On!
Subscribe to our email list for access to secret sales, practical ring-buying tips, and $100 off your first purchase!
Rachel is an unabashed linguistics fanatic who can identify the ancient Greek root of any word. She promises not to spray you with Windex.