When it comes to popping the question, anything goes. But what about the ring? Something as personal as an engagement ring needs some extra thought, and that's where we come in. Join us as we explore the perfect engagement ring duos for same-sex couples!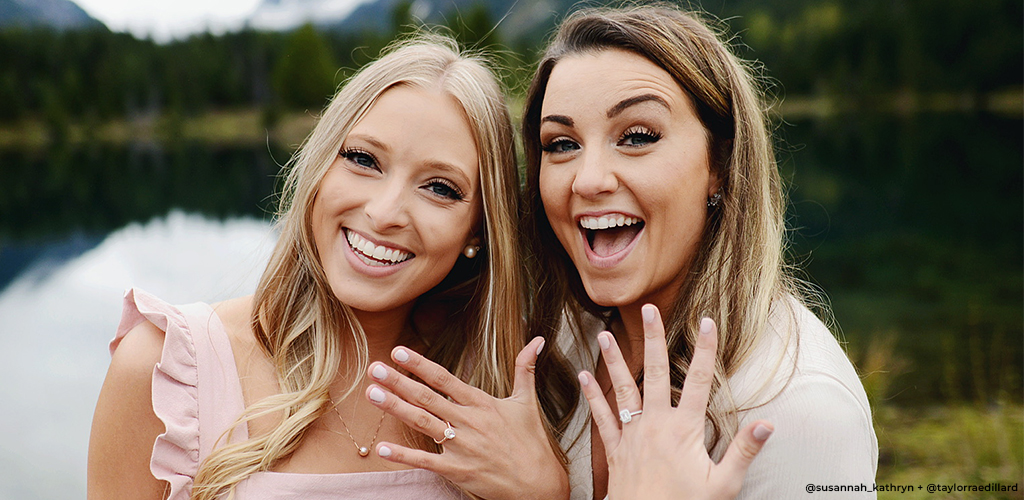 We're grateful that love is anyone's game, and each player gets their own unique story. What better way to express your personal love story and style than with your engagement ring?
But first, the usual questions. Who proposes to who? Are you both jumping on the trend of wearing engagement rings together? If yes, are you going the cute route with matching rings? 
Overwhelmed? Don't stress. There's really no right answer on how to propose or what engagement ring to get. All we can do is inspire you.
Here's a look at our top engagement rings for same-sex couples.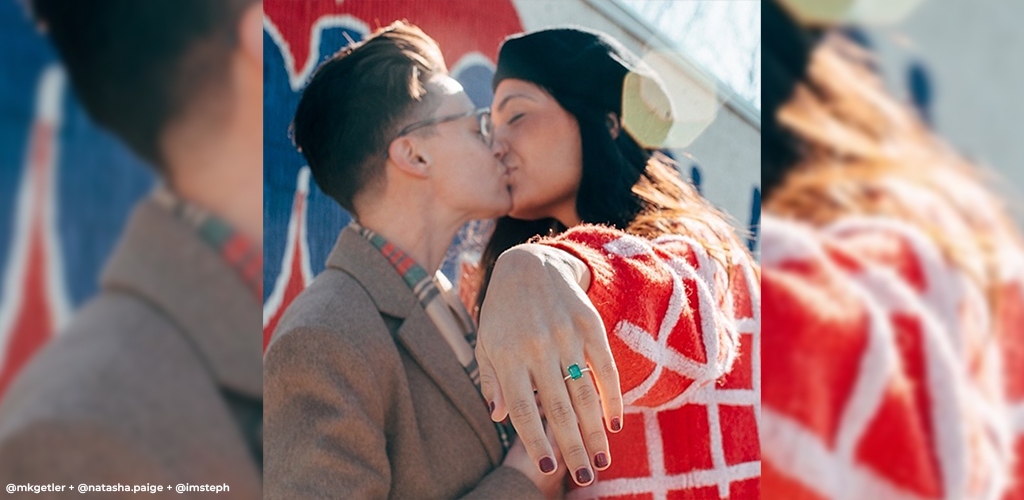 Same-Sex Engagement Rings For Women
Now, it's important to remember that anything goes with your unique proposal and the same should be said about your engagement ring. Here are a few categories we've outlined about engagement rings for same-sex partners.
Traditional
For a classic proposal, one person would have a desire to be proposed to while the other would like to be the one who pops the question. If you and your partner fall into this category you'll both appreciate the more traditional approach.
Traditional rings are anything but boring. Classic solitaire engagement rings are a style that will be around forever. What we love about these rings is that you can pair this setting with just about any diamond shape and metal color. You can also opt for different prong settings to suit your individual style.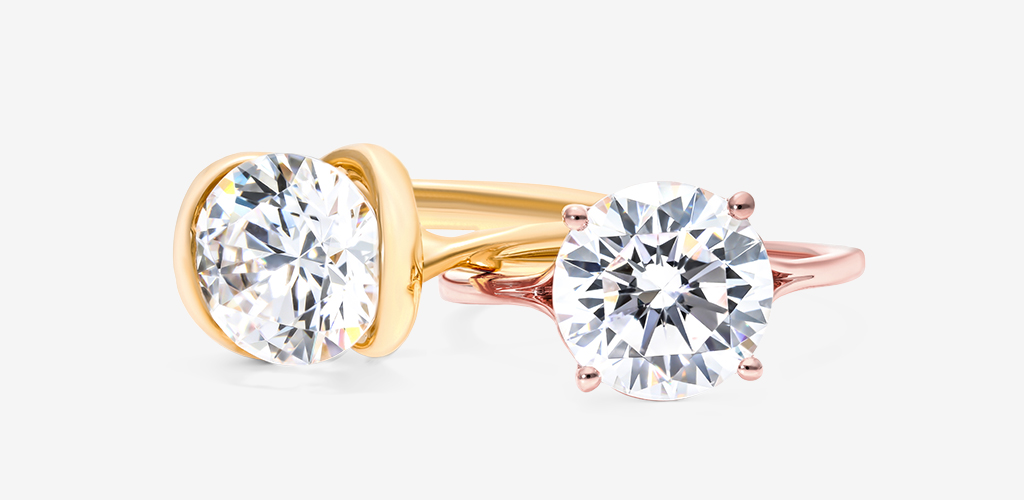 In the past, it was customary for women to wear the engagement ring as men would be the ones who typically proposed. However, for same-sex couples, there are really no hard and fast rules about this.
If you'd like to keep it within the traditional standard then your partner to whom you proposed to will be the one sporting the diamond ring you picked especially for them. Then you will get your wedding band once you're married.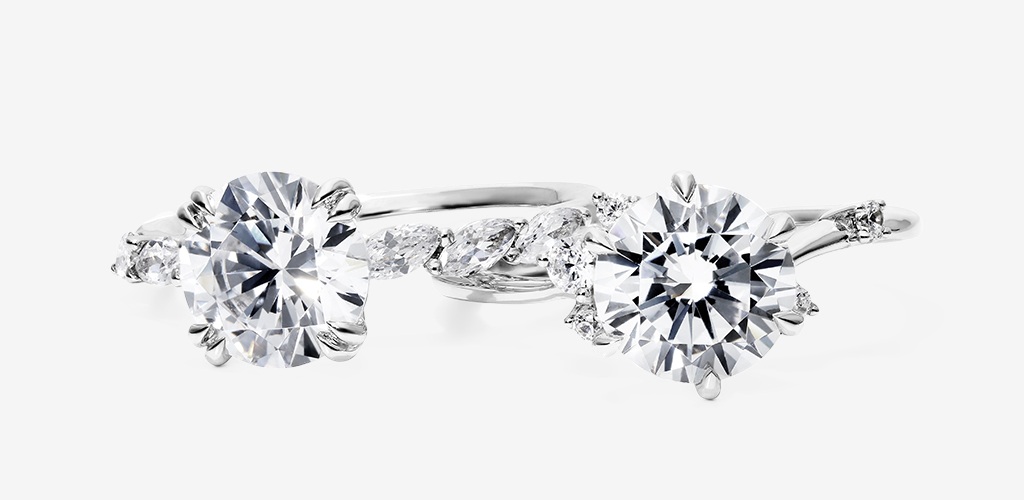 Dual Proposals
In today's society, it's super normal to have the marriage talk as a couple and to decide together that it's time to get engaged. That being said, it's not completely uncommon for same-sex couples to propose to one another. In fact, it's a growing trend that both partners will wear an engagement ring and we're absolutely loving it!
So what kind of engagement ring should you and your partner choose if you both plan to propose and be proposed to?
We've got two answers. First, you could always do matching rings to make the moment even more memorable. Picking out matching rings is a process the two of you won't easily forget. Also, knowing your partner has a ring exactly like yours will always remind you of them when you catch a glimpse of your sparkler.
If you don't want to match completely, you can always keep them similar by choosing the same type of ring setting and then adding in your preferred center stone of choice.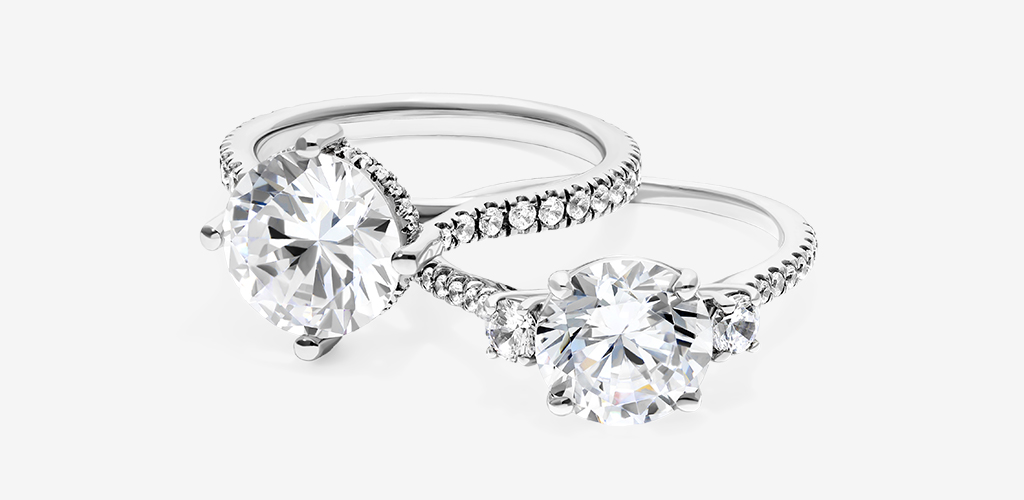 Second, you can both buy rings that showcase your significant other's personal style and preferences. Going with this option means that you both have more options to choose from in terms of ring styles and also customization. Say you love halo engagement rings but you'd prefer a gemstone center stone instead of a traditional diamond- your partner can make that happen by designing your ring online.
P.S. If you love the idea of creating a customized ring from scratch, try out our ring studio for the ultimate ring designing experience.
Same-Sex Engagement Rings For Men
Men's engagement rings are a little more tricky than womens since they're only just now becoming increasingly popular. That's not to say they aren't a thing yet, because they very much are on the rise. It's more of a question of their style and what that's supposed to look like.
Do men's engagement rings keep up the concept that a diamond or gemstone needs to be involved in the ring's design, or does anything go?
We'd like to think it's up to the individual. And for same-sex couples, the sky is the limit to the type of engagement ring style you wish to present your partner with. If you want to keep it traditional- diamonds really are for everyone! One of the most popular styles are comfort fit rings with added diamond or gemstone accents.
Men's Eternity Rings
Diamonds already symbolize love, commitment, and above all, strength. Now when they're fitted in an eternity ring, your partner will know you're in it for the long haul!
Eternity rings can be customized to suit your significant other's personal style, from diamond cut preference to favorite metal color choice. The best part, they'll be shining from every angle.
An eternity ring is also the perfect style for matching same-sex couples' engagement rings as they represent not only the time you've already spent together, but the long life you'll enjoy together as a married couple.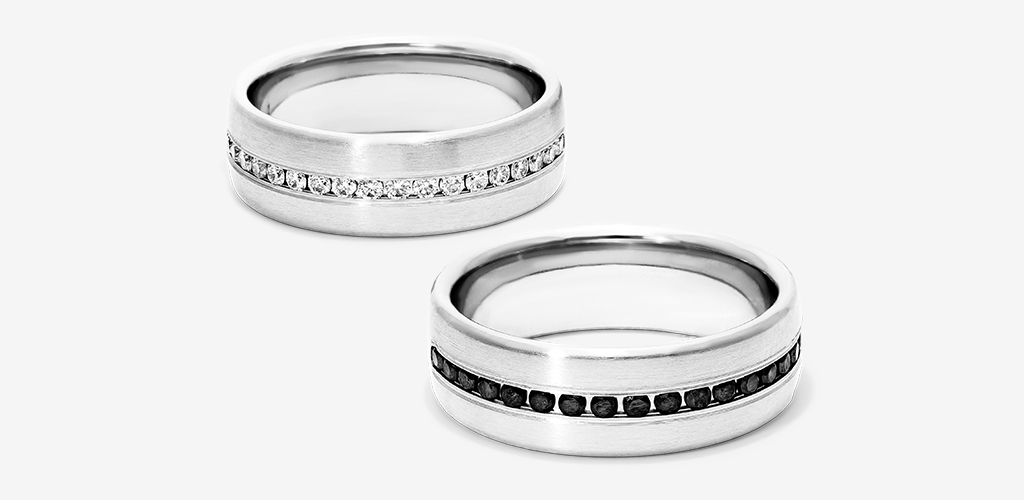 Alternative Metal Men's Engagement Rings
Gold may be the most popular metal but alternative metals like tantalum offer a more rich and masculine color which is extraordinarily appealing.
Tantalum rings for same-sex couples offer durability, comfort, and it's a low-maintenance metal. This metal is also a budget-friendly option as it's cheaper than platinum and hypoallergenic. As an engagement ring option, they're perfect for easy customization.
How Do I Find Out My Partner's Ring Size?
Getting your partner's ring size is probably one of the most nerve-wracking exercises before your actual proposal. Lucky for you we have a few easy tips and tricks to help you get it right the first time round.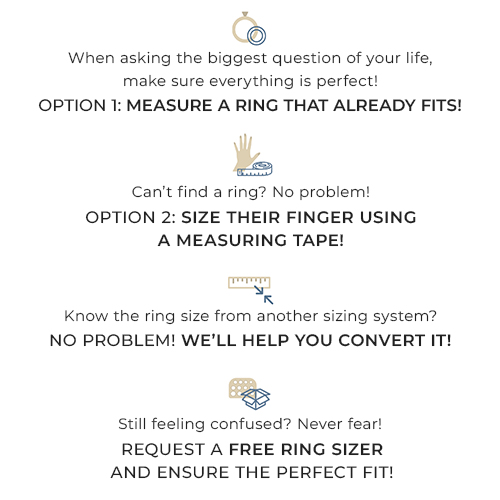 At JamesAllen.com you can request a free ring sizer from us which we'll have sent to you to ensure you get the perfect fit! Or you can have a go at our virtual try-on, which should come with disclosure because it's highly addictive!
Same-Sex Engagement Ring FAQs
Do we need matching engagement rings?
The short answer is no. Matching engagement rings for same-sex partners is no more mandatory than it is for heterosexual couples. Matching rings is a personal choice you and your partner can make together.
Which hand do we wear our rings on?
Same-sex couples have been known to wear their rings in a number of different ways. From the traditional way with the ring worn on the left hand, to both partners wearing their rings on their right hands. In the end, you should decide on the hand that is most comfortable for you.
Should we shop together for engagement rings?
You can shop together if you've both planned the style of your engagement rings or you'd like to be there to choose your own. Of course, if you want it to be a surprise you can always drop a hint to your partner and hope for the best.
Do we have to buy each other engagement rings?
You and your significant other don't have to buy engagement rings. Whether you don't believe in the symbolism or you're not jewelry folks, it's always up to you! There are no right or wrong ways to propose, and it can certainly be done without a ring.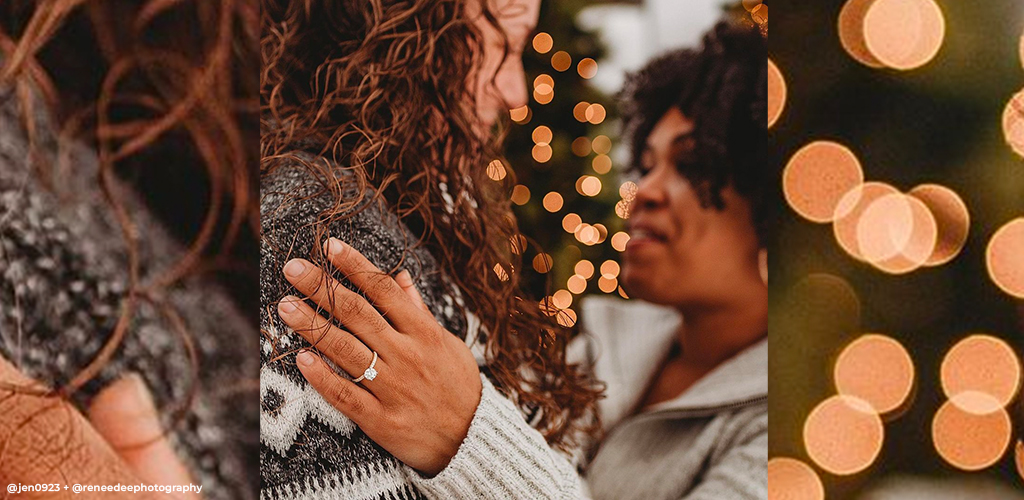 What Are You Waiting For?
When it comes to picking the right engagement ring for you, your partner, or both of you, James Allen has all the tools and convenience you need to find the perfect fit. Visit our site for all you need to know about the different metals, styles, designs, and more!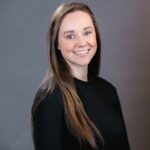 Jessica is a seasoned content writer with four years of experience and a qualified gemologist. She enjoys educating new shoppers on the best practices for buying jewelry.