Are you a procrastinator? Have you delayed your shopping but don't want gifts that reflect it? Then you're at the right place! We have a fabulous selection of gifts to arrive in time for Christmas. Gifts that sparkle so bright, at such great prices, they'll have no idea you waited to shop!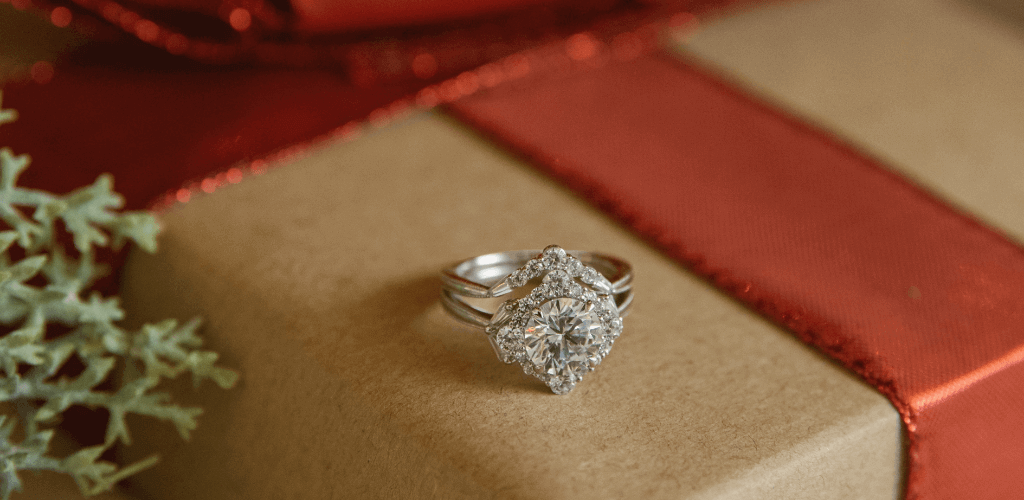 We understand holiday shopping can be overwhelming, and maybe, you put it off and now that has added to the stress. Well, relax, we are here to put the joy back into gift giving! Whether you're shopping for family, friends, or a significant other, they'll have no idea you procrastinated at all!
So save 25% on an incredible number of options and go to JamesAllen.com, where we will show you exactly when your gift will arrive based on what day you order. We have a myriad of options that sparkle bright, are on sale, and will comfortably be under the tree on Christmas morning.
How Will You Know Which Items Arrive In Time For Christmas?
Not sure how to tell which items will arrive in time? Sort items by "Fastest Shipping and starting December 1, 2022, look for the Santa hat.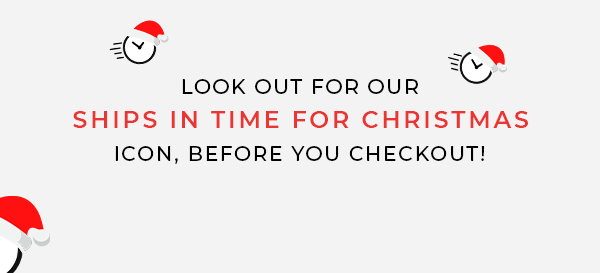 Make sure to place your order by 2:00PM EST in order to receive your item(s) on the listed date.* Check out below for more details and of course, Happy Shopping!
*Please note that this only applies to orders in the continental United States.
How To Order An Engagement Ring That Will Arrive In Time For Christmas
Are you looking to make this the best, most memorable Christmas ever? Have you decided to make the Holiday season an engaging one? Then you really want to make sure your ring arrives on time!
Keep in mind that when ordering an engagement ring both the setting and the diamond need to be available to arrive by the big day. That means that you'll want to:
Select "Fast Shipping" when looking at the settings
Select "Fast Shipping" again when looking at diamonds
Ensure that the setting AND the diamond of your choice ship by the same date
After all, this is not a situation where you want to say here is part 1, you want to present the grand finale!
Best-Selling Gifts That Will Arrive In Time For Christmas
Just because you're not an early shopper doesn't mean you can't get the most dazzling gifts…at least not at James Allen! Christmas is a magical time of year, and you need presents to match.
Whether you're proposing to the love of your life or are looking to cement your place as the family favorite, read on to get the best gifts at the best prices, comfortably under the Christmas tree.
Engagement Rings
We said it before, Christmas is a magical time. Snow, the tree, family and friends, mistletoe, and of course, presents! Now there are presents, and there are PRESENTS. And some presents, like an engagement ring, will outshine all other presents.
This is a gift that will last a lifetime. It is a gift they will wear every day and show everyone. You may not have shopped ahead, but that doesn't mean you will be stuck with the leftovers either.
Check out some options below and go to JamesAllen.com for more! But don't dawdle too long! We can ship things fast, but unfortunately, we don't have magical reindeer.
And don't forget to check out our engagement rings for men, because everyone deserves to shine bright.
Fine Jewelry
Jewelry is the gift that keeps on giving, or in this case, shining. Whether it is a piece they can wear every day or you are gifting something to be saved for special occasions, fine jewelry is sure to bring a smile to the face of whoever receives it. And remember, from earrings to bracelets, necklaces, and rings, SHINE. IS. IN. for everyone.
Let's hear it for the boys! Give all the men in your life a little bit of fabulous and help them proclaim their personal style.
Nothing can dim the light of a strong woman, but you can certainly add to it. Why not enhance her natural light with some sparkle and shine? Check out these pieces below. Love what you see?
Wedding Rings
It's happening! The big day is approaching! Whether you are doing a Christmas-themed wedding or are just feeling inspired by the holiday season, now is the perfect time to grab the wedding ring of your dreams. From classic to trendy, uniquely modern to elegant and dazzling, we have the wedding for you…and in time for Christmas of course!
Your man will love these!
Seal forever with one of these beauties:
FAQs
How long does it take to get a ring from James Allen?
When ordering a ring from us, it is important to keep in mind that the setting AND the diamond or gemstone need to have that fast shipping tag. The date listed for arrival applies to orders placed by 2:00PM EST and only to orders within the continental U.S.
Important to note: the last day to ship for Christmas is December 22, 2022 by 2:00PM EST and applies ONLY to items that qualify for same day shipping.
Where does James Allen's jewelry ship from?
The majority of our products are shipped from our headquarters in New York City.
Does James Allen ship on Saturday?
Yes! We do ship on Saturdays.
Faster Than Rudolph
Like it or not, the holidays are HERE! It seems every year they just sneak up on us. But don't let the present pressure stress you out. JamesAllen.com has numerous products to choose from that will arrive in time for Christmas.
So, whether you are shopping for a ring to pop the big question, need the perfect ring to start forever, or just want to win gift-giving with your friends and loved ones, we are here to make sure you get the perfect gift in time.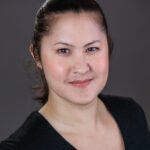 With over 10 years of experience writing and editing on a wide variety of subjects, Sarah is a veteran of the content world. Since joining James Allen, she has focused on all things diamonds and fine jewelry with the goal of educating and empowering consumers.