Earth Day is more important with each passing year. A time to stop and appreciate our planet and all its beauty. All the colors of the rainbow, all shades and textures can be found in every corner of the planet. Want to don jewels of all the hues of mother earth? Read on to see how!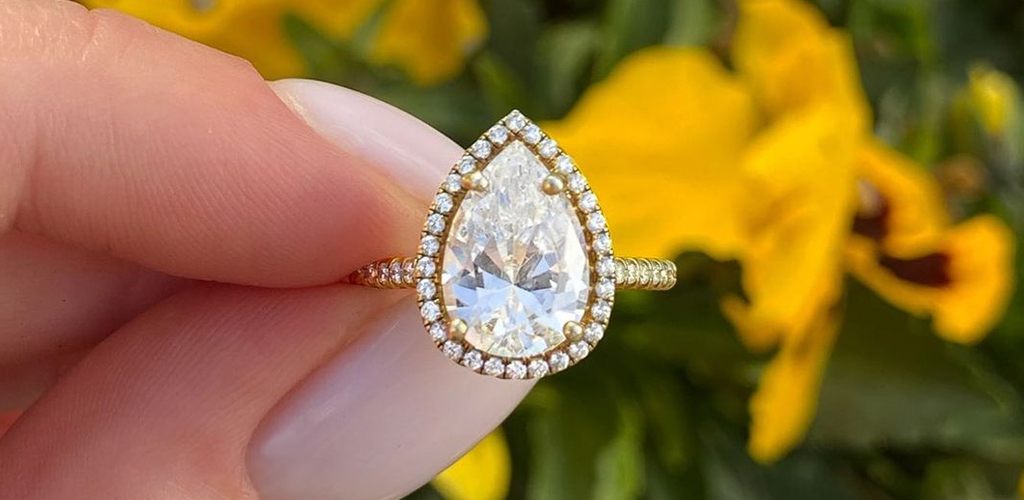 Earthly Greens
The color green symbolizes nature and serenity. It is also said to bring good luck! Coming in a variety of shades, green can be as rich as freshly cut grass, as subtle as green tea, and as dark as a mighty evergreen tree.
You have multiple options if you want to dazzle in green. First gemstones, look no further than May's birthstone, the Emerald. Harnessing more than just the luck of the Irish, sporting emeralds will give you a downright royal look!
However, May's birthstone is not alone in rocking the lucky green! Fancy colored diamonds also come in this luscious color. Fancy green colored diamonds, which are thought to represent prosperity and abundance, are not only another great way to sport this look, but fancy green colored diamonds make beautiful, stylish, and unique engagement rings.
See options for emeralds and fancy green diamonds below!
Grande Falling Edge Halo Engagement Ring
Bringing to mind images of grassy knolls, tall trees, and commanding plants, green is a color that reminds us of the serenity and power of the earth. Such a dynamic color, you can also adorn yourself in green by wearing the gemstone peridot.
Practically screaming the freshness of a summer's day, peridot gemstone jewelry is the perfect birthstone for August. Grab some peridot pieces today and always have that summer feeling.
Ocean Blues
Producing images of the sky above and the sea below, blue represents loyalty, wisdom, and sincerity. The color also brings to mind ideas such as freedom and intuition. Like water, which covers over 70% of the Earth's surface, with ocean's holding almost 100% of the Earth's water, blue has a myriad of shades.
Some of blue's many shades can be found in fancy blue colored diamonds, as well as the gemstones aquamarine, blue sapphires, blue topaz, and tanzanite. Its many shades allow it to create varied looks; from incredibly luxurious to sparkling fun, and everything in between.
The flexibility of blue's multiple shades also allows it to pair well with yellow, white, and rose gold. Whatever shade, whatever metal, whatever stone, James Allen has a blue approved by mother earth, ready to add to your collection.
Sun Rays
When you think yellow you think sunshine, happiness, and warmth. Symbolizing youth, energy, and optimism, yellow can be found in the gemstone citrine, a fancy yellow colored diamond, and of course, yellow gold.
The sun provides solar energy and the light and heat that makes life possible. Showcasing the brightness of the sun, and the yellow of a sunflower, these citrine and yellow sapphire gemstone pieces, yellow pearls, and yellow gold fine jewelry are giving us life!
Fancy yellow colored diamonds are all the rage. It is no wonder more and more celebrities are being spotted sporting fancy yellow colored diamonds. With their timeless, gorgeous, and unique style, fancy yellow colored diamonds are a perfect choice to create a jaw dropping engagement ring.
Whichever your shade of yellow, James Allen has the piece for you to start shining like the sun!
Textures Of Nature
Planet earth is an amazing marvel, featuring every texture you could ever imagine. Tree bark, mud, mountains, and stone; the earth's textures are something to be celebrated everyday. See how bamboo brings the feeling of tranquility and nature to these engagement and wedding rings.
Playing with texture is a great way to bring depth to your look, but textures are not limited to textiles! Inspired by the different textures of nature, James Allen has a plethora of choices for rich textures when it comes to rings, especially engagement and wedding rings.
The style of these rings allows them to work fabulously as fashion rings too!
And since more and more men are complimenting their looks with jewelry, options are more important here than ever! Through alternative metals and styled carvings, these rings bring the feeling of nature simply by slipping them on your finger.
In particular, alternative and carved rings for men showcase textures and patterns found throughout nature. Checkout some options below! Unsure if a textured look is right for you? See our pros and cons chart below to help you decide!
Textured & Alternative Rings
Pollinated Perfection
One of the most beautiful and fascinating things in nature is pollination. This essential part of plant reproduction sees bees and other insects fertilizing flowers. This captivating process is crucial as it leads to the creation of fruit and other foods humans and animals eat, as well as numerous products we use.
In short, the earth would not survive without pollination. It also allows very cute insects to create very beautiful flowers 🌺 and gorgeous fine jewelry. These pieces will remind you of insects, flowers, and other critters, but without allergies!
Not into the insect look? Check out these adorable pieces that will give you a constant reminder about your furry best friend and other adorable animals.
Earthly Style
Our planet is filled with natural inspiration and Earth Day is a good reminder that it is our job to protect it. The textures, colors, and creatures are fascinating works of mother nature and beautiful influences on style.
The calming colors and rich compositions, combined with the meaningful symbolism makes all the workings of earth the ultimate style guide.
So rock those nature-inspired styles and tag @JamesAllenRings to show off your earthly inspo!
Subscribe to our email list for access to secret sales, practical ring-buying tips, and $100 off your first purchase!