Who says those with sensitive skin can't wear gorgeous jewelry? Let's talk about hypoallergenic jewelry pieces that are perfect for you- and your skin!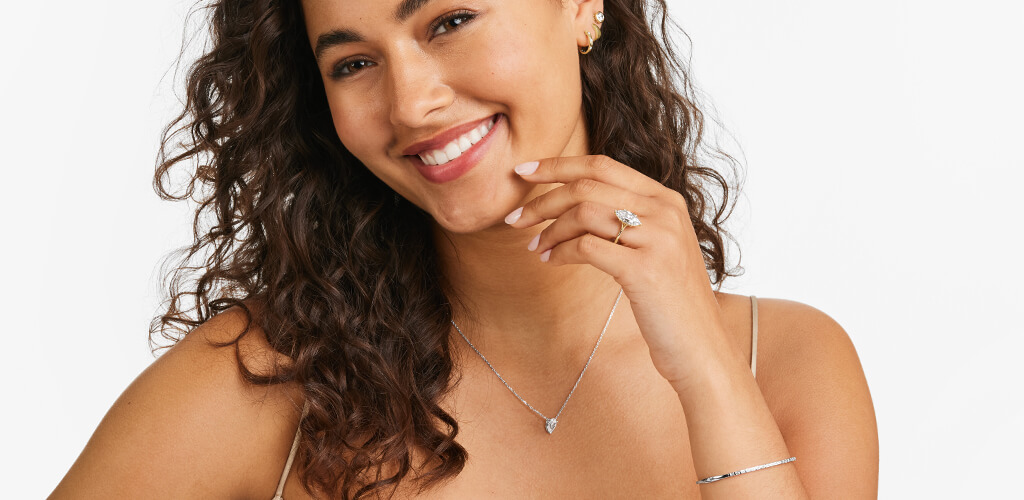 Shopping for an engagement ring or new piece of jewelry is an exciting process, but things can quickly get complicated for those with sensitive skin. But don't think you can't wear beautiful jewelry because you have sensitive skin!
Fortunately, hypoallergenic jewelry pieces are available for those looking to find eye-catching accessories without irritating their skin. In this blog, we'll provide helpful tips for finding hypoallergenic jewelry so you can wear the pieces you've always dreamt of.
What Is Hypoallergenic Jewelry?
So what exactly does 'hypoallergenic' even mean? Hypoallergenic jewelry is jewelry specifically designed to be less irritating to those with sensitive skin. Such pieces are made from materials known to be softer on the skin. Materials such as titanium, surgical-grade stainless steel, and niobium are all great options.
Hypoallergenic jewelry is often used for body piercings since piercings are highly likely to produce adverse reactions. But gentler metals are also favored by those with nickel allergies, as hypoallergenic jewelry does not contain nickel. In recent years, hypoallergenic jewelry has grown in popularity, as more people are searching for jewelry that looks and feels good on the skin.
A List Of Hypoallergenic Materials
The most common hypoallergenic metals are the following:
Gold: Gold is a soft, non-reactive metal that is naturally hypoallergenic and corrosion-resistant.

Silver: Silver is a durable metal naturally resistant to corrosion and rust. Thankfully, it is also hypoallergenic.

Titanium: Titanium is a strong, lightweight metal highly resistant to corrosion and rust and unlikely to cause an adverse reaction on your skin.

Stainless Steel: Stainless steel is a durable, low-maintenance, hypoallergenic metal.

Platinum: Platinum is a rare metal that is naturally hypoallergenic and resistant to corrosion and rust.

By choosing hypoallergenic jewelry, you can be sure that your jewelry will be gentle on your skin and safe to wear.
Signs You Need Hypoallergenic Jewelry
If you have sensitive skin or allergies, you may want to consider investing in hypoallergenic jewelry. Here are some signs that hypoallergenic jewelry is a must for you:
You experience itching, redness, or swelling after wearing jewelry.

You have a history of skin allergies or sensitivities.

Your skin turns green after wearing jewelry.

You have an allergy to nickel or other metals commonly used in jewelry.
Is White Gold Good for Sensitive Skin?
White gold is a popular choice for jewelry and other accessories, but it is not always great for those with sensitive skin. White gold is an alloy of gold and other metals, usually palladium or nickel.
Nickel is the more common of the two and is the one that often causes allergic reactions in people with sensitive skin. The amount of nickel present in white gold varies from piece to piece, so it is important to check the purity of the metal before buying.
If your skin is especially sensitive, you may want to avoid white gold altogether and opt for platinum or yellow gold instead. Platinum and yellow gold are both hypoallergenic metals and are less likely to cause any irritation- while still looking gorgeous!
FAQs
What jewelry is eczema friendly?
Any jewelry not made of low-quality or alloy metals will be kind to your skin! So that means wearing either stainless steel or solid gold. Most other hypoallergenic metals like platinum, sterling, and gold are less likely to cause an eczema flare up.
How do you wear jewelry if you're allergic?
There are so many jewelry options for those who have allergies. Look for hypoallergenic jewelry such as nickel-free metals, sterling silver, platinum, and gold. Try to avoid buying jewelry plating with another metal or mixed metals such as white gold. With so many options, it is entirely possible to wear beautiful jewelry while staying comfortable!
Conclusion
Dealing with sensitive skin can often feel like an uphill battle. It can be nerve-wracking and time consuming, being overly concerned with what materials are in your clothes and what products you put on your skin. But jewelry shouldn't cause the same concern!
There are so many ways to keep your skin safe without compromising on looks. Hypoallergenic jewelry is both accessible and often affordable.
With this quick guide and many options on JamesAllen.com, you'll be set in no time! If you're still unsure which metals are right for you, we have experts available to help you along the way!
Subscribe to our email list for access to secret sales, practical ring-buying tips, and $100 off your first purchase.
Armed with five years of writing experience, Rachel aims to turn dense topics into easily understandable content, one shining word at a time.