Put on your yarmulke, here comes Hanukkah. We all know that famous Adam Sandler song, but do we all know just what Hanukkah is? And more importantly, what do you give on Hanukkah? (Or is it spelled Chanukkah? Or Channukah?) However you spell it, many have the tradition to give gifts.
Some give a gift for each of the eight nights of Hanukkah, while others prefer to give one great gift for the whole holiday. Whatever your tradition, we're here to help make sure you give a gift that lights up their entire holiday season!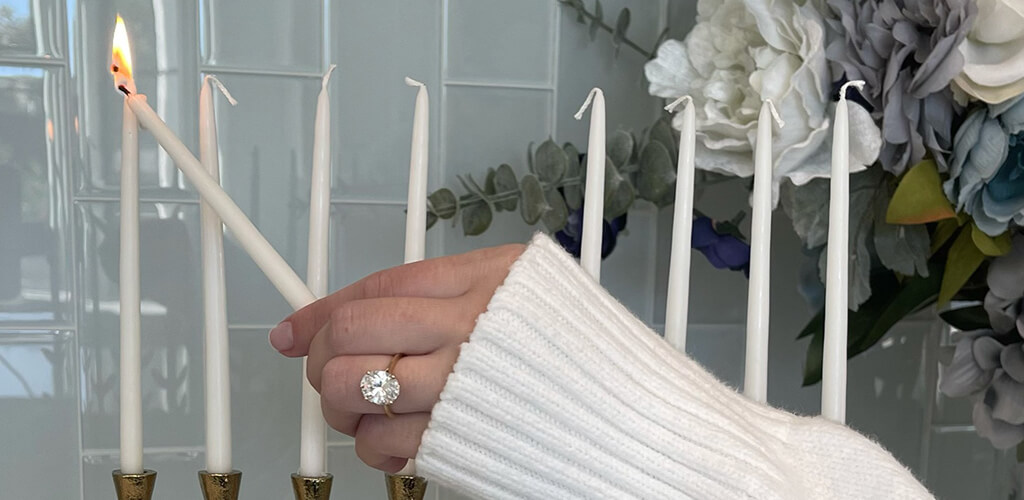 Hanukkah is known as the Jewish "festival of lights," this is because every night of the eight night festival, people gather around what is known as a Menorah and light a candle. Each additional night, another candle is added.
Celebrating a rededication to Judaism's Holy Temple, lighting the Menorah is a reminder that after the Greek destruction, a single drop of oil was found and used to light the Menorah, which lasted for eight nights.
This oil is also a reason Hanukkah is so delicious! Think latkes (fried potato patties) and sufganiyot (hello doughnuts!), and really any food fried in oil, and of course…presents!
Do You Give Gifts on Hanukkah?
In a word, yes. Originally, the tradition was to give the gift of money, or gelt, in order to teach children, in particular, to give to charity. This custom has grown, and today, many people still give gelt (real money and the delicious chocolate kind).
And while not part of the original celebration, giving and exchanging gifts on Hanukkah…some every night, is very much a part of the holiday! Not only does this gift giving allow those who celebrate to feel a part of the general holiday season, but gift giving is prominent throughout Jewish tradition.
How Many Gifts Do You Give for Hanukkah?
The short answer: as many as you want! Some people have the tradition to give a gift every night of Hanukkah. In this case, many choose for more budget-friendly options as there are eight crazy nights. While others choose to give one great gift for the entire festival, giving it either on the first or last night to start or close off the holiday.
Still, others have a tradition to give presents every other night. This allows continuous gift giving without feeling excessive. If you are participating in a holiday gift exchange and are purchasing for someone who celebrates Hanukkah, or want to impress someone who celebrates Hanukkah, or are just feeling super festive, any gift, small or big, one or eight in number, is sure to spread the holiday cheer.
Best Hanukkah Gift Ideas for 2022
Do you need some ideas? We thought you might! Whether you want something more holiday-themed, budget-friendly, or you wanna give the gift to be known as "the big shebang," we got you covered. See below for some fabulous options and go to JamesAllen.com for more!
Evil Eye Jewelry
The Evil Eye, or Ayin Hara in Hebrew, represents negative energy. From jealousy to the concept not to covet, the evil eye is the negative feeling that comes from envy or ill will. You might be thinking, if the Evil Eye is so bad, why would you want to wear it?
The Evil Eye is a concept, not an actual, physical eye. In fact, dating back to various ancient cultures, wearing a symbolic evil eye charm has come to be thought to offer protection against the negative energy associated with the concept. And can't we all use a little extra protection these days?
Check out some options below, whatever your budget, we'll make sure you're protected in style.
Under $200
These beautiful earrings offer style and sparkle while giving you protection. The perfect gift for anyone on your list, these minimalistic earrings can be worn every single day.
Do you need a bracelet to match those earrings? Or do you prefer some golden wrist action? Check out this gloriously golden Evil Eye bracelet and carry your protection daily. And if you love how it's styled below, then get on the layer train and add a classic diamond tennis bracelet.
Under $300
This sweet bracelet and elegant necklace make quite the pair! Wear them together or separately, the yellow gold with the dazzling diamond detail is the height of simple sophistication.
Under $400
Do you prefer your protection to come with a pop of color? Then look no further! The light blue enamel on this evil eye necklace will certainly protect you from the evils of looking boring! Grab it today and enjoy stylish protection year round.
Under $500
Are you in the market for a gift with a bit more glitz? Something dazzling yet understated, can be worn everyday, and will literally go with everything in any closet? This Evil Eye diamond ring is for you. Gorgeous, available in white or yellow gold, and of course, covered in diamonds, this is the kind of protection we could all use.
Hamsa Jewelry
The Hamsa symbols can be seen in many cultures and is symbolized by a hand with an eye in the middle. Some say it symbolizes the Hand of God. Similar to Evil Eye jewelry, the Hamsa symbol is thought to ward off evil and offer protection against general bad energy.
Many people hang Hamsas in their homes, use the symbol as a keychain, and even wear the symbol on their clothing. It is also used in jewelry, and why not? It is also thought to bring good luck and happiness to those who wear it. No bad vibes and some good luck to boot? Sign us up!
These gold Hamsa earrings have a diamond for a touch of glitz. Perfect for the holidays and everyday, bring on the good luck and good fashion with this well priced pair at under $200.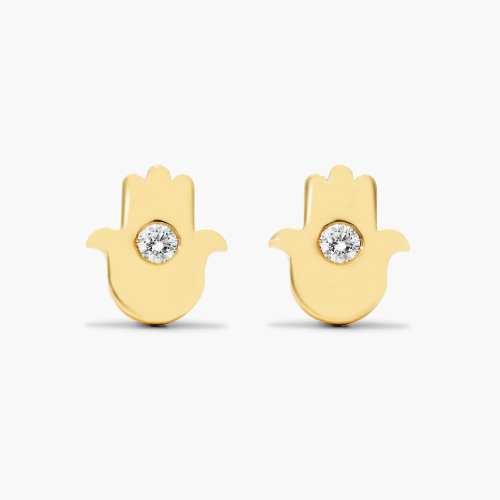 Good luck and protection against evil meet romance and sparkle with this incredible necklace. Rose gold with a ruby and diamonds brings the perfect pops of color to this understated piece.
Star Of David Necklace
The Star of David is arguably the most visible symbol of Judaism. Also known as the Magen David, or Shield of David, it is made of two overlaid triangles, one pointing up, one pointing down.
While little is known of its true origin, it is thought that God gave King David a shield with a star on it to protect him from his enemies. The symbol is said by some to remind those who wear it of God's presence.
A necklace is a very popular way to wear the Star of David. Many who have such a necklace wear it daily. Check out our fabulous option below!
Thoughtful Gifts For All Eight Nights
Many people have the tradition of giving a small present each night, but that can get expensive fast! After all, there are eight nights! Luckily, James Allen has some fantastic new pieces for $200 or less. Allowing you to make each night shine as bright as the flames of the Menorah.
Night 1: These ball stud earrings are the perfect gift! For less than $100 (yes that's right!) you can start the holiday with a perfectly pretty pair of earrings.
Night 2: This sterling silver chain will show off the fashion forwardness of whoever wears it (& reveal the trendiness of whoever gave it). Add some bling to your wrist on night two!
Night 3: Keep the shine going on night three with this simply sophisticated gold plate ring. Perfect for everyday and every occasion, this ring is just the right price at $150.
Night 4: You're at the halfway point and now it's time to up the shine. This gold beaded row ring gives just enough style to this minimalistic masterpiece.
Night 5: These earrings will take you from the Menorah lighting straight to the Hanukkah party. A gold bar accompanied by a drape chain shows everyone you're receiving gifts that will last far beyond the latkes.
Night 6: Looking for a present to accompany that Evil Eye necklace? These earrings match PERFECTLY! And at less than $200, you cannot go wrong!
Night 7: You've made it to a full calendar week of lighting candles and eating fried foods. Add to the revelry with these entwined hoop earrings. Classic, stylish, and trending for countless generations, you'll want to gift this to everyone on your list.
Night 8: Finish out the holiday with a gorgeous pair of amethyst earrings. February's birthstone looks great no matter when you were born!
Big Gift Options
Perhaps a bunch of small gifts is not your style. You're looking to make a big, one-time gift splash. You're a showman, you want to go all out. We can help! Check out the sets below. Pick one piece or choose both, either way, you are sure to leave only "ooohs" and "aaahs."
White gold, emeralds, diamonds: elegant, elegant, and elegant. Bling up your casual wear and pair them with your black tie attire, alone or together these pieces shine brighter than the stars.
Maybe you want something that just screams romance. Perfect for the modern-day princess in your life (or you!). These rose gold diamond hoop earrings literally shine inside and out. Pair them with a blossom diamond tennis necklace, also in rose gold. So beautiful whoever gets one or both will be left speechless.
Or perhaps you are looking for some whimsical diamond fine jewelry. The kind that leaves the wearer feeling like they are an ice princess in a winter wonderland. Check out these stylish pieces below. Worn together or on their own, these pieces will give that regal feeling.
FAQs
Is it OK to wear evil eye jewelry?
Not only is it OK, it is even a good thing! Many say wearing the evil eye can help to protect you from bad juju.
What happens if you wear the evil eye?
It is said you will be protected from evil energies, we say you will be protected while looking stylish!
Is the evil eye good or bad?
The evil eye itself is a symbol to ward off bad energies. The term Evil Eye does not refer to a physical eye. One could argue that since it is a form of protection, it is good.
Can you wear the Hamsa hand and evil eye together?
Yes. In fact, many Hamsa designs incorporate the Evil Eye.
Make The Light Last
Hanukkah is a wonderful time of year. Family, friends, fried foods, and lights, and of course…presents! Whether you go for a gift with Jewish symbolism in honor of the holiday, you prefer to go for straight glitz and glam, or are shopping for multiple budget-friendly options so you can share the light of the holiday season far and wide, we have the options for you!