2023 is here and beautiful engagement ring trends and styles are abundant! Whether you think your partner is going to pop the question this year or you're just preparing in advance, there's no harm in seeing what's in store!
From bespoke rings to vintage settings, to asymmetrical pieces, uniqueness is going to be a common thread in the year to come!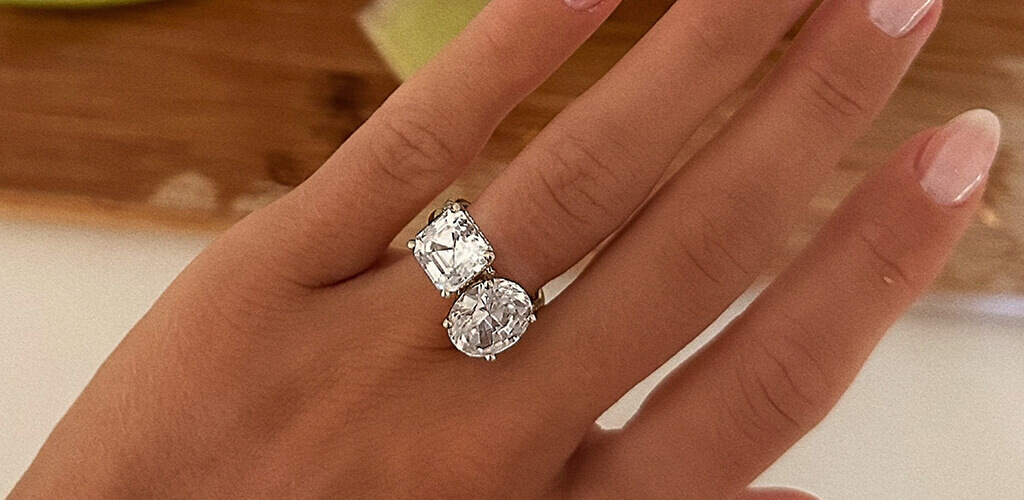 Top Engagement Ring Trends at a Glance
Vintage Style Ring Settings
East to West Settings
Asymmetrical Pieces
Oval Cut Diamonds
Three Stone Engagement Rings
Colorful Centre Stones
Fancy Shapes
Contoured Ring Sets
Conscious Ring Shopping in 2023
Fall For Vintage Style Ring Settings
From the heightened popularity of vintage shopping to exciting movie reboots, we are looking back at years passed for inspiration- and this applies to engagement rings as well!
Unlike modern styles, vintage engagement rings have truly stood the test of time. Vintage style engagement rings have an effortlessly timeless quality to them that simply cannot be imitated. Both unique and classic, vintage engagement rings offer the best of both worlds.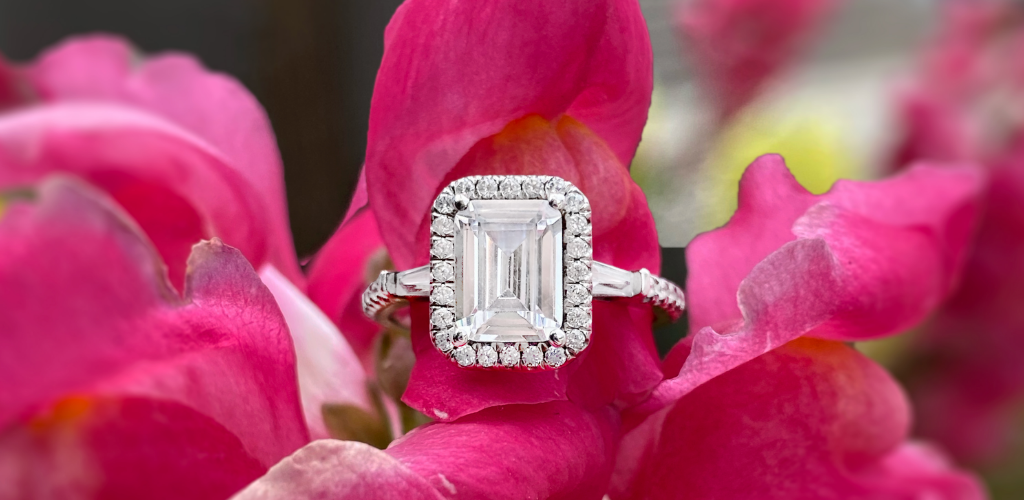 Popular vintage styles are cathedral settings and cushion cut engagement rings.
Cathedral settings mimic the arches of old cathedrals with soft curves and elevated center stone. Whether it be a classic diamond or a colorful gemstone, this classic design will show off your beautiful rock with full radiance.
Cushion cut engagement rings are also a part of this trend. Effortlessly classy, cushion cut diamonds and their soft lines always seem to be in style!
East to West Settings For The Bold
Of course, classics are classic for a reason, but new designs always add a fresh perspective on traditional rings.
An east to west ring setting is one in which the diamond is oriented horizontally on the band. We're starting to see emerald, marquise, radiant, and pear shaped diamonds being placed sideways for that subtle shift in aesthetic.
Paired with a sleek band or sparkling side stones, an east-to-west setting will be sure to garner attention.
This up-and-coming setting is bold- but not too unconventional that it doesn't honor classic tradition. A perfect choice for the modern bride!
Asymmetrical Engagement Ring Trend
What screams modern, fresh, and 2023 more than asymmetrical pieces?
The modern woman is all about honoring individuality, differences, and imperfections. What better way to do so than with mismatched jewelry? 2023 is out with the predictable and in with the surprising.
Asymmetrical rings break the mold and showcase gems in an eye-catching way. Being bold has never looked better.
Symmetry is overrated, anyways.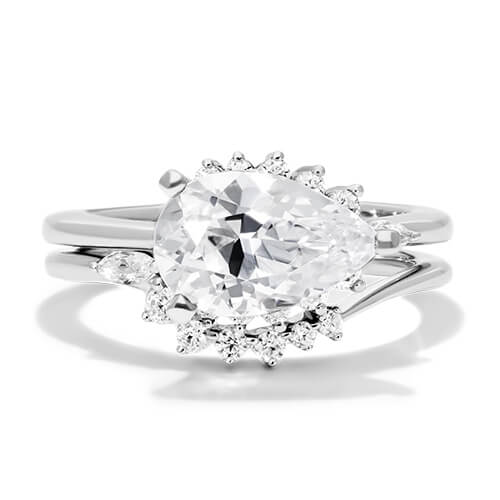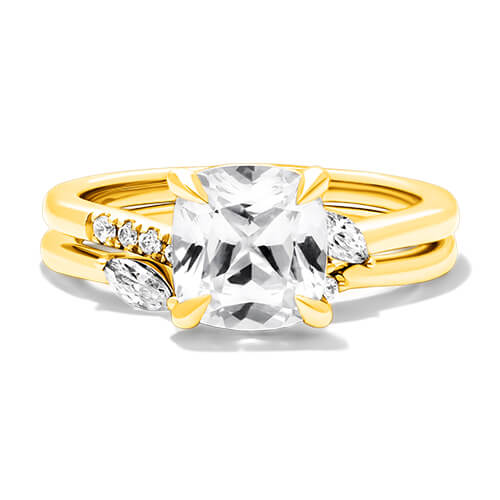 Oval Cut Diamonds Are In
Oval diamond rings have always been popular and continue to find their spotlight in 2023. The way the oval elongates and flatters just about any finger makes this stone a modern classic. The soft edges allow the diamond to look stunning on its own or shine extra bright when highlighted by a pavé or halo setting.
Seen on the hands of royals for centuries and consistently worn by a bevy of celebrities, oval diamond engagement rings are a trend that will forever be in style.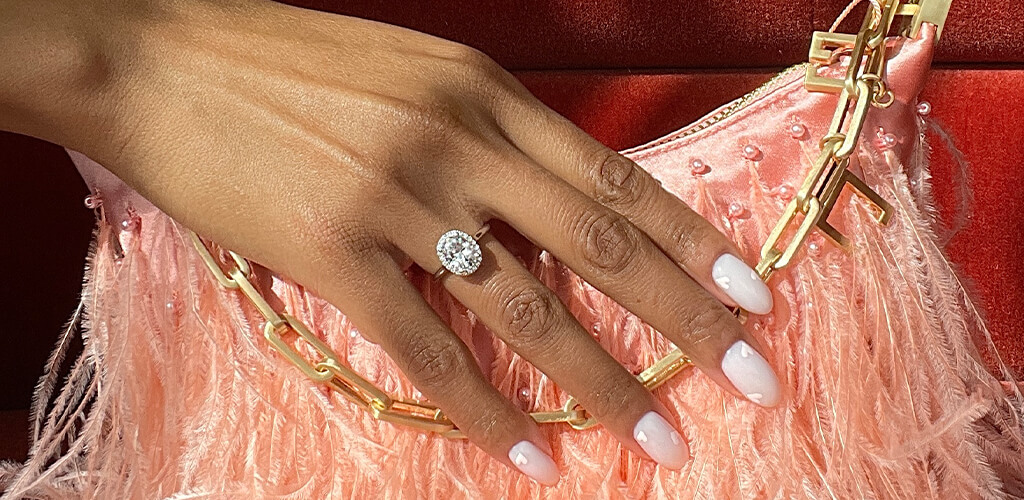 Popular Three Stone Engagement Rings
They say that three stone engagement rings have the most romantic meaning of all the styles!
This style is exactly what it sounds like: a ring with a center stone in between two side stones. This particular arrangement elevates the center stone and makes it look bigger.
Apart from showcasing three beautiful diamonds (or other gems), this engagement ring can be embedded with great meaning.
Many couples choose the three stones to symbolize their past, their present, and their future. Others choose to have the stones represent values such as friendship, love, and fidelity.
Each couple can add their own meaning to the three stones to make it truly their own! What could be better?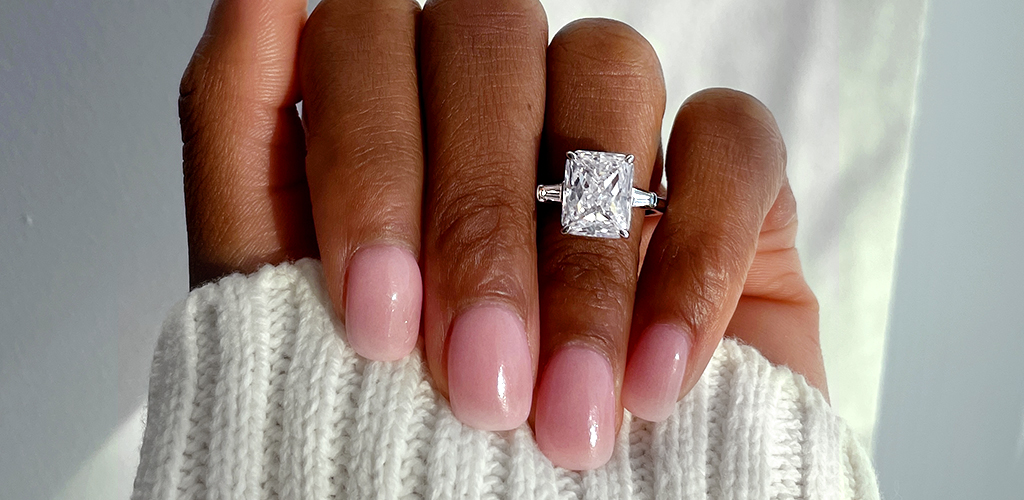 On Trend With Colorful Center Stones
This is a trend that has popped up in recent years and is only predicted to grow in the coming year!
Whether you want color in your center stone or accent stones, this bright trend is a perfect way to infuse some vibrance into your ring.
Engagement rings with colorful gemstones feel bright and unique, while still evoking that bridal elegance. Different colors in your ring can help bring out the shades in your eyes or add a pop of playfulness to your everyday looks.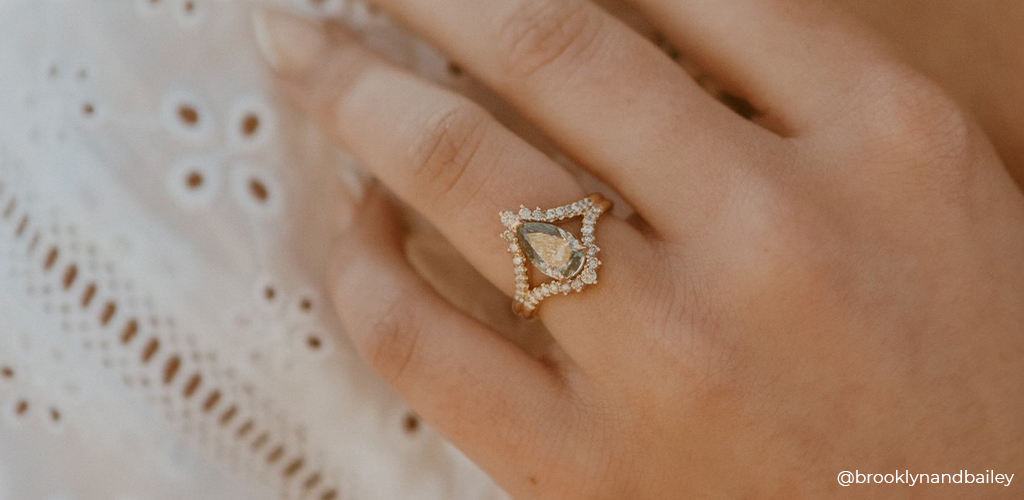 Fancy Shapes Are Trending
While round diamonds remain the most popular choice for engagement rings, fancy shapes are rising! A fancy shaped diamond is any diamond that is not round.
While fancy shaped diamonds have been steadily growing in popularity over the past few years, in 2023 we are seeing a growing interest specifically in shapes with sharp lines.
This might include emerald diamonds, princess cuts, and Asscher cuts.
At a time when making a bold statement is all the rage, it's no surprise that diamonds with sharp lines are front and center.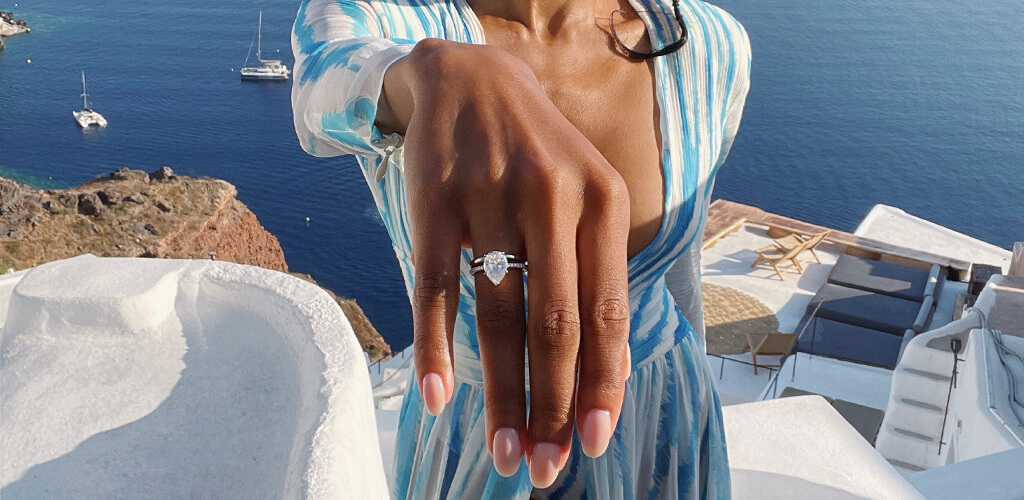 Engagement Ring Trends: Contoured Ring Sets
Everyone loves a matching set, right? Well, that's why this style is at the top of 2023's trends. These sets, which include a curved wedding ring to match your gorgeous engagement ring, were made to go together…just like you and your beloved!
There's something particularly satisfying about a wedding ring that's literally made for your engagement ring. Your center diamond is lovely on its own; wait until you see how it looks with your custom-made wedding band!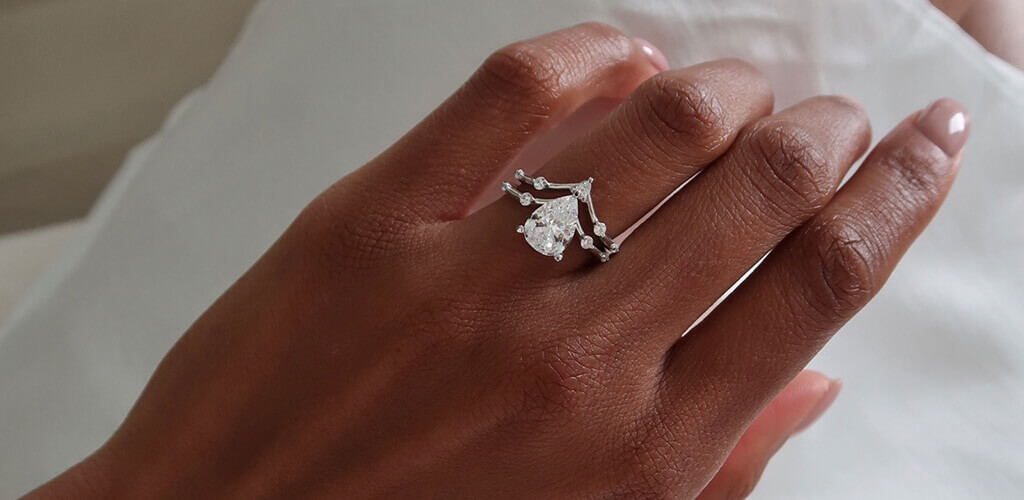 Conscious Ring Shopping In 2023
For more socially conscious couples, finding a diamond that is conflict-free is an important step in selecting their forever ring. Thankfully, in 2023 this is both becoming more common and more accessible.
Lab created diamonds are a great way to start- and they're being offered at more and more diamond retailers. In addition to being budget-friendly, lab created diamonds are conflict-free- all while looking and feeling the same as earth created diamonds. What's not to love?
FAQs
What Are the Current Engagement Ring Trends?
The current trends include unique diamond cuts like oval and pear, colored gemstone accents, vintage-inspired settings, and eco-friendly and lab-grown options.
Are Colored Gemstones Becoming Popular for Engagement Rings?
Yes, colored gemstones like sapphires, emeralds, and morganites are gaining popularity for their vibrant and personal touch.
Are Vintage-Style Engagement Rings Trending?
Vintage designs with intricate details, halo settings, and ornate bands are making a comeback for their timeless charm.
Are Lab Grown Diamonds An Engagement Ring Trend In 2023?
Lab grown diamonds are increasingly popular due to their affordability and offer a high-quality diamond for any budget.
Conclusion
Trends are a fun way to get excited for the new year! There is so much to look forward to from asymmetrical pieces to colorful gemstones.
Whether you choose a trending style or one that didn't make it onto this list, we're sure it will be beautiful. Visit us at JamesAllen.com, and we can help you find, design, and engrave your dream engagement ring.
SHOP RELATED PRODUCTS
Armed with five years of writing experience, Rachel aims to turn dense topics into easily understandable content, one shining word at a time.