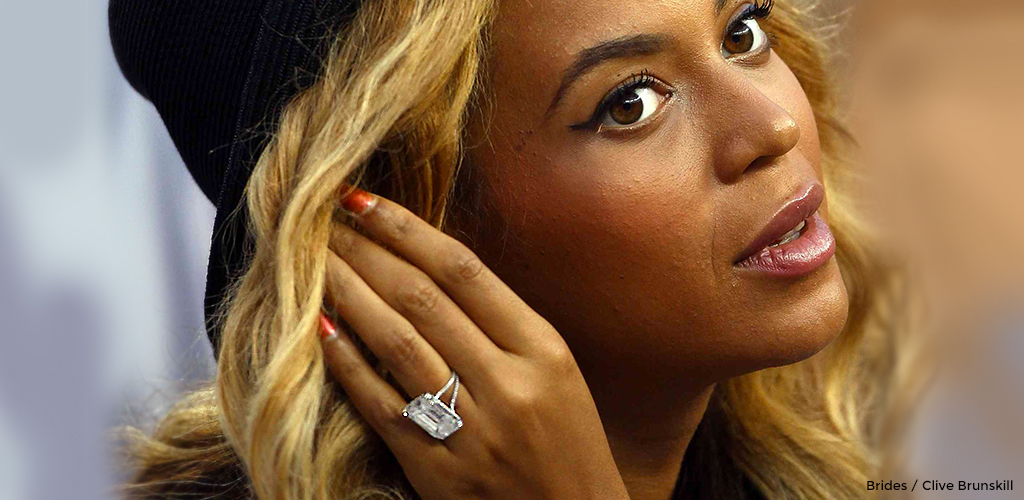 Beyoncé is more than a show-stopping performer; she's a style icon for this generation and those to come. Her fans love to catch glimmers into her personal life and relationships. So, in 2004, when she and Jay-Z made their red-carpet debut as a couple, not only did their union make perfect sense to the world, but it made their fans ecstatic. Two masters of the arts joining together to become one of Hollywood's power couples.
Their relationship has spanned over two decades, and while both of them love to put on a show for fans, their private life has always been just that – private.
It came as a huge surprise to fans when they announced their marriage in April 2008. The pair had given no indication that they had been engaged prior, and boy was it impossible to miss the magnificent rock she now wears on her hand.
Beyoncé's engagement ring is almost as famous as she is, and we're here to tell you all you need to know about the eye-catching diamond and where to find its lookalikes on JamesAllen.com.
We're going to share the following fun facts with you:
The style of Beyoncé's engagement ring
The diamond shape
The diamonds carat size
How much Beyoncé's engagement ring cost
Beyoncé's engagement ring lookalikes
Beyoncé's Engagement Ring Pictures
Beyoncé has been captured with her engagement ring on many glamorous occasions. Our first image, in particular, shows off the giant diamond sparkler perfectly in a zoomed-in shot. She can be seen brushing back her hair with her ring finger on full display.
The second image is of her at an awards ceremony. Here she's gracefully lifting her hands to show off her diamond ring with a smile.
What Style Setting is Beyoncé's Engagement Ring?
Beyoncé's engagement ring is an emerald cut diamond, held in place with prongs that are set in a pavé split shank setting. The metal is said to be platinum, an unusual, yet fitting metal for the award-winning artist.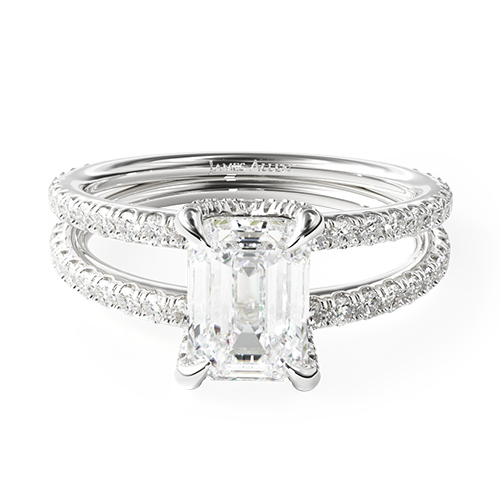 Pavé set diamonds on the band are perfect for extra sparkle and a touch of elegance. It goes beyond the classic solitaire and adds more flair to the ring. If you're going for a larger center stone, as in Beyoncé's case, a split shank band will provide additional support to the center diamond. This makes the setting more comfortable and secure for the wearer, particularly if you're wearing your ring for extended periods of time.
Not only does a split shank band add more support, but it also highlights the glamour of the diamond center with an artful design. These settings can be subtle or dramatic, depending on your individual taste.
What Diamond Shape is Beyoncé's Engagement Ring?
The center stone on Beyoncé's engagement ring is an emerald-cut diamond.
The emerald cut was first worn by royalty making it the perfect fancy-shaped diamond for Queen B. The style is bold and elegant and often gives the wearer the appearance of a slimmer finger because of the elongated cut.
Like other fancy shapes, emerald cuts are excellent at consuming much of the rough diamond's carat weight. Their shape has trimmed corners, a small feature that brings out an old-school glamour that comes with wearing any emerald-cut diamond.
How Many Carats is Beyoncé's Engagement Ring?
It's no secret that Beyoncé's diamond sparkler is far bigger than the average engagement ring. Jay-Z decided on an enormous 24-carat flawless emerald-cut diamond.
How Much Did Beyoncé's Ring Cost? And What's It Really Worth?!
Beyoncé's engagement ring was designed by Lorraine Schwartz, who is a well-known jewelry designer for celebrities. She is notorious for using only top-quality stones. So it comes as no surprise that the center stone in Beyonce's ring is a rare flawless diamond. It has no blemishes or inclusions, and the entire engagement ring costs an estimated $5 million.
For comparison, we have this emerald-cut diamond with excellent specifications (D Color, IF Clarity) at James Allen: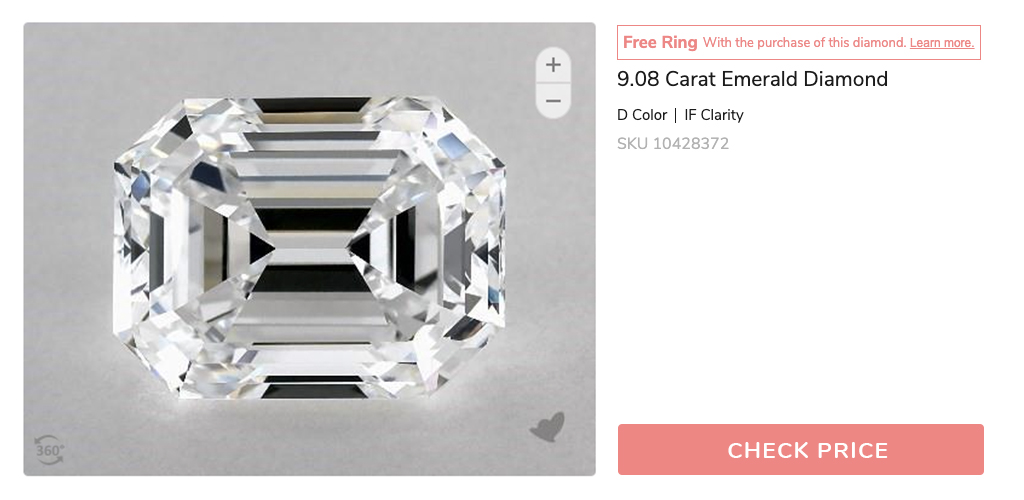 Beyoncé's Engagement Ring Lookalikes
While Beyoncé's engagement ring is undoubtedly unique and fit for her, there are plenty of other replicas that either fit the diamond shape and setting to meet your own individual style and budget.
You can find a modest replica at James Allen with our showstopping pavé split shank contour diamond engagement ring.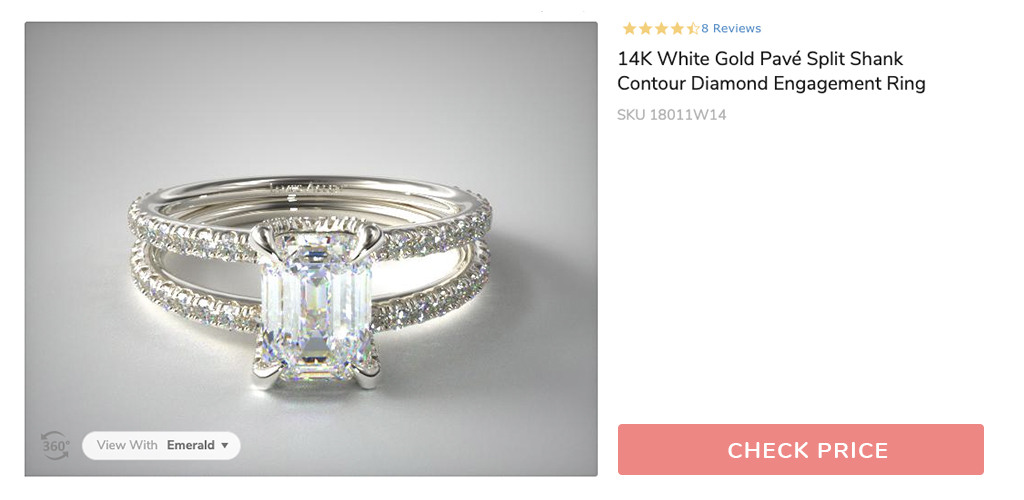 Next, we have a similar style with a slightly classic twist. Our twisted shank has the perfect blend of pavé dazzle and traditional metal to make that center stone pop.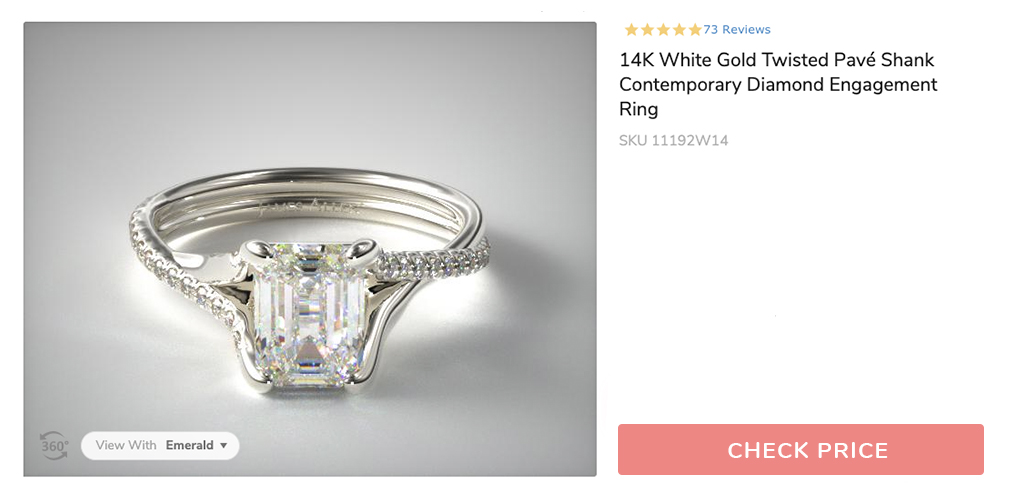 Finally, we have a modern favorite in our twin pavé crossover shank. This bold and sparkling engagement ring is perfect for a wearer who enjoys multidimensional bling and wants to shine like Beyoncé.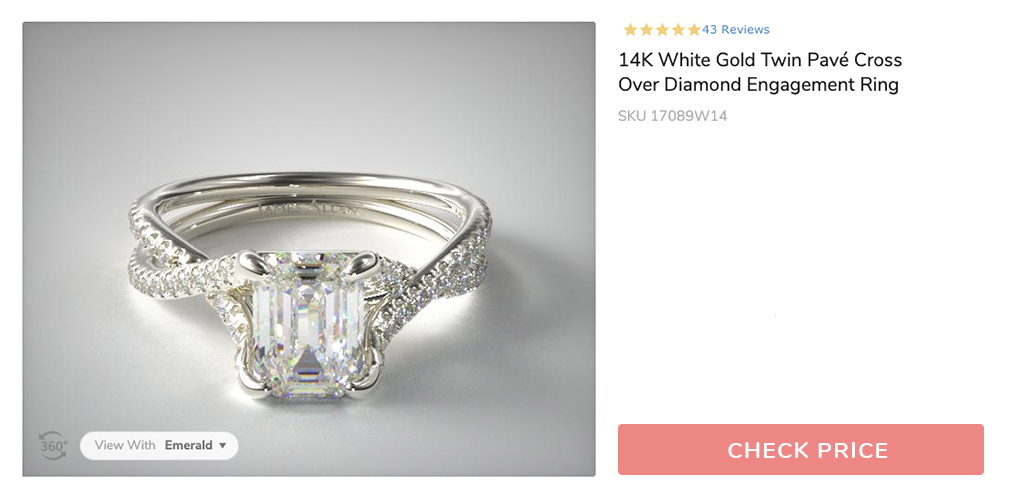 We're Here To Help
Buying an engagement ring comes with stress, questions, and a lot of second-guessing. At James Allen, we're here to offer you 100% free advice and will assist you in understanding the best diamond quality for your budget and unique preferences.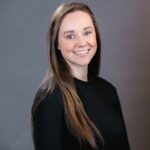 Jessica is a seasoned content writer with four years of experience and a qualified gemologist. She enjoys educating new shoppers on the best practices for buying jewelry.