You have found your forever, you've said yes, and now you need a ring to represent it all: a fancy shaped diamond eternity ring. Also referred to as infinity rings, an eternity rings band of nonstop sparkle is the perfect ring to represent your unending love. Read on to find your perfect fancy shaped diamond eternity ring.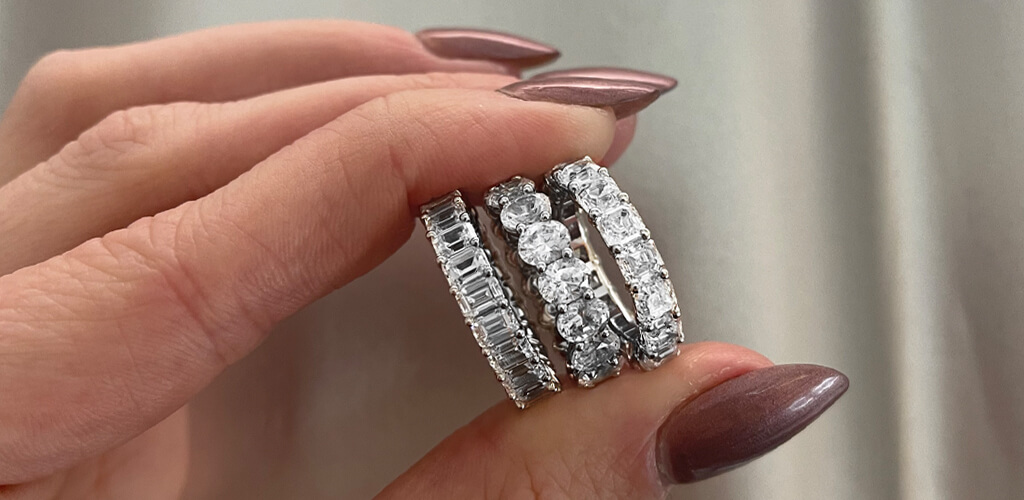 Eternity rings get their name from the eternal or unending ring of diamonds around the band. Fancy shaped diamond eternity rings feature diamonds that are any shape other than round diamonds, but still in an unending ring of sparkle. Give your dazzling engagement ring a buddy and shine so bright you won't need a flashlight!
What Is An Eternity Ring?
So, what exactly is an eternity ring? Is it a wedding ring? Is it a fashion ring? We'll explain. Eternity rings come in two types, full and half (see more on that below), but both involve a row of shining diamonds. The unending sparkle of the diamonds represents your eternal love.
The nonstop shine of an eternity ring is also eternally in style, I mean, are diamonds ever out of style? Eternity rings are available in a variety of diamond shapes and sizes, as well as different metal types, ensuring there is sure to be an eternity ring for you!
What Occasions Are Eternity Rings For?
Eternity rings have traditionally been given on special occasions such as significant wedding anniversaries; think five and ten years. Many people also choose an eternity ring as a wedding ring. After all, is there a more special occasion than when you say I Do?
But eternity rings are perfect for commemorating ALL special occasions. Many people show themselves or loved ones eternal affection for birthdays, graduations, getting THE job, and so much more. Any occasion can be made special by gifting yourself or someone you love a fabulous eternity ring.
Full vs Half Eternity Rings
Let's get into the details, full vs half eternity rings. What is the difference, and which is better? Full eternity rings have diamonds that go ALL the way around the entire band, while half eternity rings have diamonds that go across the top half of the ring, in either five, seven, or nine stone options. Which is better? That's up to you!
Many factors come into play, including a budget, lifestyle, and design preferences. Check out the chart below to see which ring is best for you:
| | |
| --- | --- |
| Full Eternity Rings | Half Eternity Rings |
| Diamonds All Around The Band | Diamonds On The Top Half Of The Band |
| VERY Difficult To Resize | More Budget-Friendly |
| Great For Any Special Occasion | Great For Any Special Occasion |
| Symbolize Unending Love | Larger Carat Options Are More Comfortable |
What Diamonds Are Best For An Eternity Ring?
The diamonds for eternity rings come in many shapes, but the best shapes are square and round diamonds, which include radiant, cushion, princess, oval, Asscher, and emerald; with round shapes being the most popular choice. Square shapes can be set more closely together, creating a seamless dazzle of diamonds, while round shapes are a classic choice that yet maximum light.
These shapes are also the best shapes for stacking, allowing for the most comfortable mixing and matching of various rings, including engagement rings, wedding rings, and anniversary rings. Because after all, diamond rings are like chips, you can't have just one!
How To Wear An Eternity Ring
Eternity rings are great because there is no hard and fast rule for how to wear them. If you are using it as a wedding ring, you may choose to wear it on the ring finger on your left hand, with your engagement ring. If you received an eternity ring as an anniversary ring, you might choose to stack it on your left hand's ring finger, along with your engagement and wedding rings.
Check out the inspo below and get the look!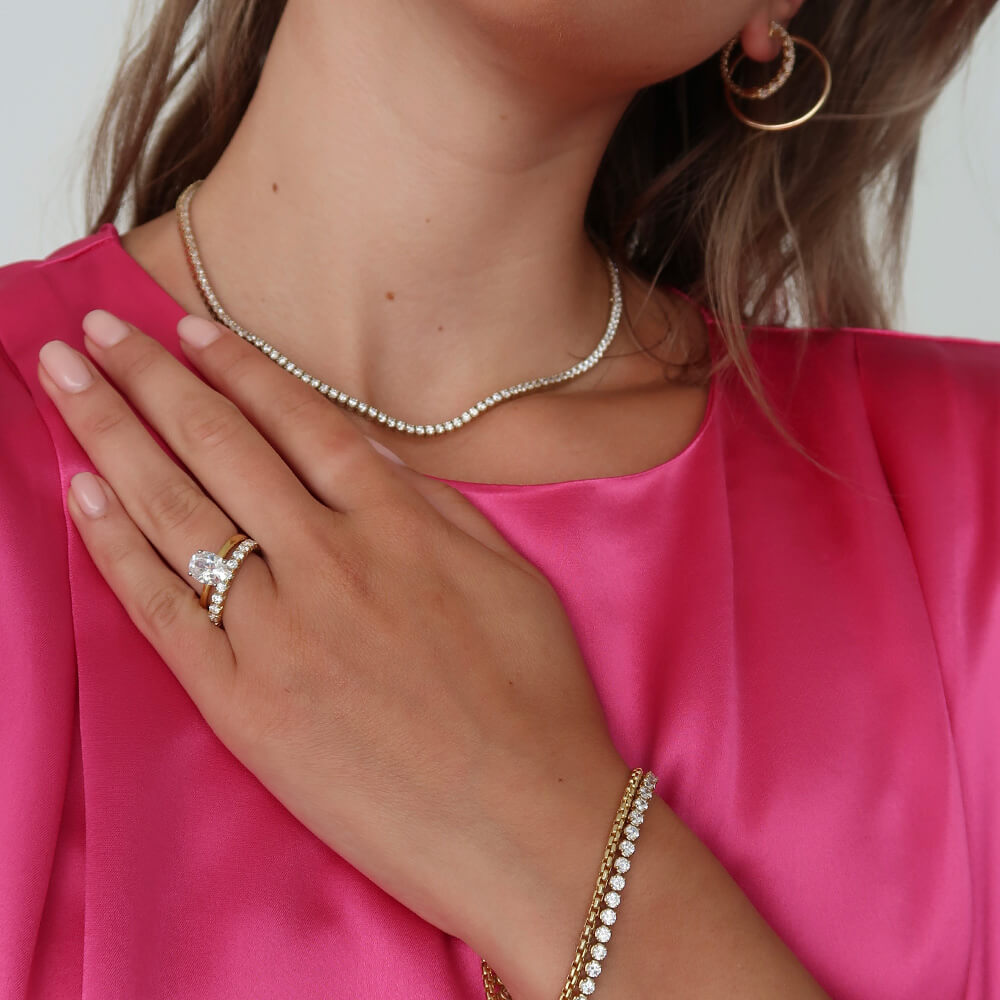 If you received an eternity ring for another special occasion, you may choose to wear it on your right hand. Which finger is up to you. Put it on the ring finger of your right hand, go with the index finger, or even jazz up that finger in the middle.
The bottom line is you can wear your eternity ring any way you want. Stack it with other rings or let it shine on its own, whichever style you choose, get ready for the light.
What Setting Is Best For An Eternity Ring?
The best setting for an eternity ring is the one you love the most! Don't know where to start? Love 'em all? Us too! We'll help you narrow it down. Bezel and prong are very popular settings. A bezel setting is considered to be a very secure setting, protecting your diamonds from chips, snags, and anything else daily wear might incur.
Prong settings are great because the way the stones are held in the ring allows for maximum light reflection. They are also considered more budget-friendly and come in a variety of styles. Whichever setting you choose, wear your ring with care.
How Much Should You Spend On An Eternity Ring?
There is no "should" when it comes to buying a symbol of love. That being said, eternity rings are certainly not something that will be considered "cheap." There are eternity rings, such as prong settings, that are considered more affordable. And of course, half eternity rings will generally cost less than full eternity rings.
However, since eternity rings, both half and full, get their names from the dazzling row of diamonds, the price is certainly something to consider. Price is also affected by diamond size.
An eternity ring with a half carat weight will cost considerably less than an eternity ring with a six carat weight. Additionally, lab created eternity rings will be priced lower than earth created diamond eternity rings.
For example, with lab created full eternity rings, you are looking at prices from ~$2K-$5K, while with earth created full eternity rings you are looking at ~$3-$17. Prices are affected by cut and carat, and with earth created diamonds, the color grade has a significant effect on price.
Eternity rings are an investment piece. It is highly recommended to do your research and save for that perfect piece, because after all, it will be in style for….eternity.
FAQs
What comes after an eternity ring?
If we are talking about ring order on your finger…anything! When stacking, many women choose to wear their engagement ring, followed by the eternity ring, followed by the wedding ring (if your eternity ring is different from your wedding ring).
If we are talking about what ring to buy next, well the sky's the limit! If you got a half eternity ring, go for a full one! If you got a full emerald, go for a full Asscher cut. Or get a half eternity ring to pair with your full eternity ring. OR choose from our huge selection of fine jewelry rings and add a whole other style to your ring collection.
When should a woman get an eternity ring?
Whenever she wants! Traditionally eternity rings are given as wedding rings at the marriage ceremony or landmark wedding anniversaries. However, many women get them for other reasons including just because, significant life milestones like college graduation, or as a push present. Any reason is a good reason to give an elegant eternity ring.
What ring goes with an eternity ring?
A popular way of wearing an eternity ring is stacked with an engagement and wedding ring. However, if using your eternity ring as your wedding ring, you can pair it simply with your engagement ring for a traditional look.
Eternity rings also stack well with fine jewelry fashion rings in general and can be worn on either hand, or on the finger of your choice. Wear it alone or stack it with others, an eternity ring will always look great.
Eternal Thoughts
Fancy shaped diamond eternity rings will be your new favorites. Available in different diamond shapes and settings, half or full styles, it is easy to find the right ring for you.
Pair it with an engagement ring, wear it alone, or give it for a landmark occasion, eternity rings are always in style, always shine bright, and are worth the investment. Search our collection at James Allen and find your new favorite.
Subscribe to our email list for access to secret sales, practical ring-buying tips, and $100 off your first purchase!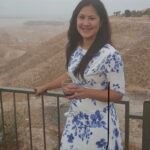 Sarah is a stickler for grammar and prefers to use the Oxford comma. She enjoys her career as a writer since being a professional snowboarder/powerlifter/pastry chef didn't pan out.